(Sidney Lumet, 2007)
Production: Image Entertainment / ThinkFilm

Video
Video codec: VC-1
Video resolution: 1080p
Aspect ratio: 1.85:1

Audio
English: DTS-HD Master 5.1, Dolby 5.1

Subtitles
English SDH, Spanish, none

Disc
25GB Blu-ray Disc
Runtime: 1:56:42

Extras:
• Commentary with Lumet, Hoffman and Hawke (in 2.0 channel)
• Making Of... (in 1080P) - 24:29
• trailer (480i) - anamorphic
Disc: 25GB Blu-ray Disc
Release Date: May 6th, 2008
Standard Blu-Ray case

Product Description: Master filmmaker Sidney Lumet directs this absorbing suspense thriller about a family facing the worst enemy of all itself. Oscar-winner Philip Seymour Hoffman plays Andy, an overextended broker who lures his younger brother, Hank (Ethan Hawke) into a larcenous scheme: the pair will rob a suburban mom-and-pop jewelry store that appears to be the quintessential easy target. The problem is, the store owners are Andy and Hank s actual mom and pop and, when the seemingly perfect crime goes awry, the damage lands right at their doorstep. Oscar-winner Marisa Tomei plays Andy s trophy wife, who is having a clandestine affair with Hank. The stellar cast also includes Albert Finney as the family patriarch who pursues justice at all costs, completely unaware that the culprits he is hunting are his own sons. A classy, classic heist-gone-wrong drama in the tradition of The Killing and Lumet s own The Anderson Tapes, Before the Devil Knows You're Dead is smart enough to know that we often have the most to fear from those who are near and dear.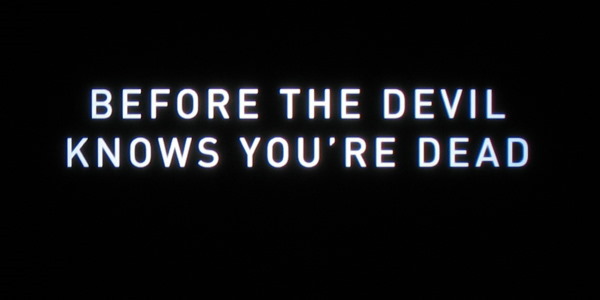 The Film:
Though his 50-year directorial career has included every type of movie, Sidney Lumet is best known for his gritty, moody Gotham tales: Serpico, Dog Day Afternoon, Prince of the City. Even those who don't worship at the altar of faded Kodak stock can admire how Lumet injected a potent humanity into his "Horror City" stories, turning these urban fables into something beyond cheap thrills. The director's latest is technically another crime thriller, filled with desperate New Yorkers engaging in illegal activities and drowning in their own immorality. But as he did in those aforementioned landmark films, Lumet treats the genre as a starting point; he's essentially using a heist flick to mount a devastating Eugene O'Neill play in disguise.

Brothers Hank (Hawke) and Andy (Hoffman, borrowing Martin Scorsese's eyebrows) each need financial solvency stat. The latter comes up with the idea of a quick, easy burglary, which naturally means things will go horribly wrong. Given that the target was their parents' jewelry store, it's only a matter of time before Pops (Finney) gets suspicious and the siblings turn into self-preserving beasts. Lumet continually flips between perspectives, letting each drum 'n' bass–scored transition tighten the noose and giving the cast space to craft nuanced, fine-tuned performances. The movie, however, belongs to Lumet: The fact that he's produced such a vital work as an octogenarian is amazing enough, but the way this tragedy unfolds without a single false move puts the film among the best work of a very prestigious career.
Image appearance on this DVD has a noticeable level of saturation - which I can only interpret as being intentional and typical of being shot in the flexible HD format. The film has a very dark aura and black levels are prominently pitch. Outdoor scenes are often slightly over-exposed. This can tend to distract from detail and color depth but throughout the film both represent themselves to an adequate level. I can't recall seeing a Blu-ray DVD from Image Entertainment so I was anxious to see how this presented itself. I would categorize it briefly as equal, or a slight notch below, to modern film representations from the big studios like Warner or Fox. It looks quite good but there is some minor noise. Colors look true and not overly bright although contrast is at a high level. The overall appearance reminded me somewhat of the new format DVD transfers of 3:10 to Yuma or Spike Lee's excellent Inside Man. Close-ups are crisp and I suspect this image to tower above the corresponding SD edition although I admit to not having seen it yet.
Audio:
Fairly dialogue driven but offered in DTS-HD Master 5.1 or Dolby 5.1. One or two instances of explosive separation sound strong but for the most part it is clear and consistent on the verbiage. There is no DUB offered. There are a choice of subtitles in English (CC) or Spanish in a white font.
Extras:
There is a laid back and comfortable commentary (in 2.0 channel) with Lumet, Hoffman and Hawke. They discuss some of the gals of the picture highlighting Tomei's beauty and ease of working with (especially considering both Hoffman and Hawke had explicit sex scenes with her). It's light on production details but nice to hear the three voices reminisce and talk about the industry in general. There is a 25 minute Making Of... (in 1080P) that runs through some alternatives details with Tomei and the producers giving input - lots of glad-handing about Lumet. Finally an anamorphic trailer in lowly 480i. I suspect my appreciation for the film gained somewhat after going through the extras - so that can only be a good thing.
Menus
BOTTOM LINE: Pretty good! Decent, if dour, film with a strong enough transfer to warrant a purchase in my opinion. Great performances - non-linear timelines - bouncing back and forth using 'Day of the Robbery' as the focal point. Lumet does his usual exceptional job of presenting the narrative - all good and we can recommend!
Gary Tooze