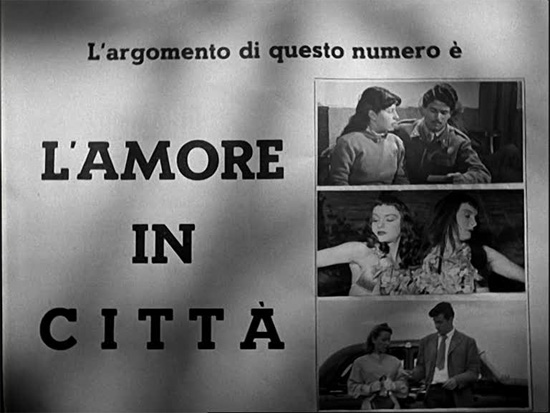 (aka 'Love in the City')

,

,
Alberto Lattuada, Carlo Lizzani,
Francesco Maselli, Dino Risi and Cesare Zavattini
Italy 1953
An early example of the Italian omnibus film, a subgenre of irresistible conceptual appeal and inevitable built-in unevenness (RoGoPaG, Le Streghe, Boccaccio '70). The brainchild of neorealism doyen Cesare Zavattini, it huddles a batch of shorts from various directors hinging on amore thematics, whether built around strands of melancholy flirting (Dino Risi's surveilling of a provincial jitterbugging hall) or forlorn lechery (Alberto Lattuada's flipbook of males double-taking over strolling lookers). Not surprisingly, Zavattini's own contribution, following a poor unwed mother through the daily grind of Roman boarding houses and crowded welfare offices, is the one most obviously cuffed to neorealist ideas (the heroism of the wretched) and tropes (an unbroken diaper-changing shot apes the real-time integrity of the maid's morning routine in Umberto D.). By contrast, the more interesting segments by Michelangelo Antonioni and Federico Fellini push the aesthetics toward bladelike abstraction (alienated women reenacting botched suicide attempts for Antonioni's cooling lenses) and fantasy-tinged satire (Fellini's account of a pure, struggling country girl rung through a matrimonial agency).
Excerpt from Fernando F. Croce's review at Cinepassion.org HERE
Poster
Theatrical Release: November 26th, 1953
Reviews More Reviews DVD Reviews
DVD Comparison:
Minerva Classic - Region 0 - PAL vs. Optimum - Region 2 - PAL
Big thanks to Per-Olof Strandberg for the Minerva Classic Screen Caps!
(Minerva Classic - Region 0 - PAL - LEFT vs. Optimum - Region 2 - PAL - RIGHT)
DVD Box Covers

Distribution

Minerva Classic

Region 0 - PAL

Optimum
Region 2 - PAL
Runtime
1:49:36 (4% PAL speedup)
1:44:28 (4% PAL speedup)
Video

1:1.33 Original Aspect Ratio
Average Bitrate: 6.38 mb/s
PAL 720x576 25.00 f/s

1.25:1 Aspect Ratio
Average Bitrate: 4.58 mb/s
PAL 720x576 25.00 f/s

NOTE: The Vertical axis represents the bits transferred per second. The Horizontal is the time in minutes.

Bitrate:

Minerva Classic

Bitrate:

Optimum

Audio
Italian (Dolby Digital 2.0)

Italian (Dolby Digital mono)

Subtitles
English, None
English, None
Features
Release Information:
Studio: Minerva Classic

Aspect Ratio:
Fullscreen - 1:1.33

Edition Details:
• Audio commentary (No English Subs)
• Interview with Paolo Mereghetti (13:13 / English subs)
• Interview with Luca Bandirali (23:39 / English subs)
• Interview with Angelo Pasquini (15:04 / English subs)
• Trailer (3:01 / No subs)
• Difference between screenplay and final edition (5:29 / No English subs)
• DVD Rom content
• 34 Page Booklet (In English and Italian)

DVD Release Date: 10 NOV 06
Transparent keep-case

Chapters 6

Release Information:
Studio: Optimum Home Entertainment

Aspect Ratio:
Original Aspect Ratio 1.25:1

Edition Details:

• none

DVD Release Date: February 18th, 2008
Transparent Keep Case
Chapters: 8
Openings for two segments (Antonioni's and Fellini's)
| | |
| --- | --- |
| | |
Comments
It's amazing that Optimum didn't license the rights for the Minerva Classic DVD. They are like day and night, everything in favor for the Italian release. Where the Optimum image looks hazy and soft, the Minerva Classic picture is razor sharp, with solid black levels. There's no visible print damage on the picture, beside the few minute long prolog sequence, that has some scratches. It's always hard to transfer a film this old to DVD. There's different opinions how the image should look. The people who restored L'Amore in Cittą have decided to leave solid black levels, but at the same time they have blocked the monochromatic black sequences. Compared to the Optimum version there's missing details in the night shots. It's maybe still a better solution, than to have everything grey. The Minerva version looks also very high contrasted, but that's probably intended. The Optimum version is cropped quite heavily on the right side. The Minerva DVD has some cropping on the top and bottom of the image and does have some possible contrast boosting, plus the visible digital artefacts, but overall it looks quite stunning!

The audio is like the picture, cleaned from dirt and dust, and sounds almost perfect for a film of these age.

Some of the extra material is subtitled in English (see above).

ON THE OPTIMUM: Single-layered, progressive DVD transfer from Optimum - coded for region 2 in the PAL standard. The ratio appears to be about 1.25:1. It is fairly rough in the beginning with a very jittery picture, flickering contrast and plenty of scratches. It does settle down significantly and the image, although still showing speckles and some weakness, is much improved although obviously brightness boosted. Audio is at the same level as the image and there are optional English subtitles.

I found the segments very interesting and was, of course, especially keen to the inclusions by Antonioni and Fellini. I actually wish it was longer and focused on one single story. Because the DVD quality is not stellar it may appeal more to Italian cinephiles and completists of the two aforementioned directors. I, honestly enjoyed my viewing and may indulge again at some point in the future. Some form of supplements would have been greatly appreciated but there are none at all.
---

DVD Menus
(Minerva Classic - Region 0 - PAL - LEFT vs. Optimum - Region 2 - PAL - RIGHT)

| | |
| --- | --- |
| | |
| | |
| | |
| | |
More Extras on the Minerva
---
Screen Captures
(Minerva Classic - Region 0 - PAL - TOP vs. Optimum - Region 2 - PAL - BOTTOM)
Subtitle sample
---
(Minerva Classic - Region 0 - PAL - TOP vs. Optimum - Region 2 - PAL - BOTTOM)
---
(Minerva Classic - Region 0 - PAL - TOP vs. Optimum - Region 2 - PAL - BOTTOM)
---
(Minerva Classic - Region 0 - PAL - TOP vs. Optimum - Region 2 - PAL - BOTTOM)
---
(Minerva Classic - Region 0 - PAL - TOP vs. Optimum - Region 2 - PAL - BOTTOM)
---
(Minerva Classic - Region 0 - PAL - TOP vs. Optimum - Region 2 - PAL - BOTTOM)
---
(Minerva Classic - Region 0 - PAL - TOP vs. Optimum - Region 2 - PAL - BOTTOM)
More Screen
Captures of the Minerva
---

---
Report Card:
| | |
| --- | --- |
| Image: | Minerva |
| Sound: | |
| Extras: | Minerva |
| Menu: | Minerva |