The Simpsons Movie - BRD
(
David Silverman, 2007)
Studio:
Theatrical: Gracie Films / 20th Century Fox
DVD: 20th Century Fox Home Entertainment
Video:
Resolution: 1080p / BD-Java - AVC
Aspect ratio: 2.40:1
Length: 87 minutes
Supplements: HD
Audio:
English DTS HD Lossless Master Audio 5.1
French Dolby Digital 5.1
Spanish Dolby Digital 5.1
Subtitles:
English, Spanish, Chinese & Korean
Extra Features
• Commentary by Matt Groening, James L. Brooks, Al Jean, Mike Scully, David Silverman, Dan Castellaneta & Yeardley Smith
• "Director's" Commentary with David Silverman, Mike b. Anderson, Steven Dean Moore, and Rich Moore
• Deleted Scenes in HD
• Trailers in HD
"Special Stuff":
• The Simpsons Judge American Idol
• Homer Introduces American Idol
• Homer's Monologue on The Tonight Show
• Let's All Go To The Lobby
• Alternate Character Designs
25 chapters
Disc: BD 50 dual-layer
Standard Blu-ray case.
Release Date: December 18, 2007
Review by Leonard Norwitz
December 15, 2007
The Simpsons Movie ~ Comment
The world's longest running – and best - animated adult comedy television series comes to the big screen. And by "big" I mean not only theatrical, but wide: as wide as it gets these days at 2.40:1. Many fans will find this a bit jarring and a little too much, but the filmmakers help us out some by introducing us to the movie a little at a time - first by a kind of prologue that is really a different movie altogether that the Simpson family happens to be watching in 1.85:1 and then by deliberately stretching the title card once the movie proper gets under way.
Stretching the show is the basic idea in The Simpsons Movie since we are, after all, used to 10-12 minute chunks, with story lines that run only about 22 minutes. And there is some feel to the movie's being three shorter stories strung together. Almost necessarily, jokes that play well in a short time frame will likely stand still in mid-air in a 90-minute format. But once the story line takes off, things move along without much lingering. To the extent I have a serious complaint, it is the lingering, where the smartest television audience has to endure dumbed down sequences for the general movie-going public. A typical example of this happens in the last reel or thereabouts where Homer can't decide between two choices. He feels like he's between a rock and a hard place, as the saying goes. The image to express this dilemma is easily expressed in a single frame, thus:
<![if !vml]>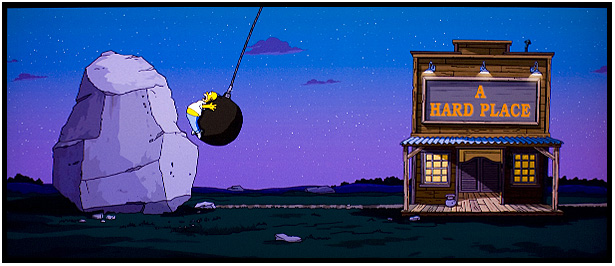 <![endif]>
But the camera lingers for repeated swings and bangings against the rock. I call this the "Jay Leno school of delivery": any punch line worth saying is worth saying repeatedly. Even Disney wouldn't be so cruel.
The Simpsons Movie
The Score Card
The Movie : 7
The above complaint notwithstanding, the basic plot for the movie is both politically relevant (and how could it be else with the Simpsons group) and a good story with Marge taking a cold look at family values and Homer coming to make the right choice for a mix of reasons. While Mr. Burns and Smithers are given short shrift, Flanders gets considerable screen time as Bart's ersatz father figure after Homer leaves his son out to dry in the most embarrassing situation possible. Meanwhile Springfield is quickly becoming the environmental cesspool of the nation, about which Lisa drones on at length. And as she finds a kindred spirit in the new boy in town, Springfield passes legislation that makes dumping illegal. Things slowly improve, but needless to say Homer is the one violator whose single dump is enough for the EPA to put a lid on the whole affair. As a result, Homer and his entire family are chased by a towns-full of vigilantes; and though the Simpsons barely make good their escape, Springfield's fate eventually pulls them back.
Image : 9.5 (9.5/10)
The score of 9.5 indicates a relative level of excellence compared to other Blu-ray DVDs. On this 10-point scale, that makes this Blu-ray right up near the top. The score in parentheses represents: first, a value for the image in absolute terms; and, second, how that image compares to what I believe is the current best we can expect in the theatre.
Though perhaps it's all too easy to warrant a perfect score with a near non-existent tonal scale, but there it is: what we have here is a picture that is sharp as hell, bursting with primary colors and passes all the usual tests for clarity, cleanliness and freedom from artifacts.
Audio & Music : 8.5 & 8.5
I'm tempted to give the audio & music a full 10 except that, like the image, it doesn't get much credit for difficulty – the audio mix not needing to accomplish much, and the music having been in large part pre-written. That said, both are better than merely adequate – No TV show this.
Operations : 6
Accessing either Commentary track from any point or by any means automatically restarts the movie from the beginning. Points, however, for listing the vocal support in the credits along with mug shots of each of the characters. I don't recall anyone doing this before since the movies of the thirties and forties.
Extras : 8
I'm not sure what more we should expect here, so while it may seem a bit slim, may be it isn't. Both commentary panel tracks are chock full of more than you could possibly want to know about the movie and its pedigree. The "Special Stuff" is worthy, fun and self-explanatory.
Recommendation: 8
Maybe the movie falls short of a classic, but it's a must see for Simpsons fans and the world at large. The BRD ports over all the extra features of the simultaneously released SD, so the only reason to prefer it is for that extra clarity you would expect from high definition.
Leonard Norwitz
LensViews
December 15th, 2007
COMING SOON:

Enter the Dragon