(Mamoru Oshii, 1989)
Review by Luiz R.
Studio: Bandai Visual / Honneamise

Video: MPEG-4 AVC 1080p 16:9 (?30 mbps)
Audio: Japanese Dolby TrueHD 5.1, Japanese PCM 2.0 (1.5 mbps), English Dolby Digital 5.1(640 Kbps)
Subtitles: English
Chapters: 29
Extras:
Teaser and Trailer

Box:
Dual-Layered Blu-Ray (50GBs)
Dual-Layered DVD
Booklet
Released: July 27th, 2007

DESCRIPTION:
Patlabor, or Mobile Police Patlabor, is a classic name to anime fans. The police mecha franchise is the brainchild of Headgear, which consists of screenwriter Ito Kazunori, composer Kawai Kenji, scenarist Yuki Masami, character designer Takada Akemi, and, most notably, director Oshii Mamoru. The popular franchise has over the years spawned a manga, three anime series, and three feature-length films, the first of which was released in 1989. Directed by Oshii, the first Patlabor film, like other entries in the franchise, revolves around the Tokyo Metropolitan Police Special Vehicle Division 2 unit, which investigates crimes and accidents involving labors or labor robots.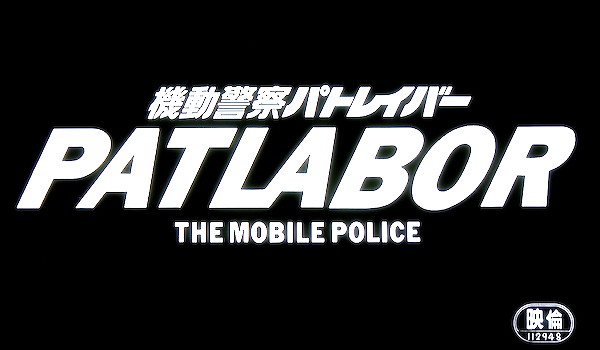 In the center of the messy construction that is Tokyo Bay lies the Ark, a giant man-made steel tower island where labors are manufactured. One day, programmer Hoba Eichi jumps to his death from the Ark. Soon after construction and military labors begin to malfunction, going on destructive rampages on their own accord. SV.2 traces the source of the problem to a new software program that was recently installed to all labors, including possibly the police's own Patlabor team. The program was created by Hoba, seemingly as a deliberate plan to bring destruction, and the unit must figure out how to reverse its effects before it's too late..
The package

The Video:
This anime is not about image details, its strong point is centered in the plot. If you compare with Wings of Honneamise (released 2 years before), you will find Patlabor is poor in details, but don't let this discourage you. The is image is very good and consistent and the usual Blu-Ray upgraded qualities (contrast, saturation, sharpness...) are all great here and the playback is smooth. In some few scenes the visuals remind the climax from "Ghost In The Shell", and there is even a female character where you can glimpse Major Motoko a little bit...

The only thing that may disturb the viewer are the dust speckles present throughout the movie. Often you re unsure if they are simply stars, but on the positive front there are no noticeable scratches. The same dust problem is present among other Honneamise Blu-Ray releases, like "Ghost In The Shell" and "Wings of Honneamise", and is not really annoying in my opinion if you get used to it. It's just the vastly improved resolution that brings out this one weakness. This is clearly a Hi-Def "problem" in my opinion.
Luiz R.
Screen Captures
Subtitle sample
(SD DVD TOP vs. Blu-ray DVD BOTTOM)
(SD DVD TOP vs. Blu-ray DVD BOTTOM)
(SD DVD TOP vs. Blu-ray DVD BOTTOM)
NOTE: Not exact frame
Caps from the Blu-ray
Audio:
The Japanese Dolby TrueHD is excellent, giving Kenji Kwai's soundtrack the value it deserves. The main music theme is kinda annoying in my opinion, but the suspenseful scores are beautifully enhanced and take some scenes to a higher level of tension. The Japanese PCM 2.0 sounds like the original stereo release and is also good but lacks the feeling the Dolby TrueHD offers.

There is also a Dolby Digital 5.1 English dub, that seems to be the same available in previous DVDs but now enhanced a little.
Menus
BOTTOM LINE:
This is an enjoyable anime with a consistent plot that won't disappoint any anime fan and this new high quality package is surely the best way to view it. The price and the unavailability of an American release is a drawback, since you can only enjoy the booklet if you know Japanese. But I would still give it a moderate recommendation due to the high quality work made by Bandai and the rewatchable value of this classic anime. This easily has a place in any serious anime collection in my opinion.