(Len Wiseman, 2007)
Twentieth Century Fox
Review by Gary W. Tooze
Video codec: MPEG-4 AVC (28mb/ps)
Video resolution: 1080p
Aspect ratio: 2.35:1

Audio: English: DTS-HD Master Lossless Audio 5.1, English: Dolby Digital 5.1, DUBs: French: Dolby Digital 5.1, Spanish: Dolby Digital 5.1

Subtitles: English (CC), Spanish, Chinese (traditional), Korean, none
Supplements: Commentary by Bruce Willis, Director Len Wiseman and editor Nicholas de Toth, Black Hat Intercept game, Enhanced for D-Box - motion control systems, Analog Hero in a Digital World (documentary on the Making of...), Yippee-ki-ay! Motherf****** - a Bruce Willis/Kevin Smith interview, Music Video: "Die Hard" performed by Guyz Nite, Behind the Scenes with Guyz Nite - featurette, theatrical trailer in 1080P.

Disc: 50GB (dual-layered) Blu-ray Disc
Released: November 20th, 2007
Standard Blu-ray case
20 chapters
Product Description:
On the July 4th holiday, an attack on the vulnerable United States infrastructure begins to shut down the entire nation. The mysterious figure behind the scheme has figured out every modern angle — but he never figured on an old-analog fly, John McClane, in the digital ointment. It's the beginning of the holiday, but New York City detective McClane isn't celebrating. He's had yet another argument with his college-age daughter Lucy, and received a crushingly routine assignment to bring in a young hacker, Matt Farrell, for questioning by the FBI. But for McClane, the ordinary has a habit of exploding into the extraordinary — abruptly hurtling him into the wrong place at the wrong time. With Farrell's help, McClane slowly begins to understand the increasing chaos surrounding him. An attack is underway on the vulnerable United States infrastructure, shutting down the entire nation. The mysterious figure behind the scheme, Thomas Gabriel, stays several moves ahead of McClane as he implements his incredible plans, known to uber-geeks like Farrell as a "fire sale" (as in, everything must go!).
****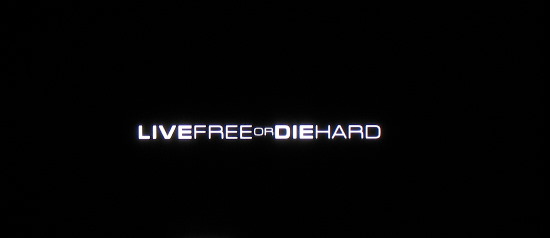 The Film:
In this action-packed sequel, John McClane is assigned the dangerous task of capturing the mysterious hacker attacking America's vulnerable infrastructure.
Somewhere around the halfway mark of
Live Free
, the villain taunts the ultimate bad-luck cop John McClane (Willis): "You're a Timex in a digital-watch world." McClane certainly takes a licking and keeps on ticking. He gets a car hurled at him, faces the onrushing flames of huge explosions twice, is the target of air-to-ground missiles, is dropped from a jet aircraft spinning out of control and still keeps going relentlessly after the cyberterrorists who are crashing the entire infrastructure of the United States.
The script follows the rules of this series scrupulously. Terrorism is a cover for greed. The chief baddie takes a member of McClane's family hostage, never a good idea, but always a villain's go-to negotiating strategy. McClane, meanwhile, deals with a hacker (Long), who realizes too late that his talents have been used for evil and provides some comic relief and a point of identification for the under-30 audience.
The pleasant surprise is that
Live Free
ticks along like that Timex, with a reassuring rhythm. Wiseman, best known for his virtually incoherent direction of the Underworld films, proves he can in fact assemble an action sequence. And Willis does exactly what we want—looking frustrated for the first half and then going after the bad guys like the wrath of God. Brainless? Sure. Entertaining? Yup.
Video:
Better say that I didn't see this theatrically and can't really state the Blu-ray DVD's accuracy to such. This digital image looks pretty good but not always great. Florescent blue dominates every scene - I can only assume this was intentional. Four or five very dark scenes exhibit intense grain in the background - akin to digital noise but I don't think it is. Most sequences seem preoccupied with darkness but having one or two bright lights in the background - this could be in keeping with a 'computer monitor' appearance and the general technology theme of the film. I'm not condemning this image, which I'm certain bests the SD edition, but most may be 'Wow'ed' more by the special effects than the high-definition image. Together the combination is potent... but not lethal. Colors and contrast seem quite acceptable but in the world of hi-def DVDs - it would probably be considered unremarkable. I suspect my perceived dissatisfaction (I'm not really unhappy with the quality) stems more from the cinematography than the transfer. Fox usually puts out exceptionally accurate hi-def DVDs and I have no evidence to suggest that this is a deviation. Detail has some stunning moments and I hope the captures below give a fair representation of the dual-layered 1080P video quality. If I was to rate it - I might go as high as 8/10 even though it never exhibits the 3-dimentional depth phenomenon that we often anticipate with the new formats.
NOTE: This is the 'theatrical cut' not the 'unrated'.
Audio:
Comes in two 'original language' flavors - English: DTS-HD Master Lossless Audio 5.1 (WOW!), and an English Dolby 5.1 track. There are also 2 optional DUBs: in English: Dolby Digital 5.1, DUBs: French: Dolby Digital 5.1, Spanish: Dolby Digital 5.1. Sound was intense at times - 'window rattling' as it were. Some healthy bass supports the action sequences and separation was marvelous.
Optional subtitles support the audio in your choice of English (CC), Spanish, Chinese (traditional) or Korean.
Extras:
Pretty complete with well-rounded but still PC commentary by Bruce Willis, Director Len Wiseman and editor Nicholas de Toth (Yes, son of notable director André De Toth). Production details were discussed as was the film's rating - overall good for fans who will bother to partake. There is a Black Hat Intercept game that I did not indulge in. Listed as an extra is the 'Enhanced for D-Box - motion control systems' (as originally announced for Alien vs. Predator, Courage Under Fire and Broken Arrow). It utilizes motion codes specifically programmed for each film - I'm unsure of its impact on Live Free or Die BRD. Analog Hero in a Digital World is a documentary on the Making of... with input from many sources - production based info. Yippee-ki-ay! Motherf****** is a Bruce Willis/Kevin Smith interview. There is also a music video: "Die Hard" performed by Guyz Nite, Behind the Scenes with Guyz Nite - featurette, and finally a bombastic theatrical trailer in 1080P (I hope we get more of these!). Fox did a great job - I don't think anyone who is keen on the film would want any more.
Menus
BOTTOM LINE: Well, I LOVED the concept of this film, although it was taken to an absurdist extreme. Fans should get this one - no question. Willis plays a damn fine one-dimensional hero and the other performances were strong as well. I'd be lying if I said I didn't enjoy Live Free - it's almost equal to the first issue of the series in terms of quality. I've come to expect the Hollywood dumb'ing down of a fine plot and the grandiose effects and explosions - I do kinda wish they could curb the excessive gunfire a bit but... Oh well, this is one amazing way to watch this genre of hyper-exciting theatre with superlative good and baddies - sure - Yippee-ki-ay, I recommend!