NOTE: We have added a review of the superior SD edition located
HERE
(Wilson Yip, 2007)
Studio: Deltamac (HK)
Region: A (playable in North and South America, parts of Asia; SEE HERE)
Video: 1080p - 2.35:1 - (20Mbps)

Audio: Cantonese PCM 7.1 (6.9 Mbps 16-bit/48kHz), Cantonese DTS-HD 7.1 (1.5 Mbps), Cantonese Dolby Digital EX 6.1 (640Kbps), Mandarin Dolby Digital EX 6.1 (640Kbps)

Subtitles: Chinese (Simplified and Traditional), English, none
Special Features Subtitles: Chinese (Simplified and Traditional), English

Disc: Single-Layered Blu-Ray (25GBs)
Runtime: 87 min.

Extras:
Making Of, Interviews, Ultimate Fighters, Trailers and Teasers, TV Spots and Deleted Scenes

Release Date: November 13th, 2007
Package: Blu-Ray Standard case

Synopsis:
Pre-1997, a hero's story. Detective Sergeant Jun Ma's lifelong nemeses are a triad gang of three brothers. In order to fight them from within, Jun has planted a mole, Wilson, who has managed to gain the complete trust of the gang. But over the years Wilson has become more and more unhappy with Jun's impulsive and unruly style. In a heated battle Wilson's dual role is exposed and one of the gang members is arrested. In order to escape any convictions, other gang members decide to destroy all the evidence and kill all witnesses to their crimes, including Wilson. Jun would pay any price to save his partner...
****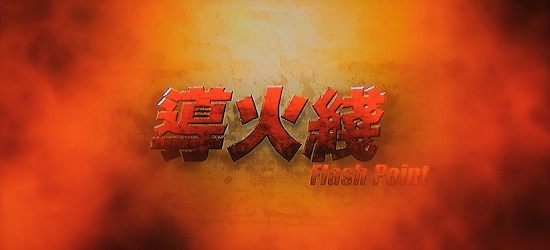 The Film:
In his black leather jacket and oozing plenty of charisma, Donnie Yens Inspector Ma Jun quite resembled his other character in SPL, which was also directed by Wilson Yip, because at one point Flash Point was supposed to be an SPL sequel. But in any case, the character is slightly tweaked. Early in the movie, Ma Jun tells it straight to the camera that as a cop, his job is to apprehend criminals, and its as simple as that. And the trailers would have you believe here's a man who's lightning quick with his punches, throws and kicks.

However, you've got to wait until the hour mark for all that. For action junkies, your patience is severely tested, but the wait is well worth every minute you're put on hold. Ive caught the trailer at this years Hong Kong Filmart, and it was one that had action and more action, with nary a line of dialogue. But in the movie, much time is devoted to attempts in building characterization, until the story realizes it better give what the audiences are here for, to see Donnie Yen kick ass.

Having teamed with Wilson Yip in earlier action productions like SPL and Dragon Tiger Gate, Donnie Yen returns as action choreographer for Flash Point, and the cast adopts the fighting style called MMA - Mixed Martial Arts, which is something of a blend of various martial arts techniques, that audiences probably haven't seen before stylistically in close combat scenes. Flash Point boasts some incredible action sequences with explosive hard hitting fight combinations, and the sole complaint I have is I cant get enough of it! What more, as learnt from SPL having real martial arts exponents like Sammo Hung and Wu Jing fighting opposite himself, it made the sequences look more authentic, and the pace at which they can go at each other much more frantic. Collin Chou (Seraph from the Matrix movies) stars as one of the chief baddies, and watching the two awesome gladiators duke it out is nothing short of edge of your seat material - you'll feel their pain!
Excerpt from Twitch located HERE

The Video:
NOTE: We have added a review of the superior SD edition located HERE
I wasn't expecting much from this release in terms of quality, but I wanted to check the latest Blu-Ray coming out of Hong Kong so I decided to go for it. The movie settings and cinematography kinda deviate your attention from the many flaws present in this transfer, but if you look - you will find.

To begin with if you want to know a thing or two about edge-enhancement halos, this is the right place to start. There are so many and in many different forms. The only explanation I can think of is the people responsible for the transfer finding the halos a "shining" effect as cool as Donnie Yen's moves. Because even a blind guy touching the screen with his bare hands would feel the over-enhanced manipulated edges.

Sometimes you can easily see thick black borders surrounding the actors, looking like, at least slightly, they were artificially inserted into the scene. The contrast doesn't help as well, it is uneven and you can note the nuances between the scenes. Some scenes are strongly contrasted, others are below average and colors a bit blurred, yet a few others are normal. Reddish shades are not rare, but average noise level is good, only more detectable against bright backgrounds when the camera moves.

These disturbances don't make this Blu-Ray un-watchable. I went through this movie twice and found the overall visuals grabbing and the detailing level adequate. But this single-layered Blu-Ray transfer is far from the quality a price tag of $37 should offer in my opinion.
Audio:
The PCM 7.1track is an amazing waste of bit-rate here as I couldn't hear any significant differences between it and the DTS-HD. Actually the latter even sounded slightly more balanced. Nevertheless, both options are just 'okay'. Surround experience is timid and details don't get exceptionally gripping. But the mixes work fine for fight scenes where the surround gets a bit more dynamic and special effects more keen.
I believe the DTS-HD track can also be found in the SD DVD. Both Dolby Digital have similar characteristics (one is an optional Mandarin dub), and sounded close to the DTS-HD, but not so buoyant.

Subtitles:
I don't know Chinese but the English subtitles come with the same usual problems you usually find in Hong Kong releases. You can read and understand but it is not an example of proper English - grammatically speaking...

All subtitles are positioned in the lower black bar, there are mixed feelings about that...



Extras:
All the extras are SD but are English subtitled. Although the supplements seem extensive, most are uninteresting and others should just be grouped into a single one, like the Making of and the very short "Ultimate Fighters" featurette. IMHO the Making-Of doesn't add much but it is fun to watch - the same goes for the interviews, but I just watched half of it and then I lost interest. But for the fans it can be considered a fair package.

Menus
Package:
Standard Blu-Ray transparent bluish case with an abstract image as the back cover.
BOTTOM LINE: The movie is not a must, but Donnie Yen's moves certainly make this a watchable and fun flick. If you liked SPL you'll enjoy this. While holding similarities to SPL, we are given a new level of drama which is introduced to the plot and the fighting sequences. It is more creative, in a sense, keeping the movie interesting enough from being overshadowed by the martial arts clichés. This Blu-Ray quality is not superb but is the best available, thus for action fans this should considered. For the general public - get it if you want to check how innovative Hong Kong martial arts movies can still get but be prepared abut the image deficiencies.
NOTE: We have added a review of the superior SD edition located HERE
Luiz R.