(Mamoru Oshii, 2001)
Studio: Bandai Visual / Honneamise
Video: 1080p -16:9 - AVC (±38Mbps)

Audio: Polish Dolby TrueHD 6.1 (± 2.8Mbps), Polish Dolby Digital EX 5.1 (640kbps), Japanese PCM 2.0 (1.5Mbps)

Subtitles: Japanese, English, none

Disc: Dual-Layered Blu-Ray (50GBs) + Dual-Layered DVD
Runtime: 106 min.

Extras: Trailers, Booklet

Release Date: September 25th, 2007
Package: Blu-Ray+DVD Box

Overview:
The film is set in a bleak future, where the population is hooked on an immersive virtual reality video game called Avalon. Despite its popularity the game can be deadly, leaving players' bodies catatonic in the real world. One player of the game, Ash (played by Polish actress Małgorzata Foremniak), hears of a secret level hidden within Avalon. The film follows her quest to find the level.
The film's colour palette is mainly sepia tones, helping to blur the line between the real world and that within the game itself.
The film is typically Mamoru Oshii styled in its pacing and editing. It is relatively slow paced, reinforcing the mundane nature of the world Ash lives in and highlighting the excitement of playing the game. The film also features a basset hound, a breed of dog common in Oshii's films, since he has one, named Gabriel.
The film's score is by regular Oshii collaborator, Kenji Kawai.
From Wikipedia HERE
The Film:
Today, instead of artificial entities who look, talk and act like us (or at least those of us who have had moral lobotomies), dark future films are speculating more about the unreality of reality and the merger of humanity with the bit stream that surrounds us -- and threatens to engulf us. Among the best is "Ghost in the Shell," a 1995 animated movie by Mamoru Oshii set in a future Hong Kong menaced by a cyber criminal who has no mortal form, only malicious control over an enormous sea of data. The ultimate computer virus, as it were.

Now Oshii has returned with, not more cel animation -- a technology that is beginning to look dated -- but a live-action film that takes up where "Ghost in the Shell" left off, in a future Poland instead of Hong Kong. Place, however, is less important than post-apocalyptic mood, in which the risky thrills of a virtual-reality game (with the emphasis on "reality") coexist with economic depression and social collapse.

There is little recognizably Polish about this world -- it could be any Eastern European country with picturesquely decaying cityscapes, wheezing streetcars and statuesque brunettes whose glamour comes from an air of experience and an aura of danger.
****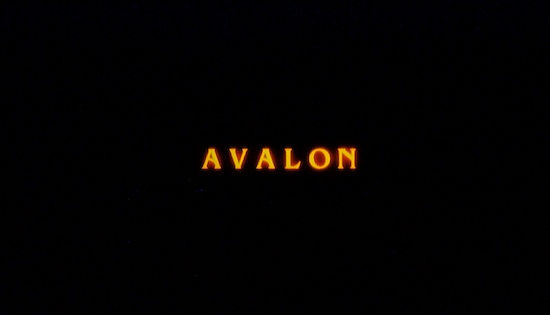 The heroine is Ash (Malgorzata Foremniak), one of the aforementioned brunettes, who lives alone in a run-down apartment block with her basset hound. She makes a precarious living playing Avalon, a virtual-reality RPG (role-playing game) with a military theme, in which the losing players end up as "lost" -- i.e., burned-out shells whose connection with reality (or at least our current version of it) has been permanently severed. The grimly ironic name of the game refers to the mythical island where warriors go after their deaths in glorious battle.
An expert player, who vaporizes enemy soldiers and equipment with ease, including a deadly looking monster of a chopper, Ash wants to move to the next, highest level of the game: Special A, which has no reset and, for all but the winners, no return. She is also determined to play solo, despite the urgings of the aged Game Master (Wladyslaw Kowalski) to join a "party" or team.

This, so far, is pretty standard woman-on-a-mission stuff. It unfolds, otaku-like, too slowly for strangers to the RPG culture, who may not be as enthralled as initiates with Ash's quest to battle through to the "mission complete" screen and rack up more points on her Avalon gold card.

But once she enters Special A, the game, and the film, moves to another, more complex, level, in which the quest becomes more inner than outer and the objective begins to shift in ways that Ash could not foresee or humanly understand. What is "virtual reality" when you're no longer sure what is virtual and what is real?

This is the same question posed by the Wachowski brothers' "The Matrix" and David Cronenberg's "eXistenZ," and, for fans of those films, Oshii's answers may have a familiar ring. (Though Oshii first got the idea for "Avalon" nearly a decade ago, long before his American and Canadian competition hit the screen.) I liked Oshii's, though: He is not trying to graft heady New Age philosophy onto Hollywood SF and Hong Kong chopsocky cliches ("The Matrix") or film the equivalent of a bad acid trip with gross-out effects ("eXistenZ"). Instead, he is taking his personal RPG obsession to the outer limits, giving "Avalon" a feeling of conviction and commitment the other films lack. Hit the play button -- if you dare.

Excerpt from The Japan Times (Mark Schilling) HERE

The Video:
This Blu-Ray transfer is a great improvement from previous DVD editions and since the film is intensively post-processed, making it difficult to clearly recognize image flaws, most of my review is based on comparisons with previous SD DVD releases and the SD DVD included in the package.
Package:
The usual Bandai double disc set with a standard DVD keep case for each disk (I like that) and another beautiful glossy textured box similar to "Ghost in the Shell" release.
I tested the Blu-Ray I few times in different settings and home theater systems and judging by the result this transfer is free of fatal flaws and many persistent problems among previous releases appear diminished if not totally eliminated. But results varied among the systems/settings I tested, most of the time the Blu-Ray delivered a pristine, calm and pleasantly textured presentation. But in one of the tested plasmas some scenes displayed disturbing giant macro-blocks and agitated noise. A proper adjustment (mostly brightness/contrast) concealed these issues without compromising important details. Know that all previous SD DVD (many compared
HERE
) releases compared (Miramax and the 2001 Japanese edition) displayed these same problems, often aggravated, and many more. Some TVs were just able to deal with them better.

The SD DVD included is by itself a considerable upgrade from the previous editions but the Blu-Ray DVD is at least 30% visibly better than this new SD DVD transfer, notably tones, sharpness, and contrast were all cleanly enhanced. (NOTE: comparison was done with the SD DVD upscaled to 1080p. The player and the settings were the same for both formats). To me this is a great achievement considering the problematic source, once used to deliver past troublesome releases, and unless they come up with a complete different and better new master I doubt you will see any improvements in future releases. Note that Miramax has the rights for US distribution and it doesn't seem that anything will come out this decade.

I tried to capture the images closest possible to the original intend for them, I checked some notes, data, internet info, and images from the booklet included. The movie changes from cooler tones to warmer ones often making it difficult to find out what is the correct calibration, but after compiling all the info I got I believe the grabs below are close to intended.
(SD TOP vs. Blu-ray BOTTOM)
(SD TOP vs. Blu-ray BOTTOM)
(SD TOP vs. Blu-ray BOTTOM)
Blu-ray Screen Captures
Audio:
The original Polish soundtrack comes in 2 available options, The Dolby TrueHD 6.1 and the Dolby Digital EX 5.1. The second. The DD EX is very good and I couldn't notice veryo much of a difference between the two, maybe with a 6.1 sound system... But the TrueHD is better, I won't say it is overwhelmingly more rich but it is more open and the subwoofer kicked me more often. Sound is pure and clean on both.

The Japanese PCM stereo dub is excellent as well and the differences are subtle, the voices are more evident than the other two options and it sounded more detailed in a few occasions than the Dolby DD EX.

Extras:
As usual, the only real supplement is the nice booklet full of images and data, but all in Japanese, that was helpful giving me tips about how the image should look. You can also find some trailers (actually I had the impression it was just one single trailer) in the Blu-Ray disc, but the image quality isn't too good anyway.
Menus
Subtitles:
The subtitles look precise and in agreement with the comments posted HERE. I also got the impression the timing is better in this Blu-Ray release than before, but I wouldn't say it is perfect.
BOTTOM LINE: I find the movie interesting enough to deserve a recommendation. The visuals, the cinematography and the work with tones are worth a look even if one is not interested in the surrealistic sci-fi genre. This Blu-Ray is a superb evolution from previous editions and finally delivers the quality the film deserves. To say the least this is a solid distinct package that even though pricey won't disappoint!
Luiz R.