(Tim Burton, 1990)
Twentieth Century Fox Home Video (USA)
Review by Gary W. Tooze
1.85:1 1080p - 25 GB single-layered
1:44:54
Audio: English DTS HD 4.0 Master Lossless audio, DUBs: Spanish 2.0, French 2.0
Subtitles: English, Spanish, Chinese, Korean, none
Extras:
• Commentary by Tim Burton
• Commentary by Danny Elfman
• Featurette
• Theatrical trailer (in Hi-def)

Released: October 9th, 2007
Blu-ray case
24 chapters
Product Description:
Once upon a time in a castle high on a hill lived an inventor whose greatest creation was named Edward. Although Edward had an irresistible charm, he wasn't quite perfect. The inventor's sudden death left him unfinished, with sharp shears of metal for hands. Edward lived alone in the darkness until one day a kind Avon lady took him home to live with her family. And so began Edward's fantastical adventures in a pastel paradise known as Suburbia.
***
Quirky and stylistic seem to go hand-in-hand when discussing director Tim Burton. In, possibly his defining film, Edward Scissorhands he invests an obtuse premise, essentially involving societal tolerance in extremes, into viewers acceptance... and it works. Both unique and excessively creative Edward Scissorhands is refreshing, humorous and completely watchable. This film is by no means a masterpiece but it certainly helped establish Burton as a viable and offbeat mainstream force in Hollywood and the film definitely has things to say, much of which is interpretational but not exceedingly poignant.
Video:
There is a big improvement from the most recent incarnation of SD DVDs of Edward Scissorhands - the 'Anniversary Tin Box' from November 2005 (reviewed HERE). The screen grabs below will bear out that the new Blu-ray edition betters in every usual area - detail and especially color (vibrancy and brightness). Because of the nature of this film I would say these are important improvements.
The MPEG-2 compression on the Blu-ray has but one flaw - it looks so pristine that you can more easily identify special effects (including make-up etc.).
This may sound like a compliment but I did find some of my willing suspension tested in the Blu-ray viewing. I never saw this film theatrically but wonder if I would feel the same about that presentation. I am only basing by judgment compared to the SD DVD(s) of the film that I have seen - it's quite possible that the imaginative art-direction sets and dynamic design visuals had an element of expressionism in their creation. Anyway, the bursting colors do really add to the fairy-tale expression of the film. It's much more apparent in hi-def - more fun to watch for sure.
Subtitle Sample
Twentieth Century Fox (Anniversary Tin Box) - Region 1 - NTSC TOP vs. Twentieth Century Fox Blu-ray BOTTOM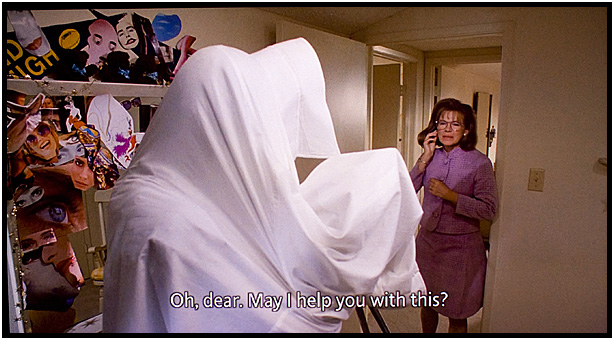 Screen Captures
Twentieth Century Fox (Anniversary Tin Box) - Region 1 - NTSC TOP vs. Twentieth Century Fox Blu-ray BOTTOM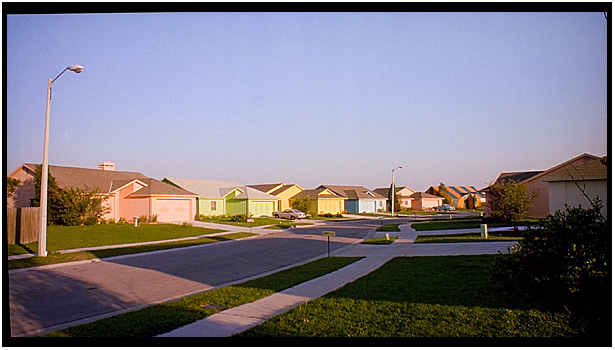 Twentieth Century Fox (Anniversary Tin Box) - Region 1 - NTSC TOP vs. Twentieth Century Fox Blu-ray BOTTOM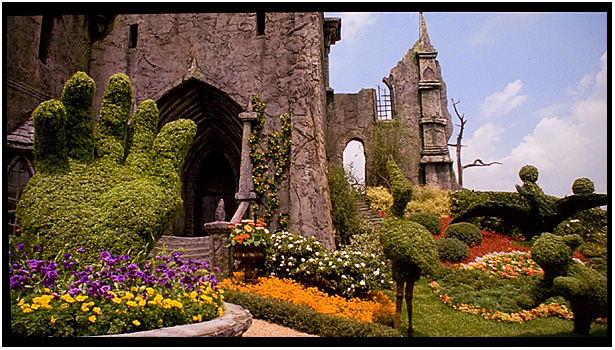 Blu-ray captures
Audio:
Dang good! - English DTS-HD Master Audio 4.0 lossless audio sounded fabulous to my ears - some solid separation and two optional 2.0 channel stereo DUBs are offered (French and Spanish). The main track is another strong representation for the storytelling aspects of the film and I had no complaints. Thumbs up!
Optional English, Spanish, Chinese, or Korean subtitles (see above) in a white font with black border support the dialogue.
Extras:
Aside from the hi-def trailers (which looked excellent) most of the same important extras can be found on the 'Anniversary Tin Box'; two audio commentaries - a laid-back and charming one by director Tim Burton and a second, with obviously more details about the soundtrack and music, by composer Danny Elfman (which has some long gaps). These are pretty good as modern Hollywood commentaries go and there is more to say about the film than you might expect from simply watching it. Almost unnecessary to mention is the so-called 'featurette' - a scant 4.5 minutes filled with sound-bites from interviews. Worth a pass.
Menus

BOTTOM LINE: I have a soft spot for this film for some reason and always thought the SD version(s) were pretty weak in the image department (they certainly are in comparison) and the superfluous 'tin' box is a waste indeed. The colors and detail are more than enough to recommend the Blu-ray if you are at all keen on this cute little fable.