Alone in Love
Written by Park Yun-Sun
Based on the 1996 novel by Nozawa Hisashi
Directed by Han Ji- Seung
Originally aired in Korea, from April 3 to May 23, 2006
Review by Leonard Norwitz
Studio: Yellow Films & SBS Television, Korea / YA Entertainment (USA)
Video:
Region 1 : NTSC
Aspect ratio: 1.85:1 [anamorphic]
Feature: 480i
Supplements: 480i [4:3 & letterbox]
Audio:
Korean DD 2.0
Subtitles:
Feature: English
Extras: English
Extras
• Interviews
• Behind the Scenes Diary
• Music Video
• Bloopers
16 episodes, approx 60 minutes per episode
Extra features: 4 hours
1 box set, complete on 7 discs
2 volumes in single slipcase
Release Date: May 1, 2007
Review by Leonard Norwitz
Alone in Love
~ Comment
see also Introduction to Korean Drama HERE
A young couple, probably in their early thirties, meet for dinner at a hotel restaurant. They reminisce about memory and about the fallibility of memory. For the moment, they stop short of commenting on the consequences of remembering and not remembering, since they share a particularly painful experience which one cannot forget and the other refuses to remember. That comment is reserved for the remaining sixteen hours of this unusually adult comedy/drama about love, marriage and divorce, family and children, and loss. Alone in Love is about intimacy – about what binds us and keeps us at a distance. It is about contact – about where one person leaves off and the other begins. Alone in Love is about rationalization – what keeps us from moving on even after the formal declaration of divorce.
For all its profundity, Alone in Love is a very funny show. The efforts of each character to undermine his or her own best interest will not fail to put a smile on your face. Even in translation, the dialogue is sharp, clever, adult. There is a good deal of voiceover commentary by the principal characters which permits us to gain even more appreciation of their thinking and feeling, even when it's contrary to their spoken dialog. Alone in Love does not dwell on tragedy. On the contrary, the characters do everything they can to avoid painful memory in any direct way. Even their annual visits to their baby's grave is not sufficient to overcome the inertia they have worked so hard to put in place.
The genius of the screenplay is that we never feel that we are simply strung along through this bi-way and that while Eun-Ho & Dong-Jin ignore the obvious and the show's producers make their profits. One can't help but plot a course if you're writing a novel for television. The trick is to not let anyone see you do it. Nor do we want surprise for its own sake. As is typical of Korean TV dramas the level of psychological insight is keen and complex, often more so than in U.S. TV shows (I hope this doesn't come off as faint praise.) No matter how much we empathize or want the main couple to reconcile – or not, if that's your wish – it is not the conclusion, but the process of getting there that holds our attention.
Alone in Love is directed by Han Ji Seung, who won the best director award at the 2001 Daejong Film Festival for the movie, Haru, and written by Park Young Seon, who wrote two-hour dramas as well as the hit feature film comedy, My Tutor Friend in 2003, and Too Beautiful To Lie in 2004. The evocative musical score is by Roh Young-Sim, who, by the way, married the director, soon after.
The two principal actors, Gam Woo-Sung and actress Son Ye-Jin are currently at the top of the Korean entertainment food chain. They have appeared in film and television to popular enthusiasm and critical acclaim. Gam Woo-Sung (also commonly spelled "Karm" Woo-Sung) brings to his character a charming indecisiveness that he demonstrated so amiably in the 2001 comedy, Marriage is a Crazy Thing, and the stubborn rogue of Korea's biggest money-making film to date, the 2005 The King & The Clown. Gam had made a half dozen TV series previously, but nothing so successful or as well received as Alone in Love.
Son Ye-Jin is equally experienced in film (The Art of Seduction, April Snow) and television (Summer Scent), but her range had never been so tested or so amply demonstrated as in Alone in Love. She has a killer smile that she is careful not to overuse; a gentleness that makes your heart ache, as when she is teaching swimming to young children; an ironic comedic touch as when she is stuffing her face with food while her ex is watching her in fond recollection; yet she can be painfully affecting when she is simply simmering.
A show of this length and breadth requires, and is given, an excellent supporting cast: There is the best friend (Joon-Pyo) and his love interest (Ji-Ho) - the only characters in Alone in Love that defer to stereotype, but even then Park Yun-Sun writes in dimension that Gong Hyung-Jin and Lee Ha-Na are able to play off of. My only regret is that Gong, a pediatrician, is caricaturized by a calculatingly messed up hairdo – a totally unnecessary redundancy. Some people find Lee Ha-Na as Eun-Ho's sister and roommate a little too weird. I didn't. I felt she capitalized on her inexperience as an actress with a character who is equally inexperienced in life. The irony of her offering advice and consolation to her much older and wiser sister is both funny and touching by turns.
Dong-Jin and Eun-Ho each have two important and very different love interests who take us into territory that offers still more insight into their character and inevitably bring them closer to confronting the death of the child. Rounding off the dramatis personae are a lady wrestler and club-owner, close friend to our merry quartet, and Eun-Ho's father, a radio talk-show advisor to the lovelorn who gets occasional calls from an anonymous listener whom we know as Eun-Ho.
Alone in Love ~
The Score Card
The Series : 9.5
Dong-Jin and Eun-Ho have been divorced for three years. They are still friends – or at least go through the motions that friends do – and meet at the same hotel restaurant on the anniversary of their marriage for dinner every year – the same hotel where they got married. They joke about the free dinner coupon the hotel sends them each year and how it only makes sense to use it in this way. "Who else might they take?" they ask. They have remained stubbornly single, though they do not appear to know why. In the next scene, the couple arrives, apparently separately, at the grave of their child. We see that it was a boy, and that he has a name, and that he died the same day he was born.
Eun-Ho bears most of the pain, yet her anger is just below the surface. She goes through life in a kind of slow-motion haze. Dong-Jin makes with the jokes in a thinly veiled attempt to feel nothing. He manages a bookstore in a shopping mall. One day he gets the idea to set up his ex-wife with a loser so she would see what she gave up by the divorce. It's not that he wants to reconcile, Dong-Jin just wants Eun-Ho to squirm. But his plan backfires and the loser turns out to have credentials he didn't expect. Eun-Ho returns the favor, and for the next several episodes the question of reconciliation raises its head.
What our errant couple does not do, however, is address directly the question of the death of their child and their reaction to it – especially Dong-Jin's. That death hangs over this couple like the proverbial elephant in the room. They can't even talk about getting back together directly, though it is clear that they still have feelings for each other that go beyond their history.
Edition: 8.5
The original edition, produced by Enemedia and published by SBS Television in July of 2006 is now out of print, so my remarks are to some extent moot. All the same, DVD Beaver readers will want to know if they are giving up or getting something as compared to that edition. The SBS edition was Region 3 and packaged in 3 volumes in a single box. Two of the volumes contained the series' 16 episodes in 4 discs per: thus, 2 episodes per disc instead of YAE's 3. The third volume contained the extra features on 2 discs. Ten discs in all, compared to to YAE's seven. This would not necessarily have lead to better image quality, but in this case, the SBS is subtly better looking for the main feature in terms of sharpness, color, contrast and absence of artifacts than the YAE (I'd give it another half-point.) And – most odd – about 1.5 points better for most of the extra features.
Also unexpected is that all of the Extra Features (which are the same for both sets) are subtitled in the SBS edition. (They aren't usually.) This leads to the question of translation. Korean movies and original Region 3 television shows of the past ten years are given reasonably idiomatic English translations, but could be better. This is where YAE has the advantage, since their market is North America, not Korea. In the present instance I would give the YAE translation (only in terms of readable English, not in respect to its literal meaning, since I know no Korean) about 1 point higher for the feature and 1.5 points higher for the extra features.
Image : 8.5 (7/8)
The score of 8 indicates a relative level of excellence compared to other standard definition DVDs on a 10-point scale for SD DVDs. The score in parentheses represents: first, a value for the image on a 10-point scale that accommodates both standard and high-definition DVDs – where any score above 7 for an SD is outstanding, since the large majority of high definition DVDs are 8-9.5. The second number in parentheses indicates how that image compares to what I believe is the current best we can expect in the theatre or, in the case of made-for-TV fare, as first shown on television.
I understand from YAE that Alone in Love was originally filmed and broadcast in high definition. Copies of each episode were shipped as "high definition digital beta tapes" which were then converted by YAE to SD for regular authoring. Alone in Love is one of the first drama series to be presented by YAE in anamorphic widescreen. [Damo, regrettably, slipped past their radar, and Palace was given to them by the studio in letterboxed format despite YAE's instructions.] My observations for YAE's production of All About Eve are relevant here, though to a less marked degree.
Alone in Love is nearly always of demonstrable quality, except for the scenes at the beach, which were shot under difficult windy conditions. It is only when compared to the original Region 3 SBS DVD edition that there a perceptible amount of jpg artifacts (noticeable at the edges of shoulders and hair and the like), edge-enhancement is almost non-existent. Facial complexion, hair and eyes, and fabric textures are remarkably clear. Color and contrast, especially considering how much of this drama is hot on location, is exceptional. There are times when the image rivals some HD in smoothness, resolution and dimensionality. There is the usual caveat with Korean TV shows as well as some of their feature films (see my review of the Blu-ray edition of The Host HERE) to overexpose light areas in the frame, but otherwise, this is a extraordinary image, bettered in live action, non-studio SD productions only by the likes of HBO's Deadwood or the Broadway Melody sequence from Singin' in the Rain. We have the impression that what we are looking at is close to the live video feed from the camera.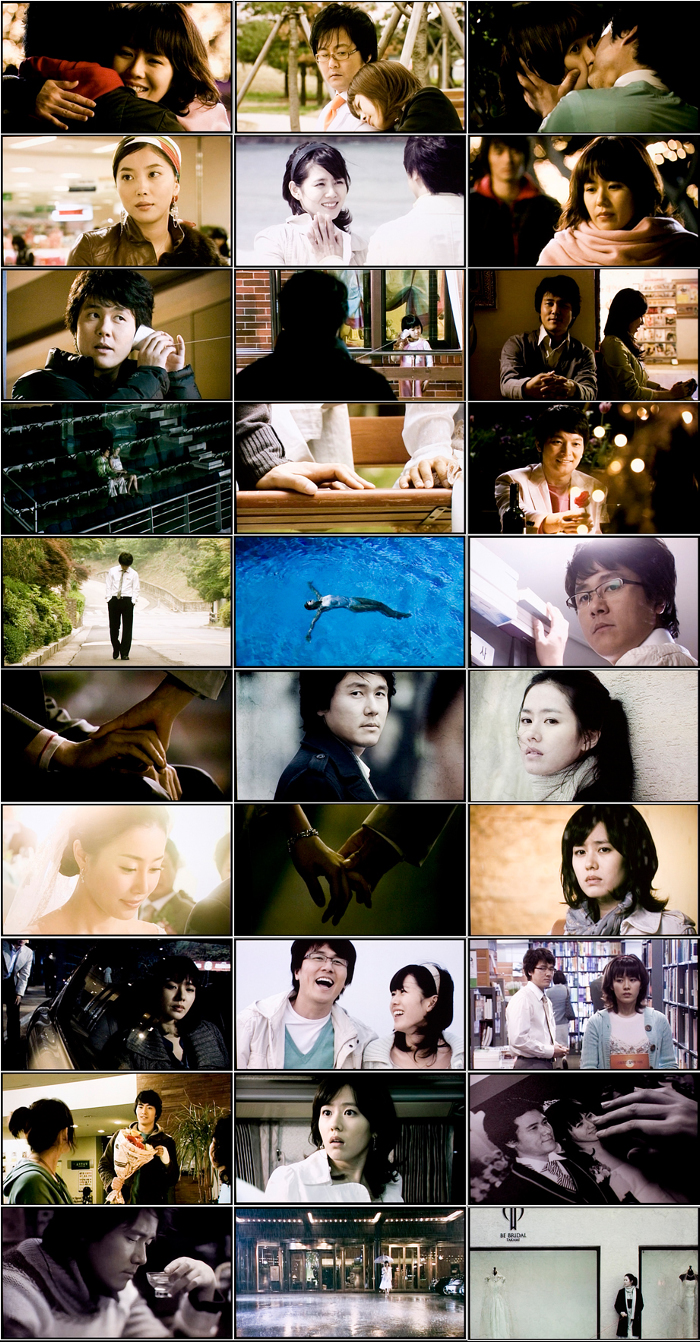 Audio & Music : 8/9
The hallmark of a 5-star Korean drama series is its musical score, and this one by Roh Young-Sim is no exception. Even though its themes are few in number (but no less than others of it ilk), they appear in sufficient transformations throughout the series and, even more happily, not at an in-your-face volume. Roh explores no new territory here, but what she has come up with is right on target to support the varied emotional states of the characters, expressed and unexpressed. The OST is worthy of a separate purchase. The sound mix is up to the task, blending music, foley (though much of the sound is live) and dialogue with intelligence and clarity.
Subtitles : 8
As mentioned under Edition above, the translation on the YAE is very good in terms of its being in good idiomatic English and representative of each different character. I knocked off a point because there is no distinction in the subtitles for voiceovers. This is no big problem when the onscreen character is doing the voiceover, but trying to sort out who is saying what when there is overlapping dialogue, one of whom is thinking rather than speaking, is exhausting – and would have been unnecessary if the voiceovers were in italics. Otherwise the subtitles are white, readable, not too large, even for a projected image
Operations : 10
The menu here has to be the best laid out I've ever encountered: When you click on "Episodes" a window comes up showing thumbnail scenes in motion, long enough to get the idea and short enough to move onto yet a second scene in the same chapter. Capping it off, there is no attempt to show those thumbnails in proper aspect ratio, which would have taken up too much room across the frame and instead are artfully arranged in different shapes across a row. Brilliant! The SBS edition does not employ animated thumbnails, and instead shows large, low contrast thumbnails in proper aspect ratio. Not nearly as cool, as clear, or as useful.
I also loved the that little touch under the credits where we see Eun-Ho and Dong-Jin holding a thread of yarn, indicating the tenuousness of their otherwise persistent connection.
Extras : 7
"Lee Ha-Na's Diary" is a very informal backstage video blog. Clever, in a way, but I found it too adolescent for my taste. That made a certain sense given her character, but it was took nearly an hour and didn't really deepen my appreciation of much that went on. Having said that, I find I must now correct my impression: It didn't deepen my left-brained appreciation, but in its passive, indirect way, it did let me see just how unlike the finished product is the filming of a scene. In this, it was fascinating and very unsettling. The interviews with the translator of the Japanese novel into Korean, the screenwriter, the composer, the director, and eight of the cast members - roughly 5-10 minutes each - are staged, but informative. Definitely worth a look. The music video segment is, more precisely, two separate videos: one that used fragments of the more charming moments and one that concentrated on the more downbeat scenes. The music (aside from the female singer in the first video, whom I didn't think all that much of) and the organization of bits from the drama with the music is pretty good. Finally there are five minutes of Bloopers. Yes, in Korean, with subtitles.
Recommendation: 10
Of the eight Korean TV dramas I've watched over the past couple of years, only two (the other being
Dae Jang Geum
) receive an unqualified 10 from me. Strongly recommended.
Leonard Norwitz
LensViews
October 12th, 2007
The Winner of a complete box set of Alone in Love(value over $80) is:
Peter Sattler, Sheboygan, WI
The Runners-Up, who each will receive a DVD of the first 3 episodes, are:
• J. Tse, Peachtree City, GA
• C. Samuelson, Evergreen, CO
• R. Cagle, Fisher, IL
• J. Rolnicki, Brunswick, OH
• C. Tsai, San Jose, CA
• J. Y. Lee, Tujunga, CA
• A. Straus, Harjumaa, ESTONIA
THANKS FOR ENTERING!