Studio Canal (France)
Review by Gary W. Tooze
Studio Canal (France)
1.78:1 1080p
2:42:03
Audio: DTS-HD Master Japanese 5.1, DUBs: DTS-Hi-Res French 5.1, DTS-Hi-Res German 2.0
Subtitles: French, German, Danish, Norwegian, Swedish, Finnish and Dutch (subtitles cannot be removed when Japanese is chosen as audio)
Extras: Bande-Annonce (DVD promo trailers), Video test, Audio test, Subtitle placement option, Removal of onscreen detail option (example; when film is paused)
Released: May 21st, 2007
HD-DVD case
15 chapters
The Film:
Kurosawa established himself as the best cinematic interpreter of Shakespeare with his recasting of Macbeth as a samurai warlord in
Throne of Blood
. That he should in his later years turn to King Lear is appropriate, and the results are all that one could possibly dream of.
Ran
proposes a great warlord (Nakadai), in a less than serene old age, dividing his kingdoms up between his three sons. True to the original, the one he dispossesses is the only one faithful to him, and ran (chaos) ensues as the two elder sons battle for power, egged on by the Lady Kaede (an incendiary performance from Mieko Harada). The shift and sway of a nation divided is vast, the chaos terrible, the battle scenes the most ghastly ever filmed, and the outcome is even bleaker than Shakespeare's. Indeed the only note of optimism resides in the nobility of the film itself: a huge, tormented canvas, in which Kurosawa even contrives to command the elements to obey his vision. A Lear for our age, and for all time.

out of

Excerpt from TimeOut Film Guide located HERE
Video:
CAVEAT - We more than realize that the screen images below for the HD-DVD are far less permissible than our previous standard. They are taken with a digital camera and although they accurately reflect the image that I am seeing on my professionally calibrated plasma television - it is still not a fair representation of the DVD in many respects... including detail. What the comparison captures hope to impart to you are the variances in the color representation, possibly framing, and other details of the HD-DVD next to 2 of the better SD editions (Criterion and Optimum UK). PLEASE DON'T EMAIL ME AND SAY THE HD-DVD LOOKS BLOWN OUT. In this forum it may be true in some areas - and we are very well aware of that fact. We are using the images to explain other attributes or foibles of the French HD-DVD.
NOTE: HD-DVDs do not have region or standard coding. This DVD will play on any HD-player (firmware upgraded) in the world.
***
Studio Canal don't appear to be taking this HD-DVD thing very seriously. David Hare noted the flaws in their Mulholland Dr. DVD in his review HERE. I purchased this DVD with the full realization that it would not have English subtitles, but I was extremely curious about the HD image after we have compared 7 different standard DVD editions of RAN HERE. I did hope I could see the film in Japanese audio though - without subtitles (but I cannot). On the positive the image is exceptionally bright and colors are at the 'blow-you-away' level. Unfortunately though it stretches beyond the natural confines of the film. Occasionally RAN has been digitally represented as being more muted (The Criterion is the primary example of this). Colors on the Studio Canal disc look intensely vibrant and generally very impressive but they occasionally cross the line. Close evidence (zooming-in) reveals what is known as 'edge enhancement'. Its intent is to improve the apparent sharpness of an image. This phenomenon is a product of digital manipulation and produces contrast contours - in this case low frequency enhancement producing very wide halos.
Edge Enhancement halo (turn down brightness on your monitor to see more closely the effect)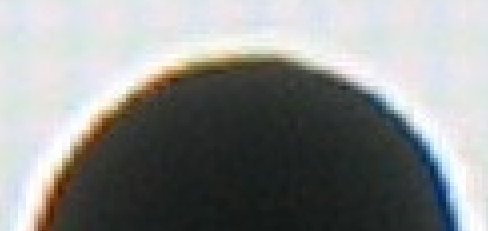 *NOTE: Digital cameras can produce this affect as well but through 1000's of pictures I have taken I have never seen it to this level of prominence. It positively does exist on this HD DVD. It is teeming with it at times.
It should be noted that for the majority of people this will not be as big a distraction as it is for purists, but being aware of its existence we can make some further assumptions regarding the colors.
Does this mean the colors are inaccurate on the Studio Canal DVD? Very probably, but as they already vary quite extensively in the existing SD releases, so I suspect that it comes down to a personal preference and what you can accept. I cannot give you factual statements on how the film looked theatrically (never saw it on the big screen and probably wouldn't remember anyway - it's 20 years old). As one example - the Criterion SD DVD represents the film's outdoors scenes as if they had been shot on a cloudier day. The HD looks as if it was on one of the brighter Summer days of the year and in truth Kurosawa's intentional use of vibrant colors was an obvious juxtaposition of the occasionally violent narrative. As Frank tells us:
"I did see "Ran" twice when it was first released, in Boston on an enormous screen. Every DVD release since has been a disappointment visually, until this new HD-DVD release. The colors in the original were extremely vivid, the image detailed and sharp. The physicality of the image was overwhelming.
As you say, the Criterion "represents the film's outdoor scenes as if they had been shot on a cloudier day." This undoes an important part of the force of the original--that you are watching a beautiful, very violent world whose imposing presence is hypnotic and inescapable. On the HD-DVD, this is once again the effect the film has. At least on a 50-inch plasma, this happens with the Studio Canal image and distinctly not with the Criterion." (Thanks Frank!)
So how do I think RAN looks? - Stunning... at times! So much so that I have used certain majestic scenes from this DVD to demo my system to those ignorant of this obvious filtration phenomenon (EE). Although one friend even inquired as to whether the image had been manipulated because it looked too good to him. There is some digital noise as well, but it was not frequently observed. It is possibly even brighter and more vibrant than Black Snake Moan (HD), although less 'film-like'. I don't have issue with the sharpness (or rather - the perceived sharpness). Because of the EE it reports a deft image in terms of detail depending on how far away you are. But in truth, the edge enhancement should be considered an unacceptable weakness in this HD-DVD transfer. This is something I don't want to see present in the new format DVDs - it manipulates and alters from original production intentions and once you become aware of it - it can be a big distraction and actually look quite ugly. It is an attempt to fool you and I don't appreciate that at all. This Studio Canal (and Universal -Europe in Germany) editions shouldn't be supported. In fact, Studio Canal may as well stop producing HD-DVD if they intend on continuing this silliness. They are a blight on HD-DVD.
The HD-DVD is cropped a little on the left edge.
It is a shame as I suspect even without the EE filters - it would have looked superior (if only marginally so) to the current conglomerate of SD DVDs - simply based on the striking colors. This is where HD seems to vault ahead of SD (personally speaking).
Criterion release from November 2005
* HD image derived from a digital camera - do not weigh comparative examples too heavily. Color and contrast and not to our usual specifications.
Audio: is offered in a DTS-HD Master Japanese 5.1 track and two DUBs: DTS-Hi-Res French 5.1 and DTS-Hi-Res German 2.0. As subtitles are forced on the Japanese track I listened mostly to the French DUB and the music sounded as good as I recall on any other DVD of Ran. The score sounded particularly good, but the voice dubbing is, and always will be, a big joke.

Like some of the old RusCiCo (Russian Cinema Council) DVDs - the subtitles (offered in French, German, Danish, Norwegian, Swedish, Finnish and Dutch - NO ENGLISH) are forced as a choice when the Japanese audio track is chosen. You can only have no subtitles at all when the French or German DUB is selected. I realize this is due to copyright holdings but it is not going to stop me bitching about it as Studio Canal have done similar in their The Graduate and Three Day of the Condor DVDs. Why I am so bothered is that you cannot watch these films (on Studio Canal HD-DVDs) in their original format - meaning original audio (without the distraction of a forced subtitle). I was hoping HD-DVD would help us move beyond this. I consider it a total waste. It is only a notch below forced subtitles on any DVD (I say 'notch below' because you can remove them but you must hear one of the DUBs - or turn the mute-on).

Extras: Nothing as relevant as a commentary or featurette - there are the typical Bande-Annonce (DVD promo trailers), a Video test, and an Audio test (neither of which hold much weight with me). But I was interested in the subtitle placement option as it allowed me to make them as unnoticeable as possible. You are given 4 options (A,B,C or D buttons on your remote) as to the placement and size. There is also a tick-box option in the extras to remove any of the onscreen technical details (example; when film is paused).
Menus
--Miscellaneous--
An insert flyer advertising other Studio Canal DVDs.
BOTTOM LINE: We, obviously cannot endorse this DVD and you would have to be a real nut like me to want this in your collection. I bought it to review for the site but I'll admit I have played it a few times while puttering around the house. Every once in a while I'll sit and watch one of the more grandiose scenes that are not plagued with overly heavy EE. It has caused me to revisit the Criterion DVD of RAN and unfortunately I seem to have been spoiled by the Studio Canal colors - which I've admitted I like - regardless of their accuracy. One day, one day....