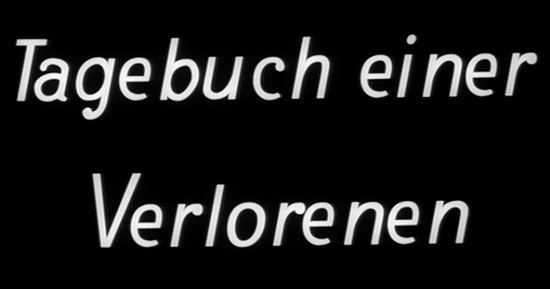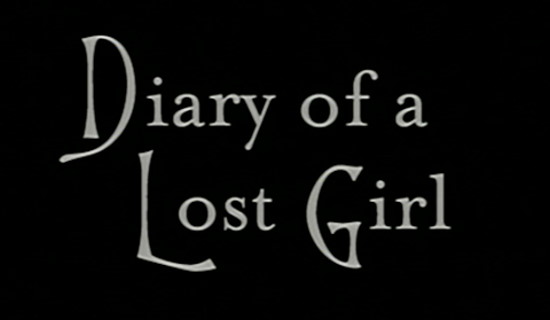 (Masters of Cinema title in TOP - Kino on BOTTOM)
(aka 'Diary of a Lost Girl')
Directed by Georg Wilhelm Pabst
Germany 19
29
A masterwork of the German silent cinema whose reputation has only increased over time, Diary of a Lost Girl [Tagebuch einer Verlorenen] traces the journey of a young woman from the pit of despair to the moment of personal awakening. Directed with virtuoso flair by the great G. W. Pabst, Diary of a Lost Girl represents the final pairing of the filmmaker with screen icon Louise Brooks, mere months after their first collaboration in the now-legendary Pandora's Box [Die Büchse der Pandora].

Brooks plays Thymian Henning, an unprepossessing young woman seduced by an unscrupulous and mercenary character employed at her father's pharmacy (played with gusto by Fritz Rasp, the degenerate villain of such Fritz Lang classics as Metropolis, Spione, and Frau im Mond). After Thymian gives birth to his child and rejects her family's expectations for marriage, the baby is stripped from her care, and Thymian enters a purgatorial reform school that seems less an institute of higher learning than a conduit for fulfilling the headmistress's sadistic sexual fantasies.
****
An elegant narrative of moral musical chairs, Pabst's last silent film not only plays on who holds what kind of legitimate place in society, but is also a starkly direct view of inter-war Germany. Feasting the camera on Brooks' radiant beauty, Pabst follows the adventures of innocence led astray in the shape of Thymian, a pharmacist's daughter. Her progress from apple of her father's eye, through sexual lapse and approved school, to darling of an expensive brothel and finally to dowager countess, gives Pabst the opportunity to measure the Germany of the Weimar republic against Brooks' embodiment of a vitality so exuberant that it equals innocence. However damning, though, Pabst's indictment of the bourgeoisie as torn between powerless compassion, greed and scandal-lust, his alternatives - the brothel as the one place of true friendship, or the aristocratic father-figure who puts everything right in the end - smack very much of a cop-out, allowing him to both revel in decadence and enjoy the moral superiority of denouncing it.
Excerpt from TimeOut Film Guide located HERE
Poster
Theatrical Release: September 27th, 1929
Reviews More Reviews DVD Reviews
DVD Comparison:
Eureka - Masters of Cinema - Region 0 - PAL vs. Kino - Region 0 - NTSC
Thanks to Geff Ratcheson for the Kino caps!
(Eureka - Masters of Cinema - Region 0 - PAL LEFT vs. Kino - Region 0 - NTSC RIGHT)
DVD Box Cover

Distribution
Eureka - Masters of Cinema Spine #39 - Region 0 - PAL
Kino Video - Region 0 - NTSC
Runtime
1:47:00 (4% PAL speedup)
1:55:48
Video
1.33:1 Aspect Ratio
Average Bitrate: 4.81 mb/s
PAL 720x576 25.00 f/s
1.33:1 Aspect Ratio
Average Bitrate: 7.3 mb/s
NTSC 720x480 29.97 f/s

NOTE: The Vertical axis represents the bits transferred per second. The Horizontal is the time in minutes.

Bitrate:

MoC

Bitrate:

Kino

Audio
German (Dolby Digital 1.0)
German (Dolby Digital 2.0)
Subtitles
English, None (over German intertitles)
English translated intertitles
Features

Release Information:
Studio: Eureka - Masters of Cinema

Aspect Ratio:
Original Aspect Ratio 1.33:1

Edition Details:

• 40-page booklet including writing from Louise Brooks, Lotte H. Eisner, Louella Interim, Craig Keller, and R. Dixon Smith

DVD Release Date: May 21st, 2007
Transparent Keep Case
Chapters: 18

Release Information:
Studio: Kino Video

Aspect Ratio:
Original Aspect Ratio 1.33:1

Edition Details:

• Louise Brooks short: Windy Riley Goes Hollywood

DVD Release Date: November 13th, 2001
Keep Case
Chapters: 12
Comments:

ADDITION: This is pretty much akin to The Metropolis comparison that we did HERE. Both Eureka and Kino received the transfer from the German Stiftung restoration - but Kino, once again, have translated the intertitles to English and created an interlaced transfer (see evident combing throughout - and last capture sample). It appears as though they actually did the costly conversion to NTSC but didn't bother to make it progressive - potentially instilling a real visual distraction to anyone with an advanced viewing system (widescreen TV, LCD, plasma, projection etc.) Sigh. Both show the same damage marks (mentioned in comments below) but they have different levels of prominence - once again I give this nod to Master of Cinema - it is possible they boosted contrast at times to hide some of the extensive marks. The PAL disc has a more film-grain appearance. Kino shows more rounded corners (hidden by all theatre projectionists) as well.

Kino provides a short talkie comedy, Windy Riley Goes Hollywood with Louise Brooks and directed by Roscoe 'Fatty' Arbuckle - while Masters of Cinema have the advanced liner notes (see below).

You will want the Masters of Cinema release in the end as the DVD(s) will last longer than your current system plus the liner notes are a joy! Ohhh the MoC is cheaper too!

***

Gary on the MoC: A film of this age, and condition, has obvious issues for a digital transfer. There are plenty of scratches, both light hairline and heavier, some flickering contrast, other more prominent marks, but the bottom line is that most will find this visually acceptable considering... and very watchable. It uses the master from the Friedrich Wilhelm Murnau Stiftung print. MoC may have boosted black levels a shade. The screen captures below give a fair representation of how it will look on most systems.

This seems to be a rarity for MoC in that there are no digital supplements - but the good news is that they have included their usual large liner notes booklet keepsake with vintage reprints and new material including writings from Louise Brooks, Lotte H. Eisner, Louella Interim, Craig Keller, and R. Dixon Smith.

The DVD inferiorities don't take away from the magnificence of the film one iota. Louise Brooks is her usual hypotonic self. For those keen on film history or the silent era it is an easy must-have and although I don't own the Kino Region 1 NTSC edition - I have done enough comparisons to know that this PAL edition would easily be judged the best. If the Kino is not a PAL->NTSC combing/ghost festival then I would be more than shocked - most likely catatonic. I recommend this MoC release on the strength of the film and the production company's sterling track record. This will be the best English subbed version available. You need to buy it. At the writing of this review it is 38% OFF!
---

DVD Menus
(Eureka - Masters of Cinema - Region 0 - PAL LEFT vs. Kino - Region 0 - NTSC RIGHT)
---
Subtitle/Intertitle Sample
(Eureka - Masters of Cinema - Region 0 - PAL TOP vs. Kino - Region 0 - NTSC BOTTOM)
Screen Captures
(Eureka - Masters of Cinema - Region 0 - PAL TOP vs. Kino - Region 0 - NTSC BOTTOM)
---
(Eureka - Masters of Cinema - Region 0 - PAL TOP vs. Kino - Region 0 - NTSC BOTTOM)
---
(Eureka - Masters of Cinema - Region 0 - PAL TOP vs. Kino - Region 0 - NTSC BOTTOM)
---
(Eureka - Masters of Cinema - Region 0 - PAL TOP vs. Kino - Region 0 - NTSC BOTTOM)
---
(Eureka - Masters of Cinema - Region 0 - PAL TOP vs. Kino - Region 0 - NTSC BOTTOM)
---
Combing Evident on the Kino
| | | |
| --- | --- | --- |
| DVD Box Cover | | |
| Distribution | Eureka - Masters of Cinema Spine #39 - Region 0 - PAL | Kino Video - Region 0 - NTSC |