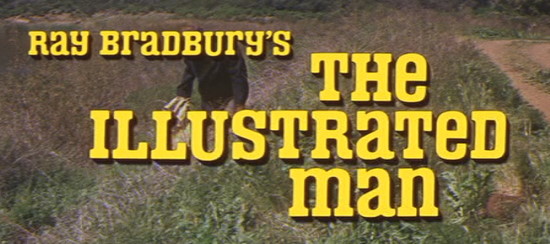 Directed by Jack Smight
USA 1969
A much maligned film, loosely derived from Ray Bradbury's collection of short stories and spinning out a fascinating triangle relationship which ranges disconcertingly through past, present and future, and in which the three participants never meet on the same time plane. A young hitchhiker (Drivas) encounters a stranger on the road (Steiger) whose skin is covered with fantastic tattoos which foretell the future. They were done, he says, by a witch-woman (Bloom) who disappeared 'back into the future', leaving him to roam the earth like the Wandering Jew in quest of vengeance against the woman who made him an outcast. Fascinated, already falling in love, the young man begins to conjure an image of the witch; and through the Illustrated Man's tattoos, sees three stories from the distant future in which he, the witch and the Illustrated Man play the leading roles, all hingeing obliquely on the betrayal of love, with sometimes one character, sometimes another, becoming the victim. Time suddenly ceases to exist, and the characters are caught in a reenactment of the story of the Garden of Eden (or of Cain and Abel) over a campfire where the Illustrated Man and the young hitchhiker fight a mental/physical battle over their enigmatic, absent Eve. Hesitantly directed by Smight, the script is nevertheless genuinely imaginative, and both settings and performances are admirable.
Excerpt from TimeOut Film Guide located HERE
Each day before shooting, Steiger spent several hours being 'tattooed' for his role as a man whose tattoos each tell a weird story. Based on three futuristic stories by Ray Bradbury, the film is a curious, pretentious, science-fiction morality play. Steiger, mannered and morose, stars with his then-wife Bloom. The tales tell of parents as victims of zombie like children, a space-wrecked crew on another planet, and nearing the end of the world.
Excerpt from Channel 4 located HERE
Poster
Theatrical Release: March 26th, 1969
Reviews More Reviews DVD Reviews
DVD Review: Warner - Region 1,2,3,4 - NTSC
DVD Box Cover

CLICK to order from:

Distribution
Warner Home Video - Region 1,2,3,4 - NTSC
Runtime
1:43:00
Video
2.35:1 Aspect Ratio
Average Bitrate: 5.72 mb/s
NTSC 720x480 29.97 f/s

NOTE: The Vertical axis represents the bits transferred per second. The Horizontal is the time in minutes.

Bitrate:

Audio
English (Dolby Digital 1.0), DUB: French (Dolby Digital 1.0)
Subtitles
English, None
Features

Release Information:
Studio: Warner Home Video

Aspect Ratio:
Original Aspect Ratio 2.35:1

Edition Details:

• Vintage featurette: "Tattooed Steiger"
• Original theatrical trailer

DVD Release Date: December 19th, 2006
Keep Case
Chapters: 25
Comments:

Solid progressive and anamorphic transfer from Warner. With moments of great clarity and virtually artifact free I expect this is a superb representation of the film's theatrical appearance. The mono audio is surprisingly good and a French DUB is offered. The DVD sports only English subtitles.

Extras include a theatrical trailer and 10 minute vintage short on the tattooing process undertaken by Steiger daily during shooting. The highly unique film is an intriguing anomaly. A bit of a Bradbury mish-mash it ends up being quite memorable and effective. I initially saw it 30 years ago and parts of it have never left me. Good value purchase for those keen on this brand of intellectually posturing sci-fi.

NOTE: (Thanks Randall!): "The DVD looks wonderful EXCEPTING that at 1:36:17 (approx.) there is a digital artifact the appears near Rod Steigers chin. I was viewing the DVD on my new Oppo Digital DV-981HD at 720p on a Maxent 50" Plasma via HDMI. I switched to 480p and the glitch was still there. I then watched it at 480p via Component on my Pioneer DV-434 and the glitch still appeared.

I requested a replacement DVD/FILM - Amazon sent another one out and I tested it again via all the above and the glitch is still there. I can only surmise that this digital artifacting is either the result of the first pressing of this DVD or, even worse, the result of the telecine transfer process - it only happens for a split second - I hope that this can be corrected upon future pressings."
---

DVD Menus
---
Subtitle Sample
Screen Captures