ODILON REDON: THE EYE LIKE A STRANGE BALLOON (1996)

Directed by Guy Maddin

4 minutes and 31 seconds

16mm, B&W (monochrome)

Available on the DVD Short 2: Dreams (formerly Short Cinema Journal Vol. 2)

DVD produced by Warner Brothers Ó 2000

Special Features for Odilon Redon:

· Production notes

· Commentary by Guy Maddin

· Storyboards (via alternate angle feature)

Reviewed by Richard Malloy (aka "Al Brown")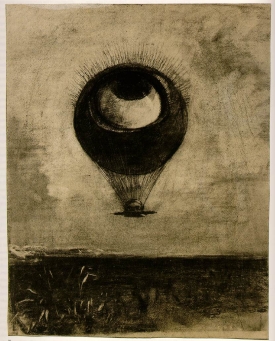 MoMA, NY (1878)
Commissioned by the BBC to create a short film inspired by a favorite work of art, Canadian avant-garde filmmaker, Guy Maddin, selected The Eye Like a Strange Balloon Mounts Toward Infinity, a charcoal sketch by the leading French Symbolist, Odilon Redon (1840-1916). Redon's piece was part of a series of illustrations he created for Charles Baudelaire's French translations of the works of Edgar Allen Poe.
As Redon took a certain impressionistic distance from Poe's text, Maddin does likewise with Redon's illustration. Though one shot is a direct cinematic rendering of the title work, Maddin was not really interested in duplicating Redon's drawings or following the narrative of Poe's text. Instead, he sought to broadly emulate the black, smudgy texture of Redon's charcoal, which he describes as "oily as a train engine," and took narrative inspiration from the silent film, La Roue (1922), by one of his favorite filmmakers, Abel Gance. Whereas Gance's epic originally ran a full 8 hours, the BBC limited Maddin's submission to "4 minutes, and not one frame more." Should you find the narrative a tad murky in sections, understand that a rather significant amount of redaction was inevitable.
The story, though fairly simple and straightforward, may well be lost to the casual viewer beneath the endlessly bizarre imagery and intricately layered soundtrack. Like Gance's La Roue, it is a love-triangle between a father, his son, and an orphan girl who joins them on their great railway journey across the surreal landscape of life. Each character is conveniently identified by name-tag: the father, Keller, the son, Caellum, and the orphan girl, Bernice. When we first meet K & C, they are happily riding the rails, a proud father and his young, adoring son. Within the first 60 seconds, we are witness to C's sexual maturing, dramatized by the flash of a beard sprouting across his face (spreading from one ear to the other in time-lapse fashion) and his emergence from a giant boulder-like snail-shell cladding his lower body. It cracks open with an ominous explosion, and an adult actor emerges to take over the role of C. K & C soon come upon the comely Bernice, still clad in her juvenile shell. B joins them on their journey and quickly becomes K's favorite. Soon, B's shell also breaks away, she emerges into maturity, and the inevitable sexual tension is born.
The rest I leave for you to decipher, though pay particular attention to the jackhammer teeth-chattering, the image of the double-blinded father, the son's head hanging like plump fruit from a Dali-esque tree, and the eaten beard. This film is a catalog of exquisitely rendered, dark dream imagery.
Maddin's original cut ran 5-1/2 minutes and he concedes that the 4 minute cut came at the expense of narrative clarity, such that the images appear to be 'dealt out like a pack of cards'. As with an earlier experience of being asked to pad out a film to feature length for exhibition (Tales from the Gimli Hospital), the easy-going Maddin complied and, in both instances, placed his stamp of approval upon the final cut (without stating a preference). Although the film is timed at 5:11 on the packaging, it is, in fact, precisely 4 minutes – plus about 30 seconds for the credits.
Regarding the quality of the transfer, it is difficult to tell whether a particular hazy, murky or otherwise distressed image is Maddin's doing or otherwise. From the high quality of the other, more conventionally shot films in this collection and the lack of any pixelation or other obvious digititis, it seems safe to pronounce it a very good, if not excellent transfer. Worth mentioning, however, is a peculiar, tiny, white silhouette of a camera superimposed like a TV network logo in the upper part of the screen just right of center. It appears to have been added after-the-fact and remains totally unexplained. Though present throughout, it quickly recedes from prominence amid the busy mise-en-scene and is not overly distracting.
The film features Maddin's typical, densely-layered scoundscape, replete with hissing, steam-spewing clamshells, the incessant chu-chu-chu-ing of the train and tacka-tacka-tacka of the rails, the intermittent sounds of teeth being brushed and great waves crashing against rocky shores, and a single line of dialog: "Oh the humanity!" Judging sound quality is hindered for the same reasons as the video, but by reference to other films on this disc, one may presume that it is an accurate reflection of the original mix. As with all the commentary tracks accompanying the various short films on this disc, Maddin's sounds, quite literally, phoned-in. But he provides an insightful and nuanced commentary in his typically engaging style, detailing just the sort of information a curious viewer would be interested in knowing. Brief but informative production notes are included, as well as an alternate angle feature displaying Maddin's rudimentarily drawn storyboards.
A Note to the Perplexed: One might be inclined to wonder why anyone other than a bona fide Guy Maddin fanatic would be moved to purchase a DVD for a single, four minute film, regardless of how interesting or innovative it may be. Certainly, one would not likely be so moved even at its relatively inexpensive price of $10-12. But in addition to Maddin's film and a veritable trove of wonderful short features (including Bride of Resistor, Depth Solitude, A Guy Walks Into a Bar and the original short version of Big Brass Ring), there is also Chris Marker's La Jetée (1962), the 30-minute science fiction classic that inspired Terry Gilliam's 12 Monkeys. Marker's film is one of the true landmarks in the history of cinema and something no sci-fi aficionado or lover of experimental cinema should be without. So why not review La Jetée, you ask? Simply because it's a film that's received so much critical recognition and appreciation over the years that any review I could muster would be completely superfluous. Suffice to say that it is fascinating, mesmerizing, thought-provoking and – for one brief moment – utterly transcendent.
Awards: Best Canadian Short Film - Special Jury Citation, 1995 Toronto International Film Festival
Odilon Redon mini-bio CLICK HERE
Abel Gance's La Roue CLICK HERE
Review of Guy Maddin's Careful (1992) CLICK HERE