One day we'll all laugh that there were such things as DVD "regions". The DVD Forum should be ashamed for strong-arming the world into their regional straitjackets. Don't let them stop you! It's not illegal, no matter what they say.
Nick Wrigley of Masters of Cinema

JATON PSD-7611 Progressive Scan Multi-Region DVD Player review by Fred Patton
The Jaton has had a few firmware upgrades that significantly improve its performance and capabilities. Having forgotten to load the firmware at first, I experienced some poor handling of its zoom capabilities. There was a great deal of cropping which shouldn't have been there at 100 percent. Immediately, I downloaded the lasted firmware from HERE which fixed the problem. Curiously, there was an ISO image file for Adaptec EZ CD Creator users, and explicitly not Nero uses. Non-Adaptec users were pointed to two bin files to use to reconstruct the image. I found Nero had no problem with the Adaptec image, and bypassed the hassle.
The Jaton has an impressive array of video control settings, most of which I've had little experience with. Being able to easily play PAL and NTSC discs from any region, while defeating over scan and suppressing jitter, has largely satisfied my curiosity thus far. My necessity for this particular multi-standard, multi-region player is it's incremental zoom settings, with X-Y pan and X-Y scaling icing on the cake. It provides zooming in 5 percent increments, down from 90 to 45 in 5 percent increments, but unfortunately, there is no option for 95, which would have been useful for slight overscan adjustments, as well as up, starting with 105 percent. Typically, I watch with a setting of 90 or 85, depending on the extent of overscan. After playing with the various controls to size and offset the picture, it's convenient to have the Zoom reset operation to the restore the picture to its original dimension and position.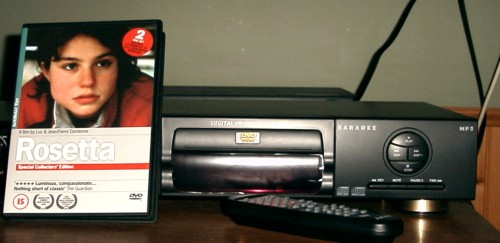 Some recommend keeping the Video – Display Setup on Adaptive, but I've found it typically necessary to choose Frame or Field, because Adaptive does not cut it in many cases. The menu access requires a few levels of drill down, but it remembers the last navigation separately for each menu screen, which is selected by default and can speed up making habitual settings changes. I like having the option to manually select between field, frame, auto, and adaptive.
The remote is so-so, with less than perfect responsiveness. It's not prime-time like the big name players, but I've seen a lot worse. It's pretty useable.
The thing I hate the most about this player is that when it has trouble reading beat-up, damaged or incompatible discs, it can be a real fight to get it to quit. That said, such trouble was rare, with the Jaton handling most everything I threw its way. But having taken my first player apart one to many times just to remove a disc that would not be released, leaves this as a very sore point for me. To compare with one of my other players, the Malata DVP 558, it could handle some treacherous discs that derailed or failed to load in the Jaton.
The Jaton can be a bit sluggish loading discs, but this is not too bad, and not as bad as with the Cyber Home CH-DVD 300, which I also have in my arsenal. For further comparisons, psychologically, I "feel" the Malata edges the Jaton in picture quality, but any differences are negligible, and they both perform with excellence.
The colors seem slightly more vibrant in the Malata, but not seeing the pictures side by side, I'm not sure of this.
There are some definite differences in suppressing jitter, particularly with anamorphic PAL discs. Again on negligible terms, the Malata softens the jitter to a greater degree, though this seems to correspond in a very faint degree of loss of detail.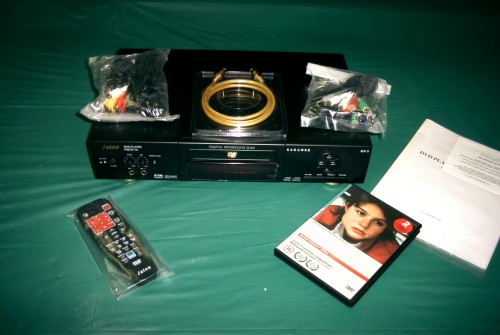 Jaton psd7611k Progressive Scan Multi-region DVD Player is the best deal in DVD players on the market today. The Jaton Multiregion Progressive scan DVD Incorporates features that are only found on machines costing hundreds of dollars more such as , NTSC/PAL compatibility, DVD /CD/ VCD playback
The Jaton PSD-7611K Progressive scan Multi-region DVD PLAYER provides you with superior video and audio quality with more than 525 lines of horizontal resolution,( 625 PAL) Dolby Digital® surround sound , DTS , BUILT IN AC3 Decoder, Built in NTSC PAL CONVERTER, REGIONFREE Multiregion DVD player OPERATION , Karaoke and also includes such great features as, still, step, fast forward, up to 8 languages , 32 subtitles, multi-angle, search by title and more.

Advanced functions

TRUE HARDWARE PROGRESSIVE SCAN Using the Mediamatics Pantera 2 NDV8501B2 Chip

expert and common user menus
Built In NTSC PAL converter
Selectable NTSC OR PAL OUTPUT
FULL Advanced features operation in Multi-region
Pan Adjustments
Color Brightness

FRAME STEP PAUSE
2, 4, 20 x FF /RR
MP3 Mode, Long file name support, Note: MP3 Playback does not support folders
CDR and CDRW support
Default Multi-region, Also region selectable for smart discs using two keypresses only,
17 SUBTITLE LANGUAGES
Karaoke..DOES NOT SUPPORT CD-G
Plays DVD-R DVD-rw
cd, svcd, vcd Mp3 , cdr and cdrw compatible
OUTPUTS

Optical output
1 SPDIF Coax ) digital audio output
1 pair of stereo audio output (Down-mixing audio output)
Dolby AC-3 six audio channel output (1 pair of main audio output, 1 pair of surround audio output, 1 center audio output and 1 subwoofer audio output)
1 composite video output and 1 s-video output
component video out
VIDEO RESOLUTION

525 LINES NTSC
625 LINES PAL
AUDIO SETUP SELECTIONS

Speaker setup
Bass Cutoff
Dynamic Range
Decoder Setup
CDDA S/PDIF Bypass
Digital Audio Setup
COMPLIANCY

MPEG-1 and MPEG-2 video and audio decode
Backward compatible with CDDA, VCD1.1/2.0/3.0, MP3 and SVCD
supports CDR and CDRW discs
Karaoke Features,

Karaoke echo effect
Two Microphone Inputs with level controls Does not support CD-G
WARRANTY

COMES WITH 1 YEAR PARTS LABOR WARRANTY


Jaton Region Free Operation

In Order to change your Jaton DVD player to Region Free

1: Power off the machine using your remote control

2: Press Clear button on remote

3: Select region # ( O is for all regions)

4: Press Play

Unit will remain in the region you selected until you repeat the above to change region. Leave unit in Region 0 unless you get a "smart disk"

Should you get a smart disk simply use the above instructions and change the machine to the disks original region
To order (CLICK AVDeals logo on right):
Jaton psd7611 Progressive scan Multiregion DVD Player FEATURES

Dolby Digital® (AC-3) Out, BUILT IN AC3 /DTS DECODER
delivers crisp, theater-like sound using six discrete channels of audio. Individual channels are provided for Left front, Center, Right front, Left surround, Right surround and Subwoofer.

96kHz/24-bit D/A Converter
Designed to maximize DVD audio performance and enjoyment, Jaton DVD players are equipped with a 96kHz/24-bit DAC. This advanced audio DAC can handle super-fidelity 96kHZ/24-bit sound, the highest level of audio quality in the DVD format

NTSC/PAL OUTPUT

The Jaton Progressive scan Multi-region DVD Player will output in both NTSC and Pal Formats WITHOUT A NTSC/PAL CONVERTER!!!!!

Multi-region DVD Player

Plays DVDs from all regions, Selectable from 0 (Multi-region) to 8. Default 0

Multivoltage

The Jaton PSD-7611 Progressive Scan Multi-region DVD Player operates on voltages between 100 and 230 VAC

MP3 Playback

The Jaton Multi-region DVD Player has the ability to play back Mp3 format cd's. This allow you to store over 600 minutes of cd quality music on a single cd. T Supports CDR and CDRW Discs, VBR and Bitrates from 24 to 300

Variable Aspect Ratios

The jaton Multi-region Progressive scan DVD PLAYER will output video in 4:3, letterbox and 16:9 aspect ratios. Also the expert menu allows xy and pan adjustments to fine tune the picture

Audio Streams

DVD Has the ability to hold a maximum of eight audio streams on a single disc. This enhanced capacity allows Hollywood Studios to include up to eight different language tracks providing added versatility in multi-language applications.

Camera Angles

Scenes that make up a movie may be shot from multiple camera angles, each providing a unique perspective of the program. DVD will allow, at the director's discretion, up to nine different camera angles to be recorded on a disc, enabling the viewer to select the angle they desire. This option will add interactivity to movies, sporting events and instructional videos.

Multi-Language

This feature allows up to eight different audio tracks to be mastered on a single DVD The user than can select the language track that suits their preferences

Includes

Remote Control
Batterys
Composite (rca) audio Video Cable