| | |
| --- | --- |
| | S E A R C H D V D B e a v e r |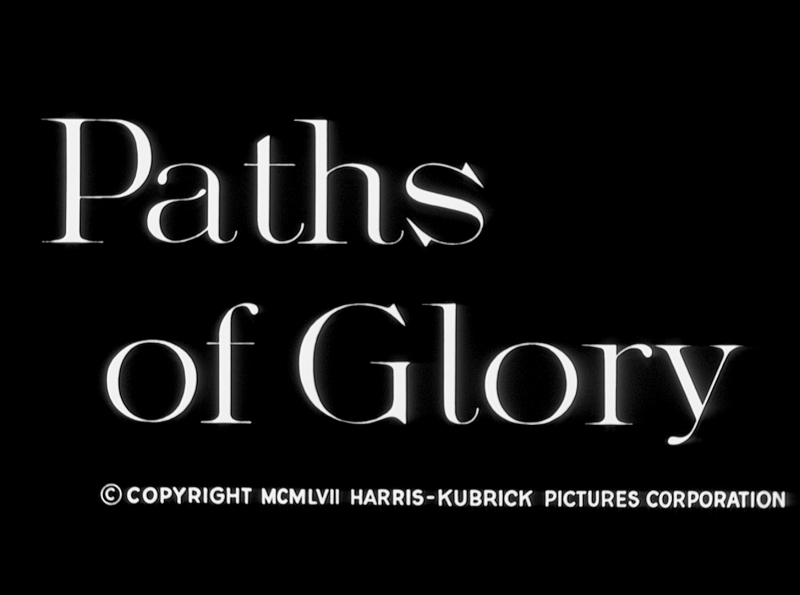 Stanley Kubrick's Paths of Glory is among the most powerful antiwar films ever made. A fiery Kirk Douglas stars as a World War I French colonel who goes head-to-head with the army's ruthless top brass when his men are accused of cowardice after being unable to carry out an impossible mission. This haunting, exquisitely photographed dissection of the military machine in all its absurdity and capacity for dehumanization (a theme Kubrick would continue to explore throughout his career) is assembled with its legendary director's customary precision, from its tense trench warfare sequences to its gripping courtroom climax to its ravaging final scene.
***
This was Stanley Kubrick's fourth movie, and he was still under thirty years old. It's amazing that they let him shoot a film which so clearly stuck a knife into the absurdity of war, the grim realism of trench warfare, the horror of combat. Even at this early age we see his penchant for long tracking shots, dialogue which circles back and forth in gratingly absurd and meaningless phrases which would be comical in a cynical way were they not so grim.

Those who have seen the film will know that I am leaving out crucial information after the battle scene. In fact, I refuse to say whether or not Dax takes the hill and how that will affect the lives of his soldiers during the drawn out, endless, tension filled days which follow. I will say that Kubrick directs his gaze at the relationship between those higher up on the totem pole and the subordinate soldiers who are squashed like bugs underneath them. A gregarious general with a healthy appetite (Adolphe Menjou) exploits Mireau for his tin star, Mireau forces Dax to win that damned hill or have hell to pay, and Dax is seemingly blind to a cowardly lieutenant (sad faced Wayne Morris) who accidentally killed one of his own men, covered it up, and seeks to destroy the one corporal (Ralph Meeker) who knows the truth.
Posters
Theatrical Release: December 25, 1957
Reviews More Reviews DVD Reviews
Incidental Reading on Stanley Kubrick (CLICK COVERS or TITLES for more information)
Comparison:
MGM - Region 1 - NTSC vs. Criterion Region 'A' - Blu-ray
MGM - Region 1 - NTSC LEFT vs. Criterion Region 'A' - Blu-ray RIGHT
DVD Box Cover

Distribution

MGM

Region 1 - NTSC

Criterion Collection - Spine # 538 - Region 'A' - Blu-ray
Runtime
1:28:15
1:28:21.337
Video

1.33:1 Original Aspect Ratio
Average Bitrate: 6.13 mb/s
NTSC 720x480 29.97 f/s

1080P / 23.976 fps Dual-layered

Blu-ray

Disc Size: 42,980,611,166 bytes

Feature:

26,078,023,680 bytes

Video Bitrate:

35.00 Mbps

Codec: MPEG-4 AVC Video

NOTE: The Vertical axis represents the bits transferred per second. The Horizontal is the time in minutes.

Bitrate DVD

Bitrate Blu-ray

Audio
English (Dolby Digital 2.0), French (Dolby Digital 2.0)
LPCM Audio English 1152 kbps 1.0 / 48 kHz / 1152 kbps / 24-bit
Commentary: Dolby Digital Audio English 192 kbps 1.0 / 48 kHz / 192 kbps
Subtitles
English, French, none
English, none

Features

Release Information:
Studio: MGM

Aspect Ratio:
Fullscreen - 1.33:1

Edition Details:
• Trailer - (3:01)
• 2 page liner notes on Kubrick

DVD Release Date: May 1, 2001
Keep Case

Chapters 32

Release Information:
Studio: Criterion

1080P / 23.976 fps Dual-layered

Blu-ray

Disc Size: 42,980,611,166 bytes

Feature:

26,078,023,680 bytes

Video Bitrate:

35.00 Mbps

Codec: MPEG-4 AVC Video


Edition Details:


• New audio commentary featuring critic Gary Giddins
• Excerpt from a 1966 audio interview with director Stanley Kubrick (2:17)
• Television interview from 1979 with star Kirk Douglas (29:27 in HD!)

• New video interviews with Kubrick's longtime executive producer Jan Harlan (9:08 in HD!), Paths of Glory producer James B. Harris (21:09 in HD!), and actress Christiane Kubrick (6:58 in HD!)
• French television piece about a real-life World War I execution that partly inspired the film (3:10 in HD!)
• Theatrical trailer (3:00 in HD!)
• 20-page liner notes booklet featuring an essay by film scholar James Naremore

Blu-ray Release Date: October 26th, 2010
Transparent Blu-ray Case

Chapters

27
Comments

NOTE: The below Blu-ray captures were taken directly from the Blu-ray disc.

ADDITION: Criterion Region 'A' - Blu-ray - October 2010: Martin reviewed the MGM DVD quite a long time ago and he was correct in assuming that this title would be re-issued... but a Blu-ray by Criterion was more than most fans could have hoped for. Paths of Glory is now presented in its original aspect ratio of 1.66:1. The 1.33:1 MGM DVD was 'open-matte' showing more information in the frame. Stanley Kubrick's technical assistant Leon Vitali supervised this new high-definition digital transfer which was created from a 35mm fine-grain master positive from UCLA film archivist Robert Gitt's collection. It looks fabulous - plenty of film grain with gentle contrasts, superior detail and a very high bitrate.

Criterion remain true with the mono soundtrack which is presented via a lossless liner PCM rendering remastered from Gitt's 35mm print's monaural magnetic track. It sound clean and the hollow dialogue effects of the large room of the trial hold up very well - sounding especially authentic. There are optional English subtitles and my Momitsu has identified it as being a region 'A'-locked.

Supplements cover so much ground starting with a new audio commentary featuring Gary Giddins - long-time columnist for the Village Voice. He's a pleasure to listen to relating facts about the production. There is a brief excerpt from a 1966 audio interview with director Stanley Kubrick and a 1/2 hour Television interview from 1979 with star Kirk Douglas, plus video interviews with Kubrick's longtime executive producer Jan Harlan (9:08 in HD!), Paths of Glory producer James B. Harris (21:09 in HD!), and actress Christiane Kubrick (6:58 in HD!). There is a 3-minute French television piece about a real-life World War I execution that partly inspired the film and a theatrical trailer. All video extras are in HD. Criterion include a 20-page liner notes booklet featuring an essay by film scholar James Naremore.

Visually this film has always been very impressive and now with a 'widescreen' 1080P transfer it was akin to seeing the Kubrick masterpiece all over again. Paths of Glory is one of those film that you simply need to view to recall it's greatness. Criterion's Blu-ray is doing justice to the film's impact and importance and we give it our highest recommendation.

***

ON THE MGM DVD: This older release from MGM sports a very nice transfer. It has very good sharpness and contrast. Some fine film grain is also visible but luckily does not become excessive. This transfer appears slightly better than the other two budget MGM Kubirck titles. Audio is fine but its obviously not wildly dynamic. I'm sure these Kubrick titles will be re-issued at some point, but for now they offer very good audio/video presentations at a reasonable price. out of
Kubrick on DVD (NTSC) - CLICK COVERS or TITLES for more information
| | | | | | |
| --- | --- | --- | --- | --- | --- |
| | | | | | |
| Dr. Strangelove or How I Learned To Stop Worry and Love the Bomb | | | | | |
---

Menus
MGM - Region 1 - NTSC LEFT vs. Criterion Region 'A' - Blu-ray RIGHT
| | |
| --- | --- |
| | |
| | |
| | |
| | |
| | |
| | |
---
CLICK EACH BLU-RAY CAPTURE TO SEE ALL IMAGES IN FULL 1920X1080 RESOLUTION
MGM - Region 1 - NTSC TOP vs. Criterion Region 'A' - Blu-ray BOTTOM
---
MGM - Region 1 - NTSC TOP vs. Criterion Region 'A' - Blu-ray BOTTOM
---
MGM - Region 1 - NTSC TOP vs. Criterion Region 'A' - Blu-ray BOTTOM
---
MGM - Region 1 - NTSC TOP vs. Criterion Region 'A' - Blu-ray BOTTOM
---
MGM - Region 1 - NTSC TOP vs. Criterion Region 'A' - Blu-ray BOTTOM