| | |
| --- | --- |
| Search DVDBeaver | S E A R C H D V D B e a v e r |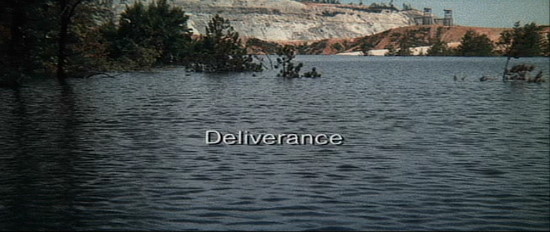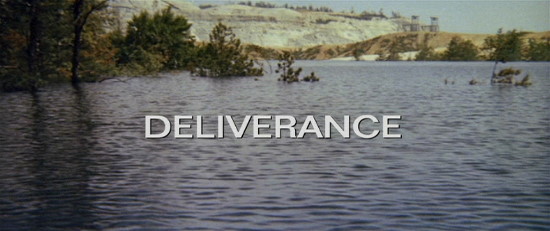 (Warner - Region 1 - NTSC Title TOP vs. Warner (Deluxe Edition) - Region 1,2,3,4 - NTSC Title BOTTOM)
directed by John Boorman
USA 1972
I consider this film, in all its testosterone glory, to be an American classic, certainly Boorman's best film. The protagonists, essentially embody one, some or all of our own human qualities. And they are on an adventure. A frightening one that they will never forget. It tests their courage... as men battling the mysteries of a soon to be forgotten river - as it will be imminently flooded and become part of the existing delta. Made on a shoestring budget (To minimize costs, the production wasn't even insured -- and the actors did their own stunts. For instance, Jon Voight actually climbed the cliff and Burt Reynolds broke his coccyx while going down the rapids). Boorman originally desired Jack Nicholson in the part of Ed. Jack agreed to do it only if his good friend Marlon Brando played Lewis. Brando also agreed to do it but as their combined fee came to over $1 million, half the movies budget. Boorman went for relative unknowns instead who all proved more than up to the task. Voight is one of the best American actors of all time. The role of Lewis now seems tailor-made for Reynolds in perhaps his best performance of his career. Poor Ned Beatty will always be remembered for his 'uncomfortable' scene. Truly, although certainly male oriented, a strong and excessively memorable film commenting on male bonding - life decisions and the social consequences of interbreeding. One of the best films of the 70's.

out of

An alternate ending was shot, but cut from the final version. This other ending takes place a few weeks after the events of the film. It shows shows Lewis (Burt Reynolds) walking on crutches. Ed (Jon Voight), Lewis (Burt Reynolds) and Bobby (Ned Beatty) meet Sheriff Bullard (author James Dickey) near the dam at Aintry. The sheriff displays a body placed on a stretcher. he then uncovers it. They all see the face, but we the audience, cannot. No details of the body are shown to help identify it. This was a deliberate choice, leaving the audience unclear whether the dead man is Drew (Ronny Cox), Toothless Man (Herbert Coward). or Don Job (Bill McKinney). Incidentally the body was played by Christopher Dickey (James Dickey's son) who writes about the scene in his memoirs, "Summer of Deliverance" - and supposedly even *he* doesn't know whose body it was supposed to be.
*****
Four Atlanta businessmen decide to prove that the frontier spirit is not dead by spending a canoeing weekend shooting the rapids of a river high in the Appalachians. Terrific boy's own adventure stuff with adult ingredients of graphic mutilation and buggery, but Boorman is never content either to leave it at that or to subscribe to the ecological concerns of James Dickey's novel (where man's return to nature becomes vital because 'the machines are going to fail, and then - survival'). Instead, he adds a dark twist of his own by suggesting that concern is too late. From the quartet's first strange encounter with the deformed albino child in a mountain community almost Dickensian in its squalor, down to the last scene where Voight watches coffins being unearthed and removed to safety before the new dam floods the valley, their trip down the river becomes an odyssey through a land that is already dead, killed by civilisation and peopled by alien creatures rather than human beings. Signposted by the extraordinary shot of a corpse, surfaced from the water with one arm grotesquely wrapped round its neck and the other pointing nowhere, it's a haunting, nightmarish vision.
Excerpt from TimeOut Film Guide located HERE
Posters
| | | |
| --- | --- | --- |
| | | |
Theatrical Release: July 30th, 1972
Reviews More Reviews DVD Reviews
DVD Comparison:
Warner
- Region 1 - NTSC vs. Warner (Deluxe Edition) - Region 1,2,3,4 - NTSC
(Warner - Region 1 - NTSC LEFT vs. Warner (Deluxe Edition) - Region 1,2,3,4 - NTSC RIGHT)
DVD Box Cover

Distribution

Warner

Region 1 - NTSC

Warner (Deluxe Edition)

Region 1,2,3,4 - NTSC

Runtime
1:49:00
1:48:48

Video

2.35:1 Original Aspect Ratio

16X9 enhanced
Average Bitrate: 4.81 mb/s
NTSC 720x480 29.97 f/s

2.35:1 Original Aspect Ratio

16X9 enhanced
Average Bitrate: 6.28 mb/s
NTSC 720x480 29.97 f/s

NOTE: The Vertical axis represents the bits transferred per second. The Horizontal is the time in minutes.

Bitrate :

Warner Original

Bitrate:

Warner (Deluxe Edition)

Audio
English (Dolby Digital 5.1), French (Dolby Digital 1.0)
English (Dolby Digital 5.1), French (Dolby Digital 1.0)
Subtitles
English, French, None
English, French, Spanish, None
Features
Release Information:
Studio: Warner

Aspect Ratio:
Widescreen anamorphic - 2.35:1

Edition Details:
• Vintage featurette: The Dangerous World of Deliverance

• Theatrical Trailer

NOTE: Pan and scan version on the opposite side

DVD Release Date: August, 2001
Snapper case

Chapters 30

Release Information:
Studio: Warner (Deluxe Edition)

Aspect Ratio:
Widescreen anamorphic - 2.35:1

Edition Details:
• Commentary by director John Boorman
• Four-part 35th anniversary retrospective with the film's stars, director John Boorman, and others
• Vintage featurette: The Dangerous World of Deliverance
• Theatrical trailer


DVD Release Date: September 18th, 2007
Keep Case

Chapters

30
Comments:

NOTE: We discussed this in our Listserv and it appears that it was originally (theatrically) shown with a heavy emphasis on greens and golds.

Hmmmm.... frankly, I think I am somewhat disappointed by the new Deluxe SD transfer. In most respects it excels above the original DVD release from 2001 which was black level boosted, had a large black border (picture-boxed) circumventing the anamorphically enhanced frame (see image below) and is rife with digital artifacts on a single-layered DVD. In many scenes the image is shifted slightly to the left in comparison to the new Deluxe release. What looks odd to me are the colors and detail. It can look very green at times but skin tones are less red than in the original. I never saw this theatrically so I can't talk with any assurance about the colors - I'll just say I am suspicious and will investigate further when I have it in Hi-def in a few days. Hopefully it will retain some of its sharpness. It is dual-layered, progressive and 16X9 in the impressive 2.35 scope. Both have the same 5.1 boosted track and a French mono DUB. The deluxe adds a Spanish subtitle option on top of English and French.

Supplement-wise the new deluxe DVD has a decent Boorman commentary. It has many healthy gaps and he tends to narrate a bit - but when he does talk about the production (acting and the narrative interpretation etc.) it is quite informative. A new 52 minute featurette is broken up into 4 separate segments:

Deliverance: The Beginning - Takes a historical look at the novel and its adaptation to the screen.
Deliverance: The Journey - Along from the early stages of filming to the creation of classic moments, such as the Dueling Banjos scene.
Deliverance: Betraying the River - The making of one of the most controversial and ground-breaking sequences in film history.
Deliverance: Delivered - A reflective look back on the completion of the film, its impact and how the idea for the shocking ending came to be.

They have input from Boorman, Reynolds and Voigt among some of the participants. Quite enjoyable. Also included is the original 10 minute featurette; The Dangerous World of Deliverance ( The original behind-the-scenes documentary on the difficult conditions and challenges of making this film) which was the only extra feature on the first Warner DVD. Both have a theatrical trailer and the original has the pan and scan version on the opposite side.

Overall I look forward to my Hi-def edition and if I notice some significant improvement may attempt to post some comparative caps here. Stay tuned. Bottom line this new edition is better (how could it have been worse?) but it doesn't seem to show 6 years worth of digital (SD) technical improvement although the film is 35 years old - perhaps this is 'it'. It is, of course, still very watchable and I love the film and its subtle symbolism - I guess I was just expecting more from the visual.
---

DVD Menus

(Warner - Region 1 - NTSC LEFT vs. Warner (Deluxe Edition) - Region 1,2,3,4 - NTSC RIGHT)
---
Screen Captures
White border indicates how much the original DVD image was picture boxed
(Warner - Region 1 - NTSC TOP vs. Warner (Deluxe Edition) - Region 1,2,3,4 - NTSC BOTTOM)
Subtitle Sample: Not exact frame
---
(Warner - Region 1 - NTSC TOP vs. Warner (Deluxe Edition) - Region 1,2,3,4 - NTSC BOTTOM)
---
(Warner - Region 1 - NTSC TOP vs. Warner (Deluxe Edition) - Region 1,2,3,4 - NTSC BOTTOM)
---
(Warner - Region 1 - NTSC TOP vs. Warner (Deluxe Edition) - Region 1,2,3,4 - NTSC BOTTOM)
---
(Warner - Region 1 - NTSC TOP vs. Warner (Deluxe Edition) - Region 1,2,3,4 - NTSC BOTTOM)