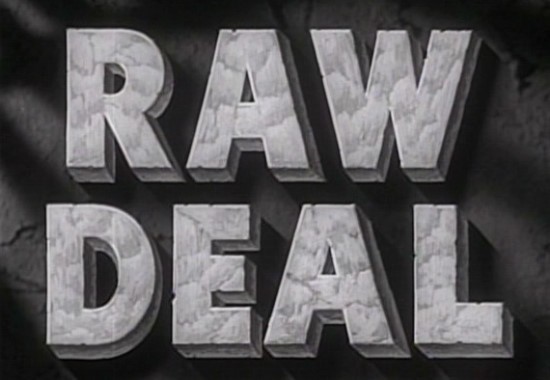 (aka 'Corkscrew Alley')
If you know of Anthony Mann's work at all, it's probably from seeing the minor epic El Cid or Winchester '73, one of many Westerns he made in the '50s and '60s. Mann's first projects of any note, however, were stark, brusque crime stories, three of which have now been made available on home video. T-Men is a super-manly Secret Service tale of chasing counterfeiters, complete with the tersely narrated tedium of a painstaking manhunt on San Francisco's seedier side and a dangerous blonde who just kind of got wrapped up in the whole mess. He Walked By Night takes the police procedural a step further by showcasing the entire LAPD as it methodically tracks down a cunning and inventive killer. Look for a very young Jack Webb as a crime-lab technician, and you'll also see how much he stole from this movie to use on Dragnet—from the show's expositional narrative to the creepy, clipped way the cops talk. Raw Deal switches viewpoints to the criminal and immerses the viewer in noir as we watch a man break out of prison with the help of his girl; take a lovely young hostage; and become entangled in a love triangle while en route to a confrontation with the man who framed him and had him sent up. What begins as campily as the other two eventually takes on deeper shades of meaning as the characters become conflicted about themselves and each other; the script actually improves as the movie progresses. T-Men and He Walked By Night both have gripping black-and-white visuals: There's a chase through L.A.'s cavernous storm sewers, and a hellish murder by live steam. Raw Deal adds dramatic tension to its imagery of foggy back roads and burning hotels to become a minor noir masterpiece.
Excerpt from John Krewson's review at The Onion AV Club located HERE.
Posters
Theatrical Release: 26 May 1948 - USA
Reviews More Reviews DVD Reviews
DVD Comparison:
Sony Music - Region 1 - NTSC vs. VCI - Region 0 - NTSC
Big thanks to Ole Kofoed and Gregory Meshman for the Screen Caps!
(Sony Music - Region 1 - NTSC - LEFT vs. VCI - Region 0 - NTSC - RIGHT)
DVD Box Covers

Distribution

Sony Music

Region 1 - NTSC

VCI
Region 0 - NTSC
Runtime
1:18:29
1:18:30
Video

1.33:1 Original Aspect Ratio
Average Bitrate: 5.31 mb/s
NTSC 720x480 29.97 f/s

1.33:1 Original Aspect Ratio
Average Bitrate: 5.33 mb/s
NTSC 720x480 29.97 f/s

NOTE: The Vertical axis represents the bits transferred per second. The Horizontal is the time in minutes.

Bitrate:

Sony Music

Bitrate:

VCI

Audio
English (Dolby Digital 2.0)

English (Dolby Digital 1.0)

Subtitles
None.
None.
Features
Release Information:
Studio: Sony Music

Aspect Ratio:
Fullscreen - 1.33:1

Edition Details:
• No extras!

DVD Release Date: October 18, 2005
Keep Case

Chapters 16


Release Information:
Studio: VCI

Aspect Ratio:
Fullscreen - 1.33:1

Edition Details:
• Comes in Boxset with T-Men.
• Film Noir Theatrical trailers (2:12).
• Featurette - Dark Reflections (6:47).


DVD Release Date: April 30, 2002
Keep Case

Chapters 12
Comments
This appears to have no bone-fide improvement over the VCI edition. At times it looks hazier and other times minutely sharper - it has been brightened a bit, but we have mostly the same damage marks. Since the VCI comes with T-Men and the Dark Reflections featurette I see no reason to buy the Sony.

- Gary Tooze

About the VCI: Well, I have seen a lot worse non-progressive transfers. This is not too shabby at all. I think I see some grain and the 'combing' was very minimal. My expectations and satisfaction were all a function of the price and the less-than-stellar reputation of VCI. The Dark Reflections bonus feature is certainly not as insightful as Eddie Mueller from the Warner Noir #2 Boxset, but it wasn't terrible either. Certainly better than your standard fare fillers. I think for the money this is a great substitute until (ever?) these films are put out properly.

NOTE: This DVD is part of Anthony Mann's Film Noir Double Feature with another disc of Mann's film: T-Men reviewed HERE.
---
DVD Menus (Sony Music - Region 1 - NTSC - LEFT vs. VCI - Region 0 - NTSC - RIGHT)
---
Screen Captures
(Sony Music - Region 1 - NTSC - TOP vs. VCI - Region 0 - NTSC - BOTTOM)
---
(Sony Music - Region 1 - NTSC - TOP vs. VCI - Region 0 - NTSC - BOTTOM)
---
(Sony Music - Region 1 - NTSC - TOP vs. VCI - Region 0 - NTSC - BOTTOM)
---
(Sony Music - Region 1 - NTSC - TOP vs. VCI - Region 0 - NTSC - BOTTOM)
---
Report Card:
| | |
| --- | --- |
| Image: | - |
| Sound: | - |
| Extras: | VCI |
| Menu: | Sony |
---
Recommended Reading in Film Noir (CLICK COVERS or TITLES for more information)
The Dark Side of the Screen: Film Noir

by Foster Hirsch

Somewhere in the Night: Film Noir and the American City

by Nicholas Christopher

Shades of Noir: A Reader
by Joan Copjec
The Art of Noir: The Posters and Graphics from the Classic Era of Film Noir
by Eddie Muller
The Little Black and White Book of Film Noir: Quotations from Films of the 40's and 50's
by Peg Thompson, Saeko Usukawa
Film Noir
by Alain Silver
Film Noir Guide: 745 Films of the Classic Era, 1940-1959
by Michael F. Keaney
Detours and Lost Highways: A Map of Neo-Noir
by Foster Hirsch