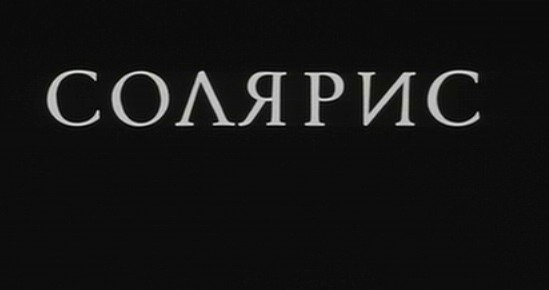 Solaris
( aka 'Солярис' and 'Solyaris')
directed by Andrei Tarkovsky
USSR 1972

"The eventual conflict of the film deals with Kelvin's scientific understanding and his emotional conscious, sub-conscious and repressed memories in the guise of his 7-year deceased wife whose form has returned to him by the unknown intelligence. His past is reflected in relived sequences with his wife and mother. Tarkovsky's greatest ability is how he transforms the mood and setting through imagery and unspoken words. It appears so subtle that the closest thing I could compare it to is hypnosis. His use of positioning within the frame reminds me of Kurosawa, but his use of cinema as an instrument of art is without match. Every scene is a well thought cerebral experience for the viewer."

Excerpt from Gary Tooze's RusCiCo 'Solaris' Review found HERE

Posters
Reviews More Reviews DVD Reviews Nostalghia.com
DVD Comparison:
20th Century Fox (Italy) - Region 0 - PAL vs. Criterion - Region 0 - NTSC
Big thanks to Paolo Pardo for the PAL Screen Caps!
DVD Box Cover

Click logo to order from:

Distribution
20th Century Fox (Italy) - Region Free - PAL
Criterion Collection, spine #164
Runtime
2:39:40
2:46:35
Video
Aspect ratio: 2.30:1 Anamorphic
Average Bitrate: 8.14 mb/s
PAL 720x576 25.00 f/s
Aspect ratio: 2.35:1 Anamorphic
Average Bitrate: 5.53 mb/s ( interviews disc 6.98 mb/s )
NTSC 704x480 29.97 f/s
"Solaris"

20th Century Fox (PAL)

NOTE: The Vertical axis represents the bits transferred per second. The Horizontal is the time in minutes.

Bitrate:

"Solaris" Criterion Disc#1

Bitrate:

"Solaris" Criterion Disc#2

Interviews disc
20th Century Fox (Italy) - Left Criterion - Right
Audio
Russian, Italian. Both in Dolby Digital 5.1 (The first 40' of the film is in Russian only since it replaces the original Italian edition which had various cuts) and Italian Dolby Digital 2.0.
Russian (Dolby Digital 1.0)
Subtitles
Italian and none
English, None
Features

Release Information:

Release information: Studio: General Video Recording
Distribution: 20th Century Fox - Region Free - PAL
Theatrical Release Date: March 20th , 1972

Widescreen anamorphic - 2.30:1

Edition Details:

Bonus Materials:

• Interactive animated menus

• film analysis by critic Enrico Ghezzi (15')

• Biography and filmography of director Andrey Tarkovsky

• multi-angle comparison between original and restored footage (10').

DVD Release Date: May 22nd, 2001
Keep Case
32 Chapters

Release Information:

Studio: Home Vision Entertainment
Theatrical Release Date: March 20th , 1972


Widescreen anamorphic - 2.35:1



Edition Details:
• Region 0
• DISC ONE: New digital transfer, enhanced for widescreen televisions
• Audio essay by Tarkovsky scholars Vida Johnson and Graham Petrie, co-authors of The Films of Andrei Tarkovsky: A Visual Fugue. It is in 8 Chapters as follows:

Tarkovsky's Collaborators

Donatas Banionis

The Soviet Film Bureacracy

The issues of Special Effects

Narrative Consistency

Tarkovsky and his Parents

Moral Knowledge

Russian and Western Audiences

• New and improved English subtitle translation
• Optimal image quality: RSDL dual-layer edition
• DISC TWO: Nine deleted and alternate scenes ( not restored )

Berton's Flight ( 3:05)

Kris' Takeoff from Earth (4:23)

Something to Eat (1:08)

Beginning of Part 2 (:59)

Kris and Harl's Meal (2:21)

Kris' Delerium/The Mirror Room (4:25)

Mother (6:00)

Further Philosophy (1:02)

Video interviews with:

• Natalya Bondarchuk (32:20)

• Cinematographer Vadim Yusov (33:54)

• Art director Mikhail Romadin (16:46)

• Composer Eduard Artemyev (21:43)
• Documentary excerpt with Solaris author Stanislaw Lem (4:55)

DVD Release Date: November 26th, 2002
Double Keep Case
33 Chapters ( 33rd is Color Bars )

2 Discs

Comments:

The Italian version is very well done but has some flaws. The colors are saturated and appear even more-so next to the soft palette of the Criterion. It is also less sharp. The Italian PAL version is cropped slightly reducing the aspect ratio from 2.35 -> 2.30. Fox changed the mono soundtrack to 5.1. It is not accurate and they don't offer the ability to choose the original mono, which for Tarkovsky true fans is a big no-no. Compared to the other two Solaris DVD releases that we did previously (RusCiCo and Artificial Eye), I think this Italian version is better than both of those, meaning it is more like the Criterion although still miles away from it. I won't bother going into the Extras as the Criterion is the King, but the Italian does give a commentary (in Italian only). - Gary W. Tooze
---


DVD Menus
| | |
| --- | --- |
| 20 Century Fox - PAL | Criterion |
| | |
| | |
---
Extra Menus - 20th Century Fox LEFT - Disc 2 Criterion - RIGHT
| | |
| --- | --- |
| | |
| | |
---
Film Screen Captures

20th Century Fox (Italy) - Top Criterion - Bottom
---
20th Century Fox (Italy) - Top Criterion - Bottom
---
20th Century Fox (Italy) - Top Criterion - Bottom
---
20th Century Fox (Italy) - Top Criterion - Bottom
---
20th Century Fox (Italy) - Top Criterion - Bottom
---
20th Century Fox (Italy) - Top Criterion - Bottom
---
20th Century Fox (Italy) - Top Criterion - Bottom
Report Card:
| | |
| --- | --- |
| Image: | Criterion |
| Sound: | Criterion |
| Extras: | Criterion |
| Menu: | Criterion |