| | |
| --- | --- |
| | S E A R C H D V D B e a v e r |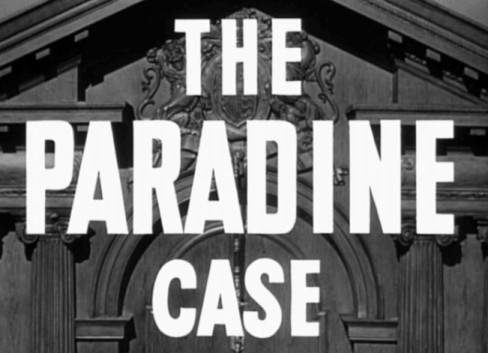 Based on a novel by Robert Hichens, The Paradine Case concerns Anna Paradine (Alida Valli), on trial for the murder of her wealthy husband. British barrister Anthony Keane (played by the aggressively American Gregory Peck) takes on the case-and in the process, falls in love with Anna, despite being married himself. Despite his client's protests, Keane summons Anna's lover, unkempt stableman Andre Latour (Louis Jourdan), hoping to prove in court that Latour was the killer. Only after a series of stunning upsets does Keane realize that, for the first time in his career, he has allowed his heart to rule his head. In a typically perverse Hitchcockian development, the film's most unpleasant character, an autocratic, vindictive judge played by Charles Laughton, is one of the few who can see through Anna's facade. Hitchcock had wanted Greta Garbo to play Anna Paradine, and indeed a screen test was filmed, but Garbo ultimately declined. At the time of filming, Hitchcock was enamored with uninterrupted, 10-minute takes (later used to the extreme in Rope); thus, the Old Bailey courtroom set where much of the action takes place was designed to accommodate multiple cameras and elaborately conceived crane movements. Such techniques were cumbersome in 1947, and as a result the over-illuminated set ended up costing $70,000, jacking up the film's overall budget to a whopping $3 million (quite a pretty penny in those days). The film was a box-office disappointment, spelling the end of the always-rocky association between Alfred Hitchcock and producer David O. Selznick.
Posters
Reviews More Reviews DVD Reviews
DVD Comparison:
Anchor Bay - Region 1 - NTSC vs. Prism- Region 2 - PAL
Big thanks to Ole of DVDBasen for the PAL Screen Caps!
(Anchor Bay - R1 - NTSC - Left vs. Prism Leisure - R2 - PAL - Right)
DVD Box Covers

Distribution

Anchor Bay

Region 1 - NTSC

Prism Leisure Corporation
Region 2 - PAL
Runtime
1:54:00
1:49:31 (4% PAL speedup)
Video

1.33:1 Original Aspect Ratio
Average Bitrate: 4.94 mb/s
NTSC 704x480 29.97 f/s

1.33:1 Original Aspect Ratio
Average Bitrate: 4.55
PAL 720x576 25.00 f/s

NOTE: The Vertical axis represents the bits transferred per second. The Horizontal is the time in minutes.

Bitrate:

Anchor Bay

Bitrate:

Prism

Audio
English (Dolby Digital 2.0 Mono)

English (Dolby Digital 3.0 Mono)

Subtitles
None
None
Features
Release Information:
Studio: Anchor Bay Entertainment
Theatrical Release Date: January 1, 1947

Aspect Ratio:
Full Screen (Standard) - 1.33:1


Edition Details:
• All Regions
• Black & White

DVD Release Date: September 7, 1999
Keep Case

Chapters 18


Release Information:
Studio: Prism Leisure Corporation
Theatrical Release Date: January 1, 1947

Aspect Ratio:
Full Screen (Standard) - 1.33:1


Edition Details:
• Biographies of Gregory Peck and Anne Todd.
• Different facts (not much) about Hitchcock, Selznick, Awards, Trivia, productions notes.
Photo Gallery.
• Extras about Hitchcock (These are the same as on the other Prism Hitchcock releases):
• A Conversation with Hitchcock (3:07)
• Interview with Kim Newman (15:14)
• The Real Me (3 pages of text)
• Extracts from Truffaut's book "Hitchcock" (3 pages)
• Biography, quotes and trivia of Hitchcock.

DVD Release Date: April 8th, 2002
Keep Case

Chapters 14
| | |
| --- | --- |
| Comments: | Both editions are pretty similar in the image category. If you look at the bit-rates I would guess they were from the same print and not a lot done to them in conversion to digital. A bit of contrast boosting, but that is about all. In some captures the UK edition looks better (sharper) and in others the Anchor Bay looks superior. Overall I like the contrast levels in many scenes of the Anchor Bay... pitch black at times. Someone has the ratio slightly off in one of these DVDs as the faces are fatter in the Prism PAL edition and thinner in the Anchor Bay. My eye says the Anchor Bay is closer to reality, where yours may say the opposite. The Extras are totally in the Prism favor making them much like a Criterion, except lacking the inclusion of a commentary. Interesting that like one of the Criterion Hitch's (Rebecca), Prism has shown the titles as picture-boxed. This film is not really considered a Hitch classic, so I would imagine very few who own the Anchor Bay will buy the Prism just for the extras... but they do have that option. |
---
Recommended Reading in Film Noir (CLICK COVERS or TITLES for more information)
Film Noir: An Encyclopedia Reference to the American Style
by Alain Silver, Elizabeth Ward

The Dark Side of the Screen: Film Noir

by Foster Hirsch

Somewhere in the Night: Film Noir and the American City

by Nicholas Christopher

Film Noir Reader 4 : The Crucial Films and Themes (Film Noir Reader)
by Alain Silver
The Art of Noir: The Posters and Graphics from the Classic Era of Film Noir
by Eddie Muller
The Little Black and White Book of Film Noir: Quotations from Films of the 40's and 50's
by Peg Thompson, Saeko Usukawa
Film Noir
by Alain Silver
Film Noir Guide: 745 Films of the Classic Era, 1940-1959
by Michael F. Keaney
Detours and Lost Highways: A Map of Neo-Noir
by Foster Hirsch
More Than Night: Film Noir in Its Contexts
by James Naremore


DVD Menus
(Anchor Bay - R1 - NTSC - Left vs. Prism Leisure - R2 - PAL - Right)
---
Screen Captures
(Anchor Bay - R1 - NTSC - Left vs. Prism Leisure - R2 - PAL - Right)
NOTE: The Prism Leisure edition has picture boxed the title.
---
(Anchor Bay - R1 - NTSC - TOP vs. Prism Leisure - R2 - PAL - BOTTOM)
---
(Anchor Bay - R1 - NTSC - TOP vs. Prism Leisure - R2 - PAL - BOTTOM)
---
(Anchor Bay - R1 - NTSC - TOP vs. Prism Leisure - R2 - PAL - BOTTOM)
---
(Anchor Bay - R1 - NTSC - TOP vs. Prism Leisure - R2 - PAL - BOTTOM)
---

---
Report Card: