Commissioned as part of the 2000 Seen By… millennium project, The Hole, Tsai Ming-Liang's 1998 feature, takes place at the turn of the millennium amid the pandemonium of a mysterious, rapidly spreading virus that's confounding the health community. Declaring a state of emergency, officials have ordered residents to evacuate the afflicted area, and have warned that services such as water will be shut off soon. The widespread exodus has left the city nearly deserted.
The action largely takes place in an apartment building where a woman, played by Yang Kuei-Mei, is besieged by severe plumbing issues apparently originating from the apartment of the man, played by Lee Kang-Sheng, above her. The plumber she's enlisted visits the man upstairs to track down the leak. The job is never completed and a gaping hole is left in her ceiling, exposing the personal spaces of the as-yet-unacquainted neighbors.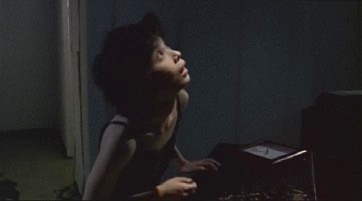 In a conventional romance, this would be the happy accident that unites, by way of the persistent pressure of proximity, the incompatible couple by fateful convenience through a series of comic incidents. In the world of Tsai Ming-Liang, however, we get a dramatic departure from convention and insistent genre, and at the same time, a continuation of his exploration of societal dysfunction and the loneliness that arises from the ensuing alienation.