Playful, somber, resonant, Glass Tears displays much originality and deftness. As the debut, feature-length film of director Lai Miu-suet, also known as Carol Lai, Glass Tears takes incessantly sensationalized subject matter and crafts a work of understated beauty. Never slipping into melodrama or market-titillating exploitation, it effects a fluid balancing act between comic and dramatic moods while offering a thoughtful view of urban, Hong Kong hosted adolescence.
The art direction of Poon Yik-sum along with the cinematography of T.L. Cheung provides a diverse color fest of meticulously arranged hues. Complementing this rich visual palette is Oakey's distinctive soundtrack, providing shifting moods and thematic cues. The script, co-written by the director and Lui Hok Cheung, provide the subtle, vertical framework from which the film takes off. It's no wonder the work made a fine splash at the Directors Fortnight at Cannes 2001.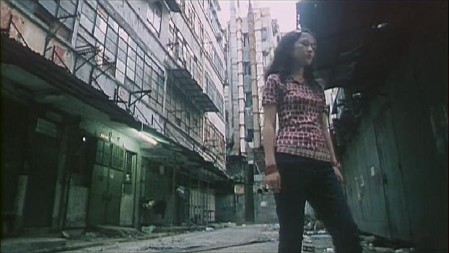 The story of Glass Tears involves the search for a missing teen, Cho (played by newcomer Zeny Kwok), by her grandfather Wu (the late Lo Lieh, aka Lo Lit), a retired Mainland policeman, who ends up tracking down her friends and entering her world. In the course of this, he meets P, her best friend, who turns out to be a lot like he was, and together with her boyfriend Tofu (Chui Tien-You) they carry on the semblance of investigation. Despite his bad Cantonese, their differing lifestyles, and the wide age gap, they forge some understanding.
A little time spent with Cho's parents, Wu's daughter (Carrie Ng) and her husband (Tats Lau), provide some insight into why Cho would run away. Despite the brief time allotted for characterization, Cho's parents are far from one dimensional characters. While there are problems in the home, sensationalism is avoided. By subduing the dramatization of Cho's parents troubled relationship, symptomatic sensationalism is traded for the characterization of the collapse. The small, deceptively minor details are brought to the foreground, revealing how realistic, how unfortunately everyday such an event is-how matter-of-fact it may play out. Tragedy is not shown as extreme circumstances, but extremely small details, gestures, sentiments that build up and effect ruin. This film does a nice job suggesting this. Violent events, whether physical or psychological, are shot with the key action scarcely entering the frame, thereby de-emphasizing the over privileged action in favor of psychological repercussion of it.
The film is able to reverberate to a remarkable degree, effortlessly sustaining multiple viewings. Its payoff does not come in the currency of plot points, the play of characters within a scene, but rather, through the dramatic emphasis on accumulated interrelations of situational events, the way characters seems as much to be interacting with other characters at other moments, even themselves at other moments. A given situation itself benefits from characterization, yielding a certain spirit or over-voice. This accounts for a strong humanizing effect as the wider context is brought to the foreground. By fragmentation and reordering, conventional narrative is transformed into the poetic-not to capture or hijack attention, but to give it back to itself, to turn it loose, away from the narrowing effect of plot-level focus.
In examining the manner in which events unfold in Glass Tears, it can be seen that a conventional approach to dramatization, heightening tension if not suspense as the dramatic action reaches toward completion within the scene, is not employed. The conventional unfolding is frustrated by forward jump cuts that hand over the typically more hard-earned payoffs quite easily. Only then might the scene return to where it had been interrupted. And only then does the true emphasis of the scene come to the foreground, a larger, more abstract context, now de-situated from the dominant force of familiarity.