Marnie, 1964
From: Gary Tooze
Date: 22 Aug 2000
Time: 08:37:31
Comments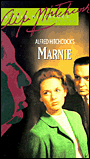 Review: DVD, Marnie, 1964
Director: Alfred Hitchcock
Picture: B+, 4/5 I found at times Tippi Hedren was a little like the Robin Williams character in "Deconstructing Harry"… she was fuzzy and out of focus. The lense was very soft at times. It may just have been my imagination but I found it a little hard to see sharply at times. The DVD is Widescreen ( 1.85:1 ) and anamorphic. The colours are vibrant and reminiscent of the late 50's early 60's.
Sound: B+, 4/5 Unlike other reviews I have read I had no trouble with the Dolby Digital 2.0 sound. It never even sounded mono to me. Obviously, Bernard Herrmann's score is fantastic ( did I mention he is my favourite… I think his score for "Taxi Driver" was ˝ the film ) and only helps manifest a great suspense story.
The Film: A, 4.5/5 I had never seen this film before I watched it for the first time on DVD. I was so pleasantly surprised… I would say I enjoyed it as much as I did Vertigo. I also very much enjoyed the film extra " The Trouble with Marnie" in which cast members and production crew discuss the film making process and "Hitch". Marnie Edgar ( played by Tipp Hedren )is an extremely complex character. A Habitual thief and compulsive liar who has gotten very far in life with her beauty. The role was originally meant for Grace Kelly to return to film from Monaco, but I think Tippi filed the role quite adequately. Actually, this may have been the best role of her career. Hitchcock himself discovered her in an NBC commercial, and immediately signed her to a contract, putting her initially in "The Birds". "Marnie was her second film.
I won't go into excessive detail about the plot, but it revolves around the psychoanalysis of Marnie by us, the viewer, and Mark Rutland ( played expertly by Sean Connery ), her husband. Actually, although it is not brought up in the film, both lead charcters are complex. Tippi for the buried past she carried with her, and Mark for his almost fetish for this "faltered" woman.
On the slight negative, Hitchock, a huge fan German Expressionism, used some weak painted backdrops (later admitted as a mistake) and "pretend" scenes in various places throughout the film. Notably, the waterfront of Tippi's mothers (Louise Latham) home, the riding scenes of Tippi on horseback etc. . It is quite easily forgiven when we have as many masterful, typical Hitchcockian vignettes , like Marnie robbing the safe in Marks office with the deaf cleaner around the corner. If you cannot willingly suspend yourself for these Hitchcock ploys, you will have trouble accepting the film.
The other specific point to comment on was a giant one for Hitch. The rape scene, that really never was. Hitchcock was adamant in having this in the film, even to point of firing the first script writer. In his own description of the film, Hitchcock uses the work "sex" quite a lot, and in all the film posters it is described as a "Suspense Sex Mystery". Bottom line on this was that Hitchcock knew what would sell to the American public.
Note: the film was set to start shooting on Monday. On the Friday before, President JFK was assassinated. Monday then became a National Holiday and the start of the film was delayed.
Somewhere in this review I forgot to mention that Diane Baker ( Mark's Sister-in-law Lil Mainwaring ) was both excellent and stunningly beautiful in the film. Thought at one stage to be the Grace Kelly replacement, as was Hedren.
One Line review: An excellent, underrated Hitchcock film.
4 1/2 stars out of 5
Technical Information
Release Information: Studio: Universal Studios Theatrical Release Date: July 22, 1964 DVD Release Date: May 30, 2000 Run Time: 131 minutes Production Company: Universal Studios Package Type: Keep Case Aspect Ratio(s): Widescreen Anamorphic - 1.85:1 Full Screen (Standard) - 1.33:1 Discographic Information: DVD Encoding: Region 1 Available Audio Tracks: English (Dolby Digital 2.0 Mono), French (Dolby Digital 2.0 Mono) Edition Details: - Region 1 encoding (US and Canada only) - Color, Closed-captioned, Widescreen - Theatrical trailer(s) - Production Notes - "The Trouble with Marnie" Making Of - Production Stills - Full-screen and widescreen anamorphic formats
Complete credited cast: Tippi Hedren .... Marnie Edgar
Sean Connery .... Mark Rutland
Diane Baker .... Lil Mainwaring
Martin Gabel .... Sidney Strutt
Louise Latham .... Bernice Edgar, Marnie's mother
Bob Sweeney (II) .... Cousin Bob
Milton Selzer .... Man at Track
Mariette Hartley .... Susan Clabon
Alan Napier .... Mr. Rutland
Bruce Dern .... Sailor
Henry Beckman .... First Detective
S. John Launer .... Sam Ward
Edith Evanson .... Rita
Meg Wyllie .... Mrs. Turpin