The Manchurian Candidate, 1962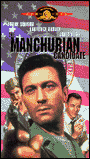 From: Gary William Tooze
Date: 15 Aug 2000
Time: 09:16:30

Comments
Review: The Manchurian Candidate, 1962
6 years after this landmark film (awarded the British Oscar equivalent in 1962 ) on June 5, 1968, when Senator Robert Kennedy was shot at the Ambassador Hotel in Los Angeles, it was his good friend, director John Frankenheimer, who had personally driven him there that day.
A reluctant director, Frankenheimer has created some of the American cinemas true hidden gems, The Manchurian Candidate being his jewel in the crown. His ability to express his political and philosophic views throughout his films has become renowned. The Manchurian Candidate was hidden for over 20 years after its initial release at Frank Sinatra's enforcement following the assassination of president John F. Kennedy.
Raymond Shaw (Laurence Harvey ), returns home from the Korean War and as a hero is presented with the Medal of Valor in Washington. His domineering mother (Angela Lansbury) and Stepfather Senator Iselin (James Gregory) wrestle to grab as much positive political coverage out of his heroics and name as possible. Major Bennett Marco (Frank Sinatra) and others who served alongside him remember Shaw differently, however, in duplicated nightmares as a killer brainwashed by Dr Yen Lo, an evil hypnotist from Communist China (Khigh Dhiegh) with Russian top political brass looking on in an amphitheatre. Shaw's mother, Mrs. Iselin, playing a Joseph McCarthy representation, is revealed to be a calculating Communist Agent and her maneuvering is meant to position her husband to the presidency through assassination, with her son being the mentally manipulated hired gun.
This and perhaps, Fail-Safe, 1964 stick out as the greatest cold-war films ever made. A superbly intelligent Film-Noir that is a must for all true movie buffs with its strong political overtones may be both comedic and frighteningly close to the truth.
4 ½ stars out of 5
gary@dvdbeaver.com
Technical Information
Release Information: Studio: Mgm/Ua Studios Theatrical Release Date: October 24, 1962 DVD Release Date: March 24, 1998 Run Time: 129 minutes Production Company: MGM Home Entertainment Package Type: Keep Case Aspect Ratio(s): Widescreen Letterboxed - 1.75:1 Full Screen (Standard) - 1.33:1 Discographic Information: DVD Encoding: Region 1 Layers: Single Available Audio Tracks: English (Dolby Digital 1.0), French (Dolby Digital 1.0), Spanish (Dolby Digital 1.0) Available subtitles: English, Spanish, French Edition Details: o Region 1 encoding (US and Canada only) o Black & White, Closed-captioned, Widescreen, Dolby o Production notes o Theatrical trailer(s) o Audio commentary by director John Frankenheimer o In-depth interviews with Frank Sinatra, George Axelrod and John Frankenheimer o Full-screen and widescreen letterbox formats