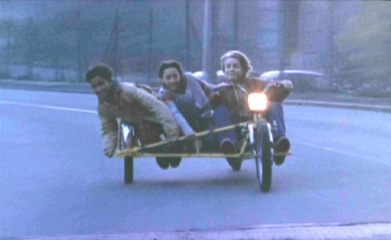 La Promesse
by Jean-Pierre Dardenne and Luc Dardenne
Review of the film and New Yorker DVD by Gary W. Tooze
At times the central character in "La Promesse" (The Promise), 15-year old Igor, portrays a joyous adolescent with a beaming smile framed by dirty-blonde hair as he races his triple-berth go-kart, his buddies in tow. But he is quickly able to transform himself to a pseudo-adult, playing a hardened versed-in-manipulation superintendent, an assistant to his larcenous father's nefarious business activities.
Veteran documentary film-makers, the Dardenne brothers, Jean-Pierre and Luc, use loose plot details, naturalistic performances and a hand-held camera to exude a cinema verité, neo-realistic feel and challenge viewers to conclude circumstances through inference rather than dole out spoon-fed details. The evolution of maturity and morality take shape in the consciousness of a confused youth who makes a vital choice while embarking into manhood.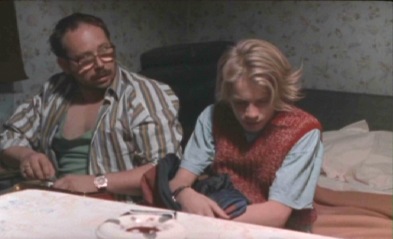 Aside from the moral bankruptcy taught by his disheveled, pop-bottle-glasses wearing father Roger (perfectly played by Olivier Gourmet), Igor, in who we the viewer still sense a spark of potential, is faced with a life affirming situation. He has made a promise to a dieing African laborer, Amidou, who resides illegally in Roger's decrepit boarding house apartment building in Seraing, Belgium. Amidou has fallen from some scaffolding and requires immediate medical attention.
But seeking medical aid for him might endanger Roger's house-of-cards empire with hovering labor authorities presently circling near. He is instead hidden with some broken drywall and construction material. The "promise" is, what turns out to be a death wish request, whispered to young Igor. Amidou wants him to look after his wife and child who have recently snuck in from Burkino Faso. The expired body is quickly and unceremonious dismissed forever in cement by a reluctant Igor and his amoral father. The death may have been accidental but his desecrated burial is a selfish trademark act, typical of Roger's despicable lifestyle with betrayal, false identity papers and lying as a central focal point of listlessness and turpitude.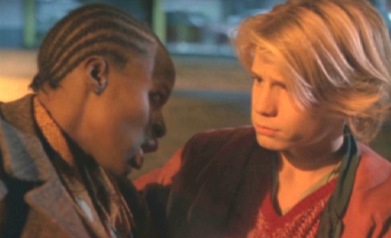 The keynote of the story is that Igor recognizes this lack of moral sensibility. Regardless of what he must give up in his apprentice-slumlord world he will do so in an attempt to make amends. The film is lifted, as are we, by his gradual transition of moral rebellion. His "gutter nobility" redemption is the height of where he is capable of rising considering his pernicious upbringing. He has virtuously chosen to re-educate himself and we are witnesses praying he doesn't falter at this crucial juncture of his life.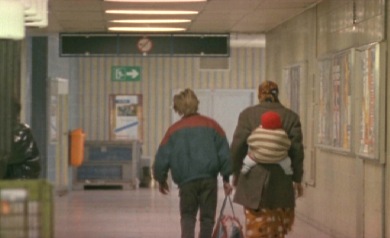 The Dardenne brothers, using their pronounced documentary-style realism where all actions on screen appear uncontrived, have successfully removed any visible efforts, magnificently disguising their painstaking work. This is absolutely masterful cinema that is unforgettable for most who are fortunate enough to have viewed it.

out of

.
FILM and DVD Details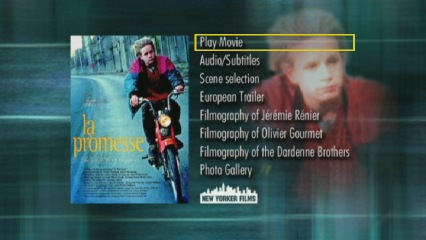 New Yorker Films have produced another smart DVD with a 1.85:1 anamorphic widescreen transfer, and extras such as a Photo Gallery, European trailer and Filmographies. The image is as perfect as the source material I would surmise (shot in super 16 mm) . It has language selections of the original French or Italian, and a choice of removable sub-titles. The audio is in Dolby Digital 2.0. I have no problem recommending this DVD for its fine quality. A commentary would be the only missing virtue.

out of

Credited cast overview:
Jérémie Rénier .... Igor
Olivier Gourmet .... Roger
Assita Ouedraogo .... Assita
rest of cast listed alphabetically
Frédéric Bodson .... The garage boss
Florian Delain .... Riri
Hachemi Haddad .... Nabil
Sophie Leboutte
Rasmane Ouedraogo .... Amidou

Runtime: Argentina:92 / Belgium:90 / Sweden:94
Country: Belgium / France / Luxembourg
Language: French
Color: Color
Certification: Argentina:13 / Belgium:KT / Chile:14 / Hong Kong:IIA / Portugal:M/12 / Spain:13 / Sweden:15

DVD Technical Information
Release Information:
Studio: New Yorker Films
Theatrical Release Date: May 16, 1997
DVD Release Date: January 15, 2002
Run Time: 93 minutes
Production Company: New Yorker Films
Package Type: Keep Case

Aspect Ratio(s):
Widescreen anamorphic - 1.85:1


Discographic Information:
DVD Encoding: Region 1
Layers: Dual
Available Audio Tracks: French (Dolby Digital 2.0)
Available subtitles: English, Italian

Edition Details:
• Region 1 encoding (US and Canada only)
• Color, Widescreen
• Theatrical trailer(s)
• Photo Gallery
• Widescreen anamorphic format