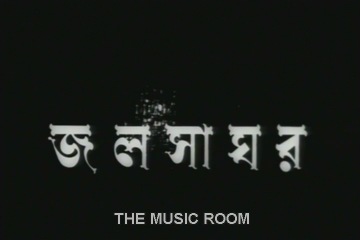 by Satyajit Ray
Review of the film and Vectra-com DVD by Gary W. Tooze
India's greatest director, Bengalese Satyajit Ray was recipient of numerous awards in his career. Typical of the styling of cinema he created, he kept them unceremoniously out of view under his bed, aware of the lavish presentation they would make displayed out in the more public rooms of his Calcutta home. This noble air of subtlety is also apparent in his film-making with Jalsaghar (The Music Room) being a perfect example.
The film's major character is Huzur Biswambhar Roy who is a zemindar (the now ancient concept of an aristocratic landlord). He is shown as a tragic figure who is both a victim of his selfish pride and superfluous belief in his own nobility.
Ray has made a profound and magnificent exploration of one man's obsolescence in a modern developing society in 1920's India.
Criticized for the lack of Indian cultural acceptance of his films, Ray purposely included a few musical numbers in Jalsaghar, although totally different from the Bollywood style cinema that is so popular with his countrymen. The sheer beauty of the final dance sequence is almost an acceptable gesture to understand Huzur's only visible interest; hosting concerts in his grand music room. Too apathetic to even ascertain what month or season it is, he smokes his hookah pipe on the terrace while his ancestors palace visibly crumbles around him. Tragic but also accurate as his egotistical and extravagant exhibitions to upstage his un-pedigreed, self-made neighbor Mahim Ganguly become more and more transparent. His gestures are all an attempt to maintain his presumed superiority granted to him by his birthright.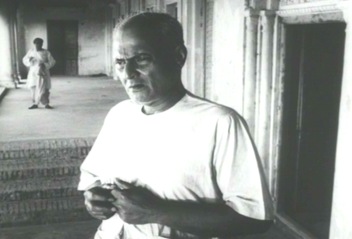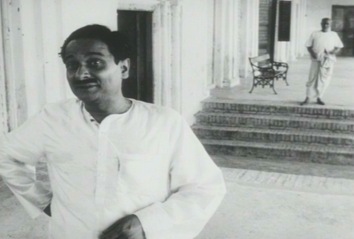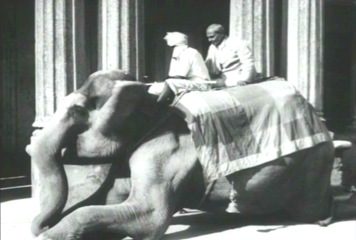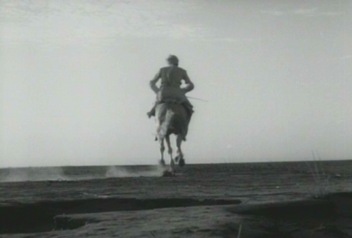 With comparisons of brass bands and electrical generators over traditional music, as well as the scenes of elephants instead of cars as a means of transport, Ray displays the encroachment of modernization into India. His excessively beautiful film displays the ever-present fact that change must be accepted. As the music room's lavish chandelier flickers, Huzur's most frightening personal affirmation comes when he views himself in a clouded mirror realizing what his behavior has wrought. The damage that his chosen path has dealt him is devastating. His realization is also our own with pride being shown as an overwhelming negative trait. It is a totally gripping cinema experience allowing for days of reflective thought.

out of

.
FILM and DVD Details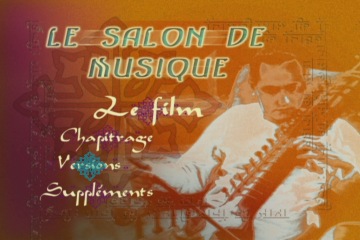 I would say that although the quality of this video has its outstanding moments, overall it is a disappointment. There are sequences in which the English subtitles are so low on the screen that it is difficult to read them and it becomes quite apparent that no restoration has been done at all to this 1958 print. It appears to be a much older film than it is. Scratches are prevalent throughout although the music in the film is exceptionally clear. I won't recommend this DVD as I have a strange feeling that the VHS copy may be of a much higher quality. The run-time appears accurate according to IMdb. There are no extras to speak of but the DVD does offer "English", "French" and "NO" subtitles all in the original theatrical presentation. It was such a thrill to see a Satyajit Ray film on DVD but I'm still hoping for some restoration work in a box-set from a Criterion or the like in the future. I give this a

out of

rating for the DVD.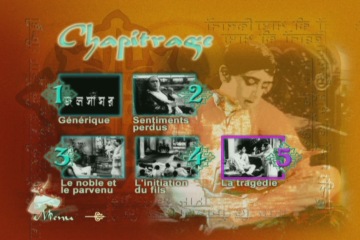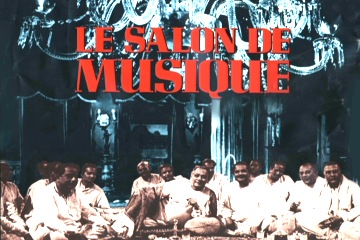 Full Cast and Crew for
Jalsaghar (1958)

Directed by
Satyajit Ray

Writing credits
Tarashankar Banerjee (novel)
Satyajit Ray

Cast (in credits order) complete, awaiting verification
Chhabi Biswas .... Huzur Biswambhar Roy
Padma Devi .... Mahamaya, Roy's wife
Pinaki Sen Gupta .... Khoka, Roy's Son
Gangapada Basu .... Mahim Ganguly
Tulsi Lahiri (I) .... Manager of Roy's Estate
Kali Sarkar .... Roy's Servant
Waheed Khan .... Ustad Ujir Khan
Roshan Kumari .... Krishna Bai, dancer
rest of cast listed alphabetically
Sardar Akhtar .... Singer
Tulsi Chakraborty .... Manager of Roy's Estate
Bismillah Khan .... Musician
Salamat Ali Khan .... Khyal singer
Ustad Waheed Khan .... Dancer (uncredited)
Pratap Mukhopdhya (uncredited)
Tarapada Nandy (uncredited)

Produced by
Satyajit Ray .... producer

Original music by
Ustad Vilayat Khan
Asis Kumar
Robin Majumder
Dakhin Mohan Takhur

Cinematography by
Subrata Mitra

Film Editing by
Dulal Dutta

Production Design by
Bansi Chandragupta

Sound Department
Durgadas Mitra .... sound



Region 0
1.33:1 OAR
NTSC
10 Chapter Stops
Choice of French, English or NO subtitles ( Bengali ).
Filmographies ( only in French )
Film History Map ( listing and brief comments on Ray's films )