The Conversation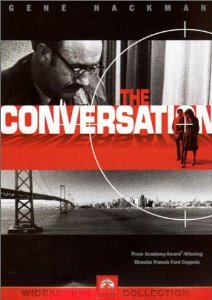 Harry Caul in his "office"...
(CLICK ON ALL IMAGES FOR LARGER VERSIONS )
Date: 22 Feb 2001
Time: 10:47:10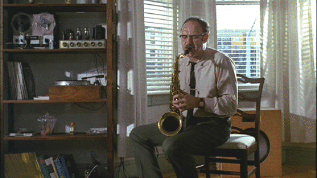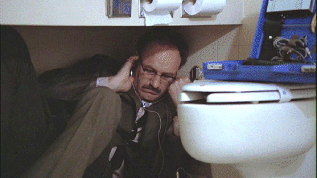 Harry enjoying his privacy... and his work.
This is a Coppola gem, brooding and intense. Gene Hackman plays a "bugger" i.e., a private contract surveillance man, the best in the business. He's hired by the Director of an unnamed corporation Robert Duvall)to record a conversation between the Director's wife and a young man in a public park. Hackman is troubled by the conversation and slips past his professional unconcern into fearfulness for the young couple's safety. The Director's assistant, played with appropriate relentlessness and menace by a youthful Harrison Ford, intensifies Hackman's anxiety and causes him unpleasant flashbacks to a contract he did which resulted in the death of three innocent people. The end is crushing, the unwinding of Hackman's character Harry Caul. Caul's very name hints at coverings, at shelters, at subterfuge and camouflage. Caul, the professional intimacy violator, is obsessed with protecting the cocoon of secrecy he believes he has created for himself. But from the beginning his privacy is doomed. One evening he return to his apartment, opens the three locks on the door and finds the landlady has left him a present for his birthday in his living room. Not only does she have keys to the apartment, but she has been opening his mail hence the discovery that it is his birthday. Caul is incensed; the caul has been ripped off his hermetically sealed existence. Through the course of the film he is humiliated by a sleazy competitor who tapes his private conversation with a woman using a tiny microphone inserted into a pen he has given Caul as a gift. The conversation he tapes is one of the two moments of willing self-revelation Caul gives us, the other being a description of his childhood spoken by him in a dream. Even in the dream sequence Caul's efforts to peel away the concealing layers that seal over his past are downright excruciating. In the end, believing his apartment is bugged, he rips the protective skin off every thing that has a covering or laminated surface on it: walls, floors, ceilings, furniture, ornaments, drapes, etc. His most painful moment comes when he forces himself to bash open a small figure of the Virgin Mary. It is the last thing he opens. Inside is nothing at all, she is hollow - a crushing commentary on his religion. He has been betrayed by colleagues, by lovers, and now, by Mary. There is nothing left, no place of shelter in his naked vulnerability.
Two people Harry is eavesdropping on ... and the catastrophic results...
And so it ends. We see him sitting, playing a solo on his saxophone in his living room. And this is Caul's life with the caul ripped off, a lonely soliloquy in a corner of a gutted room. All Caul has ever prized is his privacy, the intimate and ultimate creation and control of his own solitude. This is ripped from him in every way; it is ripped from us likewise. Every participant in the film is a voyeur: Coppola, Caul, Hackman, and you the viewer. Today, given the sophistication of the technologies used for communications and surveillance, we have only the illusion of privacy. Every visit to every web site you have ever visited is recorded and archived on servers, your bank card PIN is public knowledge, all your cell phone conversations are easily accessed using system cross-connections called, euphemistically, "Maintenance loops". Satellites, thousands of miles above you are able to to take three dimensional pictures of a mole 2mm in diameter on the back of your neck. We are utterly vulnerable, more so than Harry Caul ever was in 1973.
Harry "pre-eminent in his field" at a convention... and meeting one of his lesser peers\competitors.
An interesting "Making Of" short is included. One is astonished at how indecisive Hackman seems to be regarding the movements and motivations for Caul. He seems to require Coppola's direct guidance for the minutest aspects of his role. That, together with the exasperating brevity and repetition of cuts increases the wonder of film, the illusion of continuity achieved after the process of editing and final assemblage. Incredible, this world of illusions we love. Where do they begin and where do they end. I recommend this film.
Harry obsessed with his privacy and after he is satisfied no one is listening.... enjoying his Sax...
Technical Information

Release Information:
Studio: Paramount Studio
Theatrical Release Date: January 1, 1974
DVD Release Date: December 12, 2000
Run Time: 113 minutes
Production Company: Paramount
Package Type: Keep Case

Aspect Ratio(s):
Widescreen anamorphic - 1.85:1

Discographic Information:
DVD Encoding: Region 1
Available Audio Tracks: English (Dolby Digital 5.1), French (Dolby Digital 2.0 Mono)
Available subtitles: English

Edition Details:
• Region 1 encoding (US and Canada only)
• Color, Closed-captioned, Widescreen, Dolby, HiFi Sound, Surround Sound
• Commentary by director Francis Ford Coppola
• Commentary by supervising editor Walter Murch
• Theatrical trailer(s)
• "Close-Up on the Conversation" Featurette
• Widescreen anamorphic format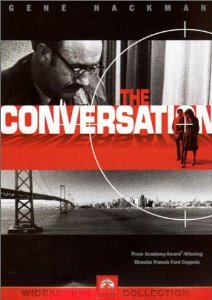 Conversation, The (1974)
Cast and Crew:

Directed by
Francis Ford Coppola

Writing credits
Francis Ford Coppola

Cast (in credits order) verified as complete
Gene Hackman .... Harry Caul
John Cazale .... Stan
Allen Garfield .... Bernie Moran
Frederic Forrest .... Mark
Cindy Williams (I) .... Ann
Michael Higgins (I) .... Paul
Elizabeth MacRae .... Meredith
Teri Garr .... Amy
Harrison Ford .... Martin Stett
Mark Wheeler (I) .... Receptionist
Robert Shields (I) .... The Mime
Phoebe Alexander .... Lurleen
rest of cast listed alphabetically
Timothy Carey (uncredited)
Robert Duvall .... The Director (uncredited)
Richard Hackman .... Confessional Priest/Security Guard (uncredited)
Al Nalbandian .... Salesman at Surveilance Convention (uncredited)

Produced by
Francis Ford Coppola
Fred Roos (co-producer)
Mona Skager (associate)

Original music by
David Shire

Cinematography by
Bill Butler (I)

Film Editing by
Richard Chew
Walter Murch

Casting
Jennifer Shull

Production Design by
Dean Tavoularis

Set Decoration
Doug von Koss

Costume Design by
Aggie Guerard Rodgers

Production Management
Clark L. Paylow .... production manager

Second Unit Director or Assistant Director
Paul J. Crossey .... dga trainee
Charles Myers .... assistant director (as Chuck Myers)

Art Department
Ted Moehnke .... property master

Sound Department
Nathan Boxer .... production sound recordist (as Nat Boxer)
Walter Murch .... sound montage
sound re-recordist
Art Rochester .... production sound recordist

Other crew
Jim Bloom (I) .... administrative assistant
Nathan Boxer .... production recording
Lawrence Bridges .... production assistant
Randy Carter (I) .... administrative assistant
Joe Dunnigan .... gaffer
Mike Evje .... production recording
Doug Finn .... gaffer
Wayne Fitzgerald .... title designer
Ralph Gerling .... camera operator
James Glennon .... assistant camera (as Jim Glennon)
Nancy Hopton .... script supervisor (as Nancy Tonery)
Mona Houghton .... administrative assistant
Leo Jones .... technical advisor
Hal Lipset .... technical advisor
Keith Mason .... key grip
Pat Smith (II) .... production secretary
Alex Tavoularis .... location coordinator
Julie Zale .... assistant editor