Wong Kar-wai clearly rejects the structured approach of other Hong Kong film styles and has made bold steps as an Asian "New Wave" auteur, often being compared to Godard. Shots blurred with smoke-filled poor lighting, bustling activity and neon signs as a backdrop, he spins a fresh, seductive and often unpredictable film. It is never directionless, although stylistically giving that impression. He appears to have made the exact film he intended, but many will reject this as an experiment gone awry. Personally, I loved the obsessive nature of the characters and the fun, artistic feel that seems impossible to put into terms. Masterpiece, maybe not... but daring and unique - positively.
I find much trouble rating the film, as I am aware of the disparaging viewpoints regarding it... but still feel it worthy of

out of

. It is just so cool.
When Tarantino and Miramax announced the formation of a new distribution company called Rolling Thunder, Chung King Express was their first chosen film.
Tarantino gives a short prologue and post film notes, admitting in interviews to crying while watching it... only because "I'm just so happy to love a movie this much.'' I can associate, seeing this as a defined example of a film buff's film.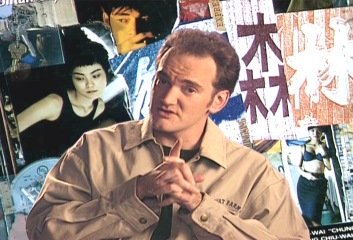 Complete credited cast:
Brigitte Lin .... Woman in blonde wig
Tony Leung Chiu Wai .... Cop 663
Faye Wong .... Faye
Takeshi Kaneshiro .... He Zhiwu, Cop 223
Valerie Chow .... Air Hostess
Chen Jinquan .... Manager of 'Midnight Express'
Guan Lina .... Richard
Huang Zhiming .... Man
Liang Zhen .... The 2nd May
Zuo Songshen .... Man

Also Known As:
Chungking Express (1995) (USA)
MPAA: Rated PG-13 for some violence, sexuality and drug content.
Runtime: 97 / USA:102
Country: Hong Kong
Language: Cantonese / Mandarin
Color: Color
Certification: Finland:K-12 / Portugal:M/12 / Spain:13 / UK:12 / USA:PG-13
Technical Information
Release Information:
Studio: Miramax
Theatrical Release Date: March 8, 1996
DVD Release Date: May 21, 2002
Run Time: 102 minutes
Production Company: Buena Vista
Package Type: Keep Case

Aspect Ratio(s):
Widescreen anamorphic - 1.85:1


Discographic Information:
DVD Encoding: Region 1
Layers: Dual
Available Audio Tracks: Cantonese
Available subtitles: English

Edition Details:
• Region 1 encoding (US and Canada only)
• Color
• Original Hong Kong Trailer
• Quentin Tarantino Introduction
• Quentin Tarantino Wrap
• Widescreen anamorphic format