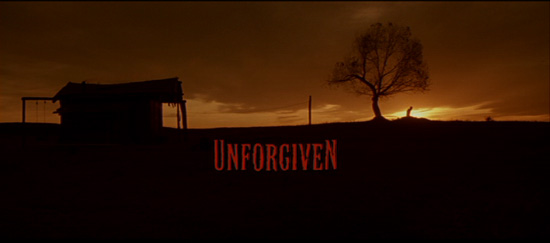 (aka "Erbarmungslos" or "De nådesløse" or "The William Munny Killings (working title)" or "The Cut Whore Killings (original script title)" )
directed by Clint Eastwood
USA 1992
As the most American of genres, it is interesting to look back on the last 25 years and to see, that in that period only three great Westerns were made: Walter Hill's "The Long Riders" (1980), Kevin Costner's "Dances with Wolves" (1990) and Clint Eastwood's "Unforgiven" from 1992. All three revisionist approaches to the genre, all three key works of the genre. As the action and adventurous side of the genre has been overtaken by other genres in today's cinema, the "thinking man's" side still is left, but is rarely used, as stories who can carry the setting are rare.

Considered Eastwood's second masterpiece, as it was the only film who could challenge his 1976 neo-classic "The Outlaw Josey Wales", "Unforgiven" is an elegy, revisiting a dying West, where those who shaped it now have retired. Bill Daggett (Gene Hackman) is now a sheriff, English Bob (Richard Harris) is now a dime-novel hero named "The Duke of Death" and William Munny is a hog-farmer, the lowest of all.

When a whore is cut up and disfigured by a drunken cowboy, because she laughed at his small "member", sheriff Daggett interprets the law in favour of their pimp, as the whore is a piece of property. Enraged the women pool together $500 and offer them to anyone who will kill the cowboys. Nobody accepts the contract, except William Munny, a once gunfighter, now a widower hog-farmer with two small children. Before claiming the reward, Munny has to come face to face with his past.

The greatness of the story lies in how it revisits the mythology of the West and its frontier justice. At no point in the film is justice present. "I don't deserve this", says Daggett when Munny is about to kill him, to which Munny says, "Deserving has nothing to do with it". As such, "Unforgiven" suggests, that violence begets more violence, and justice is in the eye of the beholder. The irony is, that while Munny changed into a loving Christian husband and father when he married, his mother in law will never know this and will continue to believe that Munny killed her daughter, even though she died of small pox. He will forever remain unforgiven.

Winner of four Oscars, amongst them best director and best picture, "Unforgiven" stands today as one of the greatest Westerns ever made, perhaps the best revisionist Western ever made, and everything notes on personal best, especially from Hackman. A masterpiece.
Poster
Theatrical Release: August 3, 1992 (Los Angeles)
Reviews More Reviews DVD Reviews
DVD Review: Warner (Two-Disc Special Edition) - Region 1 - NTSC
Big thanks to Henrik Sylow for the Review!
DVD Box Cover

CLICK to order from:

Distribution

Warner

Region 1 - NTSC

Runtime
2:10:32
Video

2.28:1 Original Aspect Ratio

16X9 enhanced
Average Bitrate: 6.17 mb/s
NTSC 720x480 29.97 f/s

NOTE: The Vertical axis represents the bits transferred per second. The Horizontal is the time in minutes.

Bitrate

Audio
5.1 Dolby Digital English, 5.1 Dolby Digital French (dub)
Subtitles
English, French, Spanish, None
Features
Release Information:
Studio: Warner

Aspect Ratio:
Widescreen anamorphic - 2.28:1

Edition Details:
• Disc 1:
• Audio Commentary by Richard Schickel
• Eastwood Out West (text info)
• Cast and Crew
• Award list
• Trailer
• ..
• Disc 2:
• 10th anniversary featurette: 'All on Accounta Pullin' a Trigger' (22:35)
• The 1992 documentary: Eastwood and Co: Making 'Unforgiven' (23:53)
• Eastwood a Star (16:08)
• Eastwood on Eastwood (1:08:30)
• Maverick: Duel at Sundown (49:04)

DVD Release Date: September 24, 2002
Digipack

Chapters 33

Comments
Simply an incredible beautiful DVD. Colours are perfectly balanced to give the film its murky faded dark look and with the exception of minute halos, it is basically flawless.

The 5.1 Dolby Digital mix is surprisingly effective and dynamic, considering this being mainly centre dialogue. Birds, gunfire and rain are constantly adding to the surround.

Finally, extras galore. A superb audio commentary by Eastwood biographer and historian Richard Schickel, followed by Schickels likewise superb portrait of Eastwood (Eastwood on Eastwood) and after a few standard backclapping featurettes, an episode of "Maverick" with Eastwood.

---
---
Screen Captures
Captures resized to 800px from 960px native resolution
DVD Box Cover

CLICK to order from:

Distribution

Warner

Region 1 - NTSC