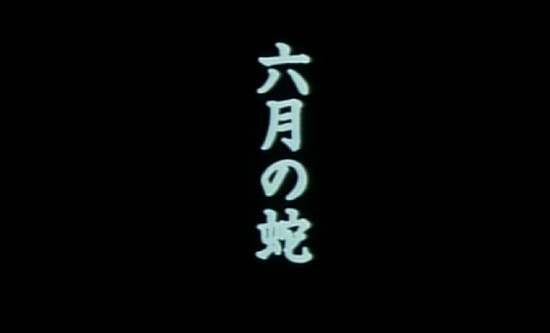 (aka 'Rokugatsu no hebi' or 'A Snake of June')
directed by Shinya Tsukamoto
Japan 2002
The Snake in question refers to a stalker (the role taken by Tsukamoto), who worms his way into the lives of Rinko (Kurosawa), and her husband Shigehiko (Koutari), by posting her an envelope stating it to be 'Your Husband's Secrets'. Inside are photos of Rinko masturbating. June is the rainy season in Japan, and as a result, the rain here is incessant and signifies the outlet of pent up emotions and feelings. Due to Rinko's fear of the negatives falling into the wrong hands, she goes along with the demands of her stalker. He promises to destroy the negatives only after Rinko carries out some 'tasks' he has set for her, which are mainly designed for his own selfish kicks. Rinko and her husband are seemingly happy in their loving but passionless life, but are drifting apart so slowly they barely notice it. Both are workaholics and Shigehiko also has a cleaning obsession, brought on by his fear of dirt and bodily fluids, which makes it impossible for Rinko to have an intimate relationship with him.
Excerpt taken from Terresa Gafney's review on the Z Review
Poster
Theatrical Release: September 1st, 2002 - Venice Film Festival
Reviews More Reviews DVD Reviews
DVD Review: Tartan - Region 2 - PAL
DVD Box Cover

CLICK to order from:

NOTE: Purchases through DVDBeaver's links to Amazon help keep us afloat and advertisement free!

Distribution
Tartan - Region 2 - PAL
Runtime
1:16:49 PAL (No PAL Speedup)
Video
1.33:1 Original Aspect Ratio
Average Bitrate: ? mb/s
PAL 720x576 25.00 f/s
Audio
Japanese: DTS 5.1 Surround, Dolby Digital 5.1 Surround, Dolby Digital 2.0 Stereo
Subtitles
English, None
Features

Release Information:
Studio: Tartan Video

Aspect Ratio:
Original aspect Ratio 1.33:1

Edition Details:

• 4-Pages Booklet with Justin Bowyer Film Notes
• Trailer (2:03) in ANAMORPHIC 1:1.85
Asia Extreme Trailer Reel:
• The Happiness of the Katakuris
• Tetsuo: The Iron man
• Dark Water
• Sympathy for Mr. Vengeance
• Tetsuo II: Body Hammer

DVD Release Date: January 26th, 2004
Keep Case
Chapters: 16

Comments:

NOTE: The AR has been confirmed:

Regarding Per-Olaf's review of A Snake in June, the OAR is indeed 1.33:1. I saw this at the TIFF and own the Japanese DVD, both 1.33:1

On the cover there's 1:1.33 OAR, but I doubt it. The screen-captures of the trailer (in 1:1.85 anamorphic) are more dynamic, than the captures from the movie.

I can't find any information of the OAR of this film. We have a trailer in 1:1.85 and the film in 1:1.33. The pictures from the trailer are more dynamic than the pictures from the film.

Tartan has transferred this in the whole camera negative size, so that the marks of glue during the cuts between pictures are visible. Usually they are on the minor black border's in the 1:1.37 prints. Of course during over-scan in TV this are not visible.

I believe this should be in 1:1.85. The only point I can find for 1:1:33 ratio, is that the film reminds very much of old silent movies, and with Academic ratio they come closer to it.

If this are a Open matte print, then Tartan has put the English subtitles so low, that it's not very 16:9 friendly, even tough one could zoom it to the 1:1.85 size.
---
DVD Menus
---
Subtitle Sample
Screen Captures
---
---