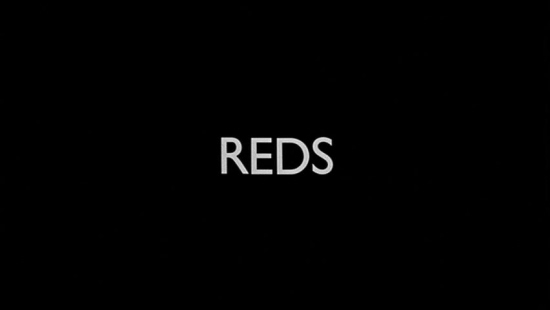 directed by Warren Beatty
USA 1981
In the annals of Hollywood history, Warren Beatty is a member of industry royalty. Blessed with charm, good looks, and talent, Beatty was a big box-office draw during the 1960s and 1970s who was also famous for dating many celebrities before marrying Annette Bening after 1991's Bugsy. At the height of his influence, Beatty persuaded his friends at Paramount to finance Reds, a biopic about John Reed and Louise Bryant. Reed and Bryant were American journalists who supported the global Communist movement; they even spent some time in Russia, which gave Reed the experiences and materials that he needed to write Ten Days That Shook the World.

In this day and age, people might think that it's weird that an American made a movie that celebrates a Communist icon, especially since the Communists "lost" the Cold War. Back in the late-1970s and early-1980s, some people probably thought that Warren Beatty was mis-guided or traitorous for sympathizing with the socialist cause. However, knee-jerk reactions to Reds will most likely miss the mark. Reds is about a time when the United States and Russia were allies against Germany and Austria-Hungary during World War I. Reds is about a time when most Americans had not heard of Communism and were more worried about the Bolsheviks pulling out of World War I (thereby enabling Germany and Austria-Hungary to focus on one fighting front) than they were about Commies infiltrating the American government. Reds is about a time when industrialists and bankers--including those in America--were so oppressive towards the impoverished working class that leftist movements were cries for help rather than revolutionary groups seeking to topple governments. Reds is about a time when socialist organizers began fighting for the rights and benefits that blue-collar and white-collar workers take for granted today.

Impressively, Reds does not simply glorify Communism and the Soviet Union despite the fact that John Reed is the only American buried in the Kremlin. During the movie's first half, Reed and Bryant are caught up in the euphoria of idealism, and the communist spirit energizes their journalism. However, as they begin directly participating in Communist organizations and rallies, they begin to see Communism's failings as early as 1918-1920. By the time that Reed dies in Moscow, he has been disillusioned by Soviet bureaucrats. To be fair, part of Reed's disillusionment was of his own doing; to the end, he naively clung to the belief that he could force the whole world to tell "the truth" and that writers had final editorial control of what they wrote, no matter what the situation.

The running time of 195 minutes may scare away some potential viewers, though this isn't necessarily a bad thing because the movie doesn't really justify its length. Reds is an "intimate epic"--meaning, it's a very long movie that focuses on a small group of people caught up in momentous events. Basically, Warren Beatty decided to make a soap opera about "free lovers" who couldn't handle "free love". The first half of the story displays obvious self-indulgence on Beatty's part (the producer-director-writer-star repeats points over and over again), and the characters' self-righteousness can be grating. On the other hand, after Reed and Bryant suffer from the folly of their initial obliviousness, the second half becomes a gripping examination of how Communist leaders failed to make good on their ideological promises from the beginning.

Hollywood insiders love to reward epics with Oscars because it's basically impossible to mount a huge production without Tinseltown's resources; epics are what Hollywooders fancy themselves doing when making something "important". Reds received twelve Oscar nominations and won three, though it lost Best Picture to Chariots of Fire. (Considering the complaints that I have about it, I'm glad that the movie did not win Best Picture.) Reds was such a personal high for Warren Beatty that six years passed before his next movie, 1987's much-derided Ishtar, was released in theatres.

By the way, there is a thematic reason why Reds is being released in October rather than in any other month.
Posters
Theatrical Release: 4 December 1981
Reviews More Reviews DVD Reviews
DVD Review: Paramount (25th Anniversary Edition) - Region 1 - NTSC
Big thanks to Yunda Eddie Feng for the Review!
DVD Box Cover

CLICK to order from:

Distribution

Paramount

Region 1 - NTSC

Runtime
195
Video

1.85:1 Original Aspect Ratio

16X9 enhanced
Average Bitrate: 7.51 mb/s
NTSC 720x480 29.97 f/s

NOTE: The Vertical axis represents the bits transferred per second. The Horizontal is the time in minutes.

Bitrate

Audio
Dolby Digital 5.1 English, Dolby Digital 2.0 mono English, Dolby Digital 2.0 mono French
Subtitles
Optional English
Features
Release Information:
Studio: Paramount

Aspect Ratio:
Widescreen anamorphic - 1.85:1

Edition Details:
• DVD Trailer
• The Rising
• Comrades
• Testimonials
• The March
• Revolution - Part 1
• Revolution - Part 2
• Propaganda

DVD Release Date: 17 October 2006
slim double keepcase

Chapters 19
Comments
Video:
A few years ago, Paramount restored the Reds's film negatives, though the studio and Warren Beatty decided to put off the DVD release until 2006. The 1.85:1 anamorphic widescreen image is impressively free of debris such as dust and scratches, and it is generally sharp and clear. However, I saw a few defects that appeared briefly, sometimes for only one frame. Nevertheless, no matter how un-intrusive these defects are, they exist and should be noted. For example, in one frame, I saw a faint circle just left of center; this circle is probably some sort of water/liquid damage.

Audio:
As part of the restoration process for Reds, Paramount created a Dolby Digital 5.1 English update of the movie's original mono audio track, which has also been restored and is on the DVD. Even though Reds is an "epic" with a lot sequences with huge crowds, the sound design is mostly front-heavy. The surrounds have a few music cues and shouts from angry members of the proletariat, but the 5.1 mix confines most aural activities to the front center channel. Towards the end of the movie, some gunshots, explosions, and trains invite the subwoofer to the party, though you're not really going to bother your neighbours with this DVD release.

You can watch the movie with a DD 2.0 mono French dub.

Optional English subtitles as well as optional English closed captions support the audio.

Extras:
--Disc 1--
Disc 1's only extra is a DVD trailer that has been appearing on other Paramount DVDs. While this is a well-assembled trailer, it is not an adequate replacement for the movie's original theatrical trailer(s) and TV spots.

--Disc 2--
Paramount commissioned Laurent Bouzereau, the guy responsible for producing many DVD editions of Steven Spielberg's movies, to create the Reds DVD release. Basically, you get seven featurettes that can be viewed together as one long documentary called "Witness to Reds". There are interviews with key personnel such as Warren Beatty, Jack Nicholson, Barry Diller (a former Paramount executive), and the movie's two editors. However, as Nicholson wryly observes, Diane Keaton probably thinks of retrospective interviews about her past work as trivial wastes of time, so Keaton is notably absent from the movie's first appearance on DVD. Though very polished, Bouzereau's bonus materials are usually sterile and superficial; this explains why filmmakers with fragile egos like to work with him. He makes everyone look like a heroic, visionary artist struggling against incredible odds, which is essentially dishonest considering that even Beatty himself acknowledges that all of the major Hollywood studios were willing to finance his movies back in the late-1970s and early-1980s (and considering that the only odds that Spielberg faces nowadays are ones that he creates for himself).

In "The Rising", Warren Beatty talks about how he got the movie greenlighted at Paramount. In "Comrades", Beatty talks about assembling casts and directing other actors. In "Testimonials", Beatty talks about shooting interviews with people who knew John Reed and Louise Bryant; this featurette includes interview footage that does not appear in the movie. In "The March", "Revolution - Part 1", and "Revolution - Part 2", various people talk about their work experience making the movie. In "Propaganda", Beatty talks about how impossible it would be to make a movie like Reds in 2006, not necessarily because Communism "lost" but because the movie's subject matter is not inherently "commercial" (though to be honest, by foregrounding Reed and Bryant's love story, Beatty made the movie much more commercial than he probably thinks).

--Miscellaneous--
Per Paramount's standards, you don't get an insert or a booklet inside the DVD Keepcase. A mostly-black cardboard slipcover offers a more-pleasing visual experience than the Keepcase cover art, which is dominated by metallic orange hues, does.
---




DVD Menus
---
Screen Captures
Notice the faint circle left of the center, probably caused by water/liquid damage.