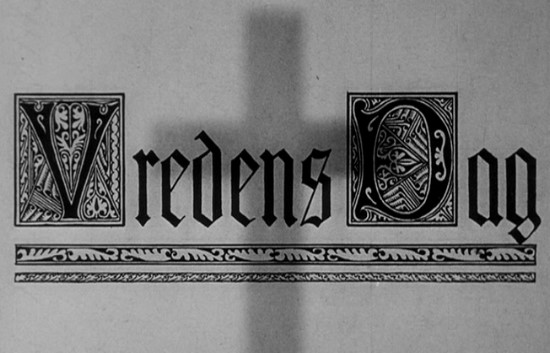 (aka 'Day of Anger' or 'Day of Wrath')
Filmed during the Nazi occupation of Denmark, Carl Dreyer's Day of Wrath (Vredens dag) is a harrowing account of individual helplessness in the face of growing social repression and paranoia. Anna, the young second wife of a well-respected but much older pastor, falls in love with her stepson when he returns to their small 17th-century village. Stepping outside the bounds of the village's harsh moral code has disastrous results. Exquisitely photographed and passionately acted, Day of Wrath remains an intense, unforgettable experience.
***
Day of Wrath is generally regarded to be one of Dreyer's greatest works. Its mood is sombre and intense; the narrative pace is steady and deliberate, presenting horrific events with chilling restraint; and it deals with all his prime concerns: religious faith, the supernatural, social intolerance, innocence and guilt, and the clash between society and the individual – especially the individual woman.

This is a dark and powerful tale of love and betrayal, and of a community gripped by an obsessive fear of witchcraft. It is adapted from a 1909 stage play, Anne Pedersdotter, by Norwegian writer Hans Wiers-Jenssen. Dreyer said that he saw in it 'possibilities for great monumental visual effects – four or five figures as sharply defined as medieval wood sculptures'. He used light and darkness to express moral and emotional concerns, with severe, black-garbed figures set against stark white walls, and opposing lines of force creating tensions within the frame.

In early seventeenth-century rural Denmark an old woman is hunted down and burned as a witch, despite the efforts of the parson's young wife, Anne, to save her. Anne (whose own mother had been suspected of being a witch), is possessed by a secret passion for her stepson, a young man of her own age, and when her elderly husband dies she finds herself accused of using witchcraft to cause his death.

Seen by some as an allegory of the Nazi occupation of Denmark and by others as an indictment of male domination and suppression of strong women, Day of Wrath has an extraordinary emotional intensity achieved by superb performances, and is a stunning example of the humanity, artistic power and technical mastery of Dreyer's art.
Posters
Theatrical Release: November 13th, 1943
Reviews More Reviews DVD Reviews
DVD Comparison:
Criterion - Region 0 - NTSC vs. BFI Region 2 - PAL
(Criterion - Region 0 - NTSC LEFT vs. BFI Region 2 - PAL RIGHT)
Production
Criterion Collection - Spine # 125 - Region 0 - NTSC
BFI - Region 2 - PAL
Runtime
1:37:27
1:33:03 (4% PAL speedup)
Video
1.33 Original Aspect Ratio
Average Bitrate: 8.1 mb/s
NTSC 720x480 29.97 f/s
1.33:1 Aspect Ratio
Average Bitrate: 8.84 mb/s
PAL 720x576 25.00 f/s

NOTE: The Vertical axis represents the bits transferred per second. The Horizontal is the time in minutes.

Bitrate:

Criterion

Bitrate:

BFI

Audio
Danish (Dolby Digital 2.0)
Danish (Dolby Digital 2.0)
Subtitles
English, None
English, None
Features

Release Information:
Studio: Criterion

Aspect Ratio:
Original Aspect Ratio 1.33:1

Edition Details:

• Deleted footage of interviews from Torben Skjřdt Jensen's documentary Carl Th. Dreyer—My Metier, with actors Lisbeth Movin and Preben Lerdorff Rye
• Stills gallery

DVD Release Date: August 21st, 2001
Keep Case inside The Dreyer 4-disc Cardboard Box
Chapters:

33

Release Information:
Studio: BFI Video

Aspect Ratio:
Original Aspect Ratio 1.33:1

Edition Details:

• Feature commentary by Danish Dreyer expert Casper Tybjerg (University of Copenhagen)
• The Fight Against Cancer (Dreyer, 1947, 15 mins)
• A Castle Within a Castle (Dreyer, 1955, 8 mins)
• Fully illustrated booklet including an essay on Day of Wrath by film historian Philip Kemp and 'Film art as passion', an essay on the director's work by Casper Tybjerg

DVD Release Date: April 10th, 2006
Transparent Keep Case

Chapters:

7
Comments:

ADDITION: BFI - March 06': The new BFI release looks very much like the Criterion image - both have the same damage marks and we can assume they are from the same print/negative. The major differences are that the Criterion has richer black levels (probably minutely boosted) and there are more visible damage marks on the BFI release (they are quite prevalent at times) - we assume Criterion have done a cleaning for dirt and dust. The Criterion is also unfortunately cropped on all 4 edges. The black-boosting gives the Criterion a leg-up in perceived sharpness but I can't see the damage factor being too cumbersome for normal viewing of the BFI disc although beware that the scratches, marks and speckles are much more visible at times. In minor points the subtitles are a shade less intrusive on the BFI and the translation is negligibly different at times. Where the BFI should be given wide acknowledgement are in the extras - A commentary by Dreyer expert Casper Tybjerg is excellent although he occasionally tends to focus on explaining obvious plot details a shade more than I would appreciate... but he still intensely discusses Dreyer in a slow clear tone pointing out details such as his use of the 5-act structure (defining them as we watch) and the obviousness of the denunciation of the Christian Church in Day of Wrath. Very much appreciated in this are the optional subtitles for the commentary - Casper's English is excellent but it is a BFI feature that they have used in the past that I find very valuable - I wish more DVD producers would adopt it. The Fight Against Cancer and A Castle Within a Castles are infrequently seen shorts from Dreyer that are also added supplements to the BFI package. The included booklet is nicely done with photos and essays marking it as another fine and noble touch by BFI. Seeing the film with some slight earmarks but in such an exceptional package is like watching it for the first time. I strongly recommend this DVD for fans of Dreyer and all cineastes worldwide - like the original Criterion Boxset - I will treasure it for years.

NOTE: 'I think the BFI audio commentary by Casper Tybjerg makes getting the BFI disc worth it, and the uncropped image is the clincher even though the print is not cleaned up. The Criterion subtitles are much better, however. The BFI leaves some lines un-translated (like the children's song!) and also mistranslates other lines.

So it is a rare case where I think both DVDs should be be viewed, though, as I already suggest, I think the BFI DVD is the better of the two.

By the way, it's odd that Criterion got Casper Tybjerg to do the audio commentary on Passion of Joan of Arc but not on Day of Wrath. The guy certainly knows his Dreyer films.' (Thanks Richard!)

****

About the Criterion: Although the worst transfer in the Boxset and noting its history (shot in wartime over 60 years ago) we really couldn't ask for it to be any better represented on DVD. Minor flickering - relative sharpness - infrequent speckling damage - excellent contrast (deepest black levels I can remember) and shadow detail! Wonderful grain shows through and being picky I much prefer Criterion's current choice of subtitle font - grayish with a black border and slightly smaller to this bolder and brighter one. The deleted footage from the Jensen documentary is interesting and a great build for the final disc.
---



DVD Menus

(Criterion - Region 0 - NTSC LEFT vs. BFI Region 2 - PAL RIGHT)
---
Subtitle Sample
NOTE: Not exact frame
(Criterion - Region 0 - NTSC TOP vs. BFI Region 2 - PAL BOTTOM)
Example of BFI's optional commentary subtitles:
---
Screen Captures
(Criterion - Region 0 - NTSC TOP vs. BFI Region 2 - PAL BOTTOM)
---
(Criterion - Region 0 - NTSC TOP vs. BFI Region 2 - PAL BOTTOM)
---
(Criterion - Region 0 - NTSC TOP vs. BFI Region 2 - PAL BOTTOM)
---
(Criterion - Region 0 - NTSC TOP vs. BFI Region 2 - PAL BOTTOM)
---
(Criterion - Region 0 - NTSC TOP vs. BFI Region 2 - PAL BOTTOM)
---
(Criterion - Region 0 - NTSC TOP vs. BFI Region 2 - PAL BOTTOM)
---
(Criterion - Region 0 - NTSC TOP vs. BFI Region 2 - PAL BOTTOM)
---
(Criterion - Region 0 - NTSC TOP vs. BFI Region 2 - PAL BOTTOM)
---
(Criterion - Region 0 - NTSC TOP vs. BFI Region 2 - PAL BOTTOM)
---
Recommended Film reading (CLICK COVERS or TITLES for more information)





DONATIONS Keep DVDBeaver alive and advertisement free:
Mail cheques, money orders, cash to: or CLICK PayPal logo to donate!
Gary Tooze

Mississauga, Ontario,

CANADA
Thank You!