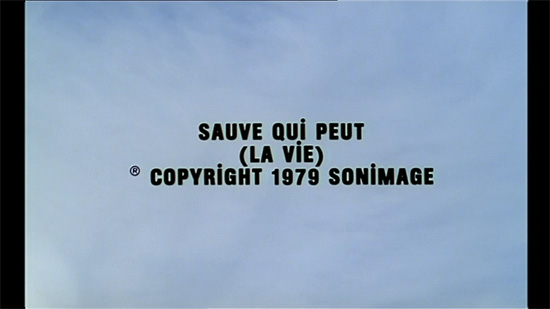 (aka "Slow Motion" )


France / Austria / West Germany / Switzerland 1980
Returning to cinema, Godard with "Sauve qui peut (la vie)" (save if you can (your life)) returns to where he left of in the sixties: Man is trapped by modern society, looking for answers and living in the illusion of urban life. Life is a struggle, where man screams, "I am not a machine."

Divided into four parts, the first three - 1. Sauve Qui Peut, 2. La Peur, and 3. La Commerce - focusing on one character, then bringing them together in the final part - 4. La Musique.

Denise gives us her city job, moves to the country and becomes a journalist. Paul is a television director, seperated from his wife and daughter. Isabelle is a country girl, who came to the city to become a prostitute. Thru them, Godard reflects upon relationships, letting them revolt, having them observe or guide us by and thru relationships that aren't working.

Godard also displays cinema as wihtout meaning or value, used escaping the trappings of relationships and life. The main characters says, that he creates cinema to keep himself busy. A couple goes to the cinema, she in hope of getting privacy with her friend, having taken off her panties for him to touch her, he to avoid having to touch her.

"Sauve qui peut (la vie)", retitled to "Slow Motion" in English, emphasizing Godard's use of slow motion as trope, marked a welcomed return of Godard to the cinema. A sensational piece of film.
Posters
Theatrical Release: September 8th, 1980 (Toronto Film Festival)
Reviews More Reviews DVD Reviews
DVD Review: Artificial Eye - Region 2 - PAL
Big thanks to Henrik Sylow for the Review!
DVD Box Cover

CLICK to order from:

Distribution

Artificial Eye

Region 2 - PAL

Runtime
1:24:39 (4% PAL speedup)
Video

1.63:1 Original Aspect Ratio

16X9 enhanced
Average Bitrate: 8.56 mb/s
PAL 720x576 25.00 f/s

NOTE: The Vertical axis represents the bits transferred per second. The Horizontal is the time in minutes.

Bitrate

Audio
2.0 Dolby Digital French mono
Subtitles
English, None
Features
Release Information:
Studio: Artificial Eye

Aspect Ratio:
Widescreen anamorphic - 1.63:1

Edition Details:
• Scenario Video suave qui peut (la vie) (20:32 / 4:3)
• Biographies and Filmographies

DVD Release Date: January 23, 2006
Amarey

Chapters 11
Comments
Presented in its Original Aspect Ratio of 1.66:1, the image is generally very good looking. There are some compression artifacts, mainly color banding, but in general, an excellent transfer.

Sound is 2.0 Dolby Digital mono.

As additional material, there are Godard's production notes on the film in digital.
---




DVD Menus
---
Screen Captures
Subtitle sample - Capture is resized from 1016px to 800px
Mail cheques, money orders, cash to: or CLICK PayPal logo to donate!
Thank You!
Jean-Luc Godard's - Slow Motion - Sauve qui peut la vie DVD Jean-Luc Godard Slow Motion Sauve qui peut la vie DVD Jean-Luc Godard Slow Motion Sauve qui peut la vie DVD Jean-Luc Godard Slow Motion Sauve qui peut la vie DVD Jean-Luc Godard Slow Motion Sauve qui peut la vie DVD Jean-Luc Godard Slow Motion Sauve qui peut la vie DVD Jean-Luc Godard Slow Motion Sauve qui peut la vie DVD Jean-Luc Godard Slow Motion Sauve qui peut la vie DVD Jean-Luc Godard's - Slow Motion - Sauve qui peut la vie DVD Jean-Luc Godard Slow Motion Sauve qui peut la vie DVD Jean-Luc Godard Slow Motion Sauve qui peut la vie DVD Jean-Luc Godard Slow Motion Sauve qui peut la vie DVD Jean-Luc Godard Slow Motion Sauve qui peut la vie DVD Jean-Luc Godard Slow Motion Sauve qui peut la vie DVD Jean-Luc Godard Slow Motion Sauve qui peut la vie DVD Jean-Luc Godard Slow Motion Sauve qui peut la vie DVD Jean-Luc Godard's - Slow Motion - Sauve qui peut la vie DVD Jean-Luc Godard Slow Motion Sauve qui peut la vie DVD Jean-Luc Godard Slow Motion Sauve qui peut la vie DVD Jean-Luc Godard Slow Motion Sauve qui peut la vie DVD Jean-Luc Godard Slow Motion Sauve qui peut la vie DVD Jean-Luc Godard Slow Motion Sauve qui peut la vie DVD Jean-Luc Godard Slow Motion Sauve qui peut la vie DVD Jean-Luc Godard Slow Motion Sauve qui peut la vie DVD Jean-Luc Godard's - Slow Motion - Sauve qui peut la vie DVD Jean-Luc Godard Slow Motion Sauve qui peut la vie DVD Jean-Luc Godard Slow Motion Sauve qui peut la vie DVD Jean-Luc Godard Slow Motion Sauve qui peut la vie DVD Jean-Luc Godard Slow Motion Sauve qui peut la vie DVD Jean-Luc Godard Slow Motion Sauve qui peut la vie DVD Jean-Luc Godard Slow Motion Sauve qui peut la vie DVD Jean-Luc Godard Slow Motion Sauve qui peut la vie DVD Jean-Luc Godard's - Slow Motion - Sauve qui peut la vie DVD Jean-Luc Godard Slow Motion Sauve qui peut la vie DVD Jean-Luc Godard Slow Motion Sauve qui peut la vie DVD Jean-Luc Godard Slow Motion Sauve qui peut la vie DVD Jean-Luc Godard Slow Motion Sauve qui peut la vie DVD Jean-Luc Godard Slow Motion Sauve qui peut la vie DVD Jean-Luc Godard Slow Motion Sauve qui peut la vie DVD Jean-Luc Godard Slow Motion Sauve qui peut la vie DVD Jean-Luc Godard's - Slow Motion - Sauve qui peut la vie DVD Jean-Luc Godard Slow Motion Sauve qui peut la vie DVD Jean-Luc Godard Slow Motion Sauve qui peut la vie DVD Jean-Luc Godard Slow Motion Sauve qui peut la vie DVD Jean-Luc Godard Slow Motion Sauve qui peut la vie DVD Jean-Luc Godard Slow Motion Sauve qui peut la vie DVD Jean-Luc Godard Slow Motion Sauve qui peut la vie DVD Jean-Luc Godard Slow Motion Sauve qui peut la vie DVD Jean-Luc Godard's - Slow Motion - Sauve qui peut la vie DVD Jean-Luc Godard Slow Motion Sauve qui peut la vie DVD Jean-Luc Godard Slow Motion Sauve qui peut la vie DVD Jean-Luc Godard Slow Motion Sauve qui peut la vie DVD Jean-Luc Godard Slow Motion Sauve qui peut la vie DVD Jean-Luc Godard Slow Motion Sauve qui peut la vie DVD Jean-Luc Godard Slow Motion Sauve qui peut la vie DVD Jean-Luc Godard Slow Motion Sauve qui peut la vie DVD Jean-Luc Godard's - Slow Motion - Sauve qui peut la vie DVD Jean-Luc Godard Slow Motion Sauve qui peut la vie DVD Jean-Luc Godard Slow Motion Sauve qui peut la vie DVD Jean-Luc Godard Slow Motion Sauve qui peut la vie DVD Jean-Luc Godard Slow Motion Sauve qui peut la vie DVD Jean-Luc Godard Slow Motion Sauve qui peut la vie DVD Jean-Luc Godard Slow Motion Sauve qui peut la vie DVD Jean-Luc Godard Slow Motion Sauve qui peut la vie DVD Jean-Luc Godard's - Slow Motion - Sauve qui peut la vie DVD Jean-Luc Godard Slow Motion Sauve qui peut la vie DVD Jean-Luc Godard Slow Motion Sauve qui peut la vie DVD Jean-Luc Godard Slow Motion Sauve qui peut la vie DVD Jean-Luc Godard Slow Motion Sauve qui peut la vie DVD Jean-Luc Godard Slow Motion Sauve qui peut la vie DVD Jean-Luc Godard Slow Motion Sauve qui peut la vie DVD Jean-Luc Godard Slow Motion Sauve qui peut la vie DVD Jean-Luc Godard's - Slow Motion - Sauve qui peut la vie DVD Jean-Luc Godard Slow Motion Sauve qui peut la vie DVD Jean-Luc Godard Slow Motion Sauve qui peut la vie DVD Jean-Luc Godard Slow Motion Sauve qui peut la vie DVD Jean-Luc Godard Slow Motion Sauve qui peut la vie DVD Jean-Luc Godard Slow Motion Sauve qui peut la vie DVD Jean-Luc Godard Slow Motion Sauve qui peut la vie DVD Jean-Luc Godard Slow Motion Sauve qui peut la vie DVD Jean-Luc Godard's - Slow Motion - Sauve qui peut la vie DVD Jean-Luc Godard Slow Motion Sauve qui peut la vie DVD Jean-Luc Godard Slow Motion Sauve qui peut la vie DVD Jean-Luc Godard Slow Motion Sauve qui peut la vie DVD Jean-Luc Godard Slow Motion Sauve qui peut la vie DVD Jean-Luc Godard Slow Motion Sauve qui peut la vie DVD Jean-Luc Godard Slow Motion Sauve qui peut la vie DVD Jean-Luc Godard Slow Motion Sauve qui peut la vie DVD Jean-Luc Godard's - Slow Motion - Sauve qui peut la vie DVD Jean-Luc Godard Slow Motion Sauve qui peut la vie DVD Jean-Luc Godard Slow Motion Sauve qui peut la vie DVD Jean-Luc Godard Slow Motion Sauve qui peut la vie DVD Jean-Luc Godard Slow Motion Sauve qui peut la vie DVD Jean-Luc Godard Slow Motion Sauve qui peut la vie DVD Jean-Luc Godard Slow Motion Sauve qui peut la vie DVD Jean-Luc Godard Slow Motion Sauve qui peut la vie DVD Jean-Luc Godard's - Slow Motion - Sauve qui peut la vie DVD Jean-Luc Godard Slow Motion Sauve qui peut la vie DVD Jean-Luc Godard Slow Motion Sauve qui peut la vie DVD Jean-Luc Godard Slow Motion Sauve qui peut la vie DVD Jean-Luc Godard Slow Motion Sauve qui peut la vie DVD Jean-Luc Godard Slow Motion Sauve qui peut la vie DVD Jean-Luc Godard Slow Motion Sauve qui peut la vie DVD Jean-Luc Godard Slow Motion Sauve qui peut la vie DVD