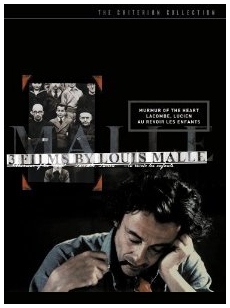 Directed by Louis Malle
France 1971, 1974, 19
87
Few directors have portrayed the agonies and epiphanies of growing up as poetically—and scandalously—as Louis Malle. Laced with autobiographical details, Murmur of the Heart; Lacombe, Lucien; and Au revoir les enfants tell stories of youth, set against the tumult of World War II and postwar France. Controversial, tragic, amusing, and poignant, these three films are not just coming-of-age stories but the director's ongoing response to a world gone wrong, revealing his true nature as rebel.
DVD Titles
DVD Review: Criterion (4-disc) - Region 1 - NTSC
DVD Box Cover

CLICK to order from:

Distribution
Criterion Collection - Spine # 327 - Region 1 - NTSC
Individual Release Full Review Links
Video
1.66:1 Aspect Ratio
NTSC 720x480 29.97 f/s

NOTE: The Vertical axis represents the bits transferred per second. The Horizontal is the time in minutes.

Bitrate:

Audio
French (Dolby Digital 1.0)
Subtitles
English, None
Features

Release Information:
Studio: Criterion Collection

Aspect Ratio:
Original Aspect Ratio 1.66:1

Edition Details:

• Interviews with actor Candice Bergen and biographer Pierre Billard
• Excerpts from a French TV program featuring the director on the sets of Murmur of the Heart and Lacombe, Lucien
• Audio interviews with Louis Malle from 1972, 1988, and 1990
• The Immigrant, Charlie Chaplin's 1917 short comedy, featured in Au revoir les enfants
• A profile of the provocative character of Joseph from Au revoir les enfants, created by filmmaker Guy Magen, in 2005
• Original theatrical trailers
• Essays by critics Michael Sragow, Pauline Kael, and Philip Kemp and historian Francis J. Murphy, as well as a filmography


DVD Release Date: March 28th, 2006
4 Keep Cases inside cardboard box
Comments:

I feel like I am gushing excessively as I did in the individual reviews. Aside from the slight authoring glitch in my screener copy of Au revoir les enfants and the lack of commentaries - this is a pristine DVD package. The image quality in all three have no definitive flaws aside from some very minor black boosting. Colors look very strong and filmic - contrast is at Criterion's usual high standard - the subtitle font, consistent throughout the boxset, is a shade larger than usual (no biggie). Sound is original one channel but clear and audible in all three releases. For more on each individual release please see the linked reviews although I honestly don't say much more than I have done so far. It is all very good folks.

This individual releases of the films to DVD are bare-bones with anamorphic trailers and fabulous liner notes booklets. The added supplements disc has a lot of good information on Malle and although I have not got through all the audio interviews I am very impressed. The Candice Bergen interview is quite frank about how active and dynamic Malle was even in his personal life - its is less than 15 minutes but still very interesting. Biographer Pierre Billard focuses on a different angle almost exclusively talking about the films and Malle's thirst for knowledge and desire for achieving goals - this is about 30 minutes long. Full inclusion of Chaplin's 'The Immigrant' seems a tad filler-ish - excused for its brief appearance in Au revoir les enfants . Although less than 6 minutes the character study of Joseph from Au revoir les enfants, by Guy Magen is worth watching - I think it illuminated certain areas but purposely left others totally speculative about the character. High brow stuff indeed.

This is a great boxset - a trilogy dealing with 'maturation during a decade of political upheaval'. Performances are great and the films will be continue to be discussed decades from now. Would I have liked commentaries? - Of course, but the films themselves have such great personal interpretation that I am not overly bothered. Now that I own this package I can't image my DVD collection without it. It is excellent.
---



Supplement Disc Menus
| | |
| --- | --- |
| | |
| | |
| | |
| | |
| | |
---
Subtitle Sample (Au revoir les enfants)
Screen Captures (Murmur of the Heart)
---
(Lacombe, Lucien)
---
(Au revoir les enfants)
---
DVD Box Cover

CLICK to order from:

Distribution

Criterion Collection - Spine # 327 - Region 1 - NTSC

Individual Release Full Review Links