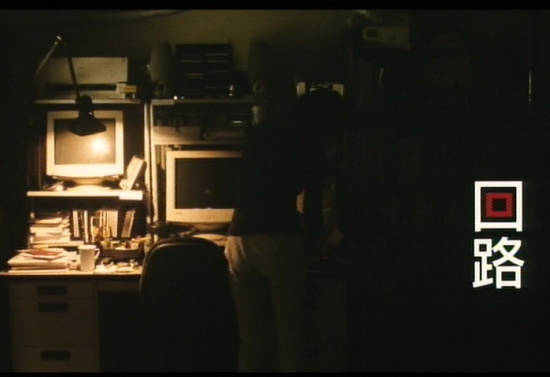 (aka "Pulse" )
directed by Kiyoshi Kurosawa
Japan 2001
A strange computer virus is spreading through Japan which shows grainy images of people senselessly mulling around their computers and asking "Would you like to meet a ghost?" Soon doors begin being sealed with red tape and the population starts to drop sharply. A group of young people get wise to this strange phenomenon and attempt to track down its origin. Smoke begins to loom on the horizon and the streets are barren.

Kurosawa furthers his protagonist manifesto with Kairo. He manages to create a intriguing and frightening "straight" horror film with an underlying theme of the loneliness prevalent in modern Japanese culture. In a sense, this Kurosawa's nod to Romero's seminal Dawn of the Dead. It parallels the film and shares its sense of vastness. With "J-Horror" perhaps in it's death throws for the time being, this film could very well represent the pinnacle of the trend.
Posters
Theatrical Release: February 10, 2001
Reviews More Reviews DVD Reviews
DVD Comparison:
Universe Laser - Region 3 - NTSC vs. Optimum - Region 2 - PAL
Big thanks to Jayson Kennedy and Henrik Sylow for the Screen Caps!
(Universe Laser - Region 3 - NTSC - LEFT vs. Optimum - Region 2 - PAL - RIGHT)
DVD Box Covers

Thinking of buying from YesAsia? CLICK HERE and use THIS UPDATED BEAVER PAGE to source their very best...

Distribution

Universe Laser

Region 3 - NTSC

Optimum
Region 2 - PAL
Runtime
1:58:50
1:54:16
Video

1.82:1 Original Aspect Ratio

16X9 enhanced
Average Bitrate: 4.57 mb/s
NTSC 720x480 29.97 f/s

1.85:1 Original Aspect Ratio

16X9 enhanced
Average Bitrate: 4.59 mb/s
PAL 720x576 25.00 f/s

NOTE: The Vertical axis represents the bits transferred per second. The Horizontal is the time in minutes.

Bitrate:

Universe Laser

Bitrate:

Optimum

Audio
5.1 Dolby Digital Japanese

2.0 Dolby Digital Japanese

Subtitles
English, Chinese, None
English (fixed)
Features
Release Information:
Studio: Universe Laser

Aspect Ratio:
Widescreen anamorphic - 1.82:1

Edition Details:
• None

DVD Release Date: March 8, 2002
Amarey

Chapters 8

Release Information:
Studio: Optimum

Aspect Ratio:
Widescreen anamorphic - 1.85:1

Edition Details:
• Making of (41:02 / 4:3)
• Trailer (1:42 / 4:3)


DVD Release Date: March 27, 2006
Keep Case

Chapters 16
Comments
Comments by Jayson Kennedy (on Universe Laser Edition)
This film certainly deserves better. No supplemental material. Interlaced (but anamorphic) transfer. I'm pretty sure the dark, drab green tone to the the film is intentional and it may not be able to look much better. Hopefully the upcoming R1 Magnolia edition fares better. I know I have my fingers crossed.

Note: This DVD (and others) has a slight audio edit from the original theatrical presentation. There is a scene of a flaming C-130H Hercules airlifter crashing into a building. In the original version you could hear the aircraft descending and exploding upon impact. On this DVD you only hear the score playing over the scene. This audio was omitted because of 9/11. I have heard the now OOP Japanese DVD includes the full audio, but I cannot confirm this.

Comments by Henrik Sylow
Optimum is a PAL transfer of R1 Magnolia. There are minute artifacts, but only visible when zooming in on a stillframe, thus virtually undetectable at normal viewing.

The transfer appears to be based on the theatrical print. It has a very high level of contrast, making especially the sky look just white without details.

Sound is sadly only 2.0 Dolby Digital. I've seen it theatrically and on DVD with the 5.1 surround, and Optimum is lacking the extremely eerie use of the rears, which to me is of huge importance to the atmosphere of the film.
---




DVD Menus
(Universe Laser - Region 3 - NTSC -
LEFT
vs. Optimum - Region 2 - PAL -
RIGHT
)
---
Screen Captures
(Universe Laser - Region 3 - NTSC - TOP vs. Optimum - Region 2 - PAL - BOTTOM)
Subtitle sample - Capture is resized from 1016px to 800px
---
(Universe Laser - Region 3 - NTSC - TOP vs. Optimum - Region 2 - PAL - BOTTOM)
---
(Universe Laser - Region 3 - NTSC - TOP vs. Optimum - Region 2 - PAL - BOTTOM)
---
(Universe Laser - Region 3 - NTSC - TOP vs. Optimum - Region 2 - PAL - BOTTOM)
DVD Box Covers

Thinking of buying from YesAsia? CLICK HERE and use THIS UPDATED BEAVER PAGE to source their very best...

Distribution

Universe Laser

Region 3 - NTSC

Optimum
Region 2 - PAL

---
Report Card:
| | |
| --- | --- |
| Image: | Optimum |
| Sound: | Universe Laser |
| Extras: | Optimum |
| Menu: | -- |