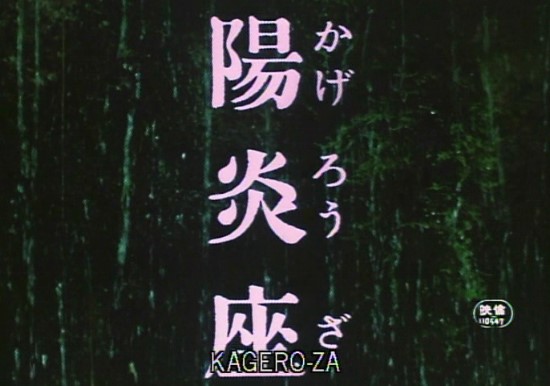 (aka 'Heat Shimmer Theater' or 'Heat-Haze Theatre')
Japan 1981
Kageroza's alternate title, Heat-Haze Theatre, perfectly illustrates the ineffable sensuality and perverse randomness of Seijun Suzuki's late-period arabesque. The middle entry in the director's Taisho Trilogy, the wantonly eccentric narrative is set in 1926 Tokyo, though, given Suzuki's contempt for coherence, it might as well take place in another planet. Playwright Matsuzaki (Yusaku Matsuda) has a series of encounters with Shinako (Michiyo Ookusu), a strange woman who materializes one day on her way to the hospital, and who may or may not be the late wife of Tamawaki (Katsuo Nakamura), Matsuzaki's shotgun-toting patron. Just as the plot seems to be solidifying into a parody of Japanese ghost tragedies, however, Suzuki tosses in Eriko Kusuda as Tamawaki's wife, a geisha who resembles Shinako except for her habit of turning blonde and blue-eyed with the moonlight. Suzuki whips nutty yet genuine eroticism around an exposed ankle or soaking-wet hair, but it is the countless, casually inexplicable details—characters dropped into deadpan tableaux via jump cuts, boldly gratuitous changes of angle, raucous Jazz Age parties, and crushed bladder cherries—that assure us that the movie will be impossible to predict from shot to shot, let alone from scene to scene. Willfully obscure as it might be, Kageroza nevertheless sheds considerable light on the arc of Suzuki's career: Where the filmmaker's more famous '60s yakuza thrillers, made under studio contract, charge regular situations with a surplus of masculinity toppling over into hysteria, the Taisho films, shot with complete freedom, are oddly feminine, absurdist yet filmed with tranquil assurance.
Excerpt of Fernando F. Croce's review at Slant Magazine located HERE
Posters
Theatrical Release: August 21st, 1981 - Tokyo
Reviews More Reviews DVD Reviews
DVD Review: Kino Video - Region 1 - NTSC
DVD Box Cover

CLICK to order from:

Also available in Seijun Suzuki's The Taisho Trilogy which includes Zigeunerweisen, Kagero-za and Yumeji

Distribution
Kino Video - Region 1 - NTSC
Runtime
2:19:40
Video
1.33:1 Aspect Ratio
Average Bitrate: 7.7 mb/s
NTSC 720x480 29.97 f/s

NOTE: The Vertical axis represents the bits transferred per second. The Horizontal is the time in minutes.

Bitrate:

Audio
Japanese (Dolby Digital 2.0)
Subtitles
English (ingrained)
Features

Release Information:
Studio: Kino Video

Aspect Ratio:
Original Aspect Ratio 1.33:1

Edition Details:
• Suzuki Bio/Filmography
• Original theatrical trailer
• Original key art/press images
• Print essay on the Taisho Trilogy

DVD Release Date: March 7th, 2006
Transparent Keep Case
Chapters: 12
Comments:

More disappointments for the Kino Taisho Trilogy - the subtitles are again ingrained (not player generated) and are burned onto the image. It is in the incorrect aspect ratio of 1.33 (unlike the box that reports it as 1.66). Overall the transfer is tube acceptable but I suspect it is from an original analog source and it may have some black level boosting in spots. Like Zigeunerweisen there is minor color bleeding and some chroma is less evident. Audio seems fairly flat. The image appears to be progressive. Sharpness touches upon acceptable levels and there are no worthy digital extras (text screens). I feel Kino is asking quite a bit for what they are delivering here.

***

DVDBeaver understand that these films may be in great demand by Suzuki fans, but we do not recommend the boxset or any of the individual editions based on the poor transfer quality and the excessive price for what is being offered. Hopefully, a real DVD company will releases these in a more pristine transfer very soon.
---



DVD Menus

---
Subtitle Sample
Screen Captures
---
DVD Box Cover

CLICK to order from:

Also available in Seijun Suzuki's The Taisho Trilogy which includes Zigeunerweisen, Kagero-za and Yumeji

Distribution
Kino Video - Region 1 - NTSC
---