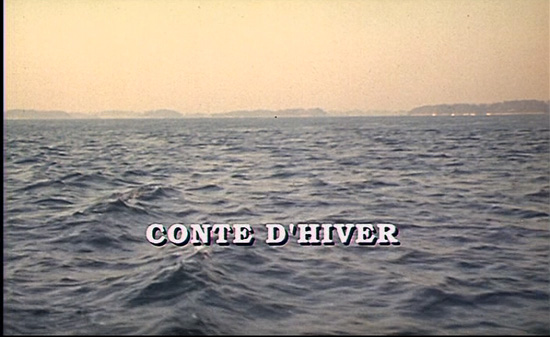 (aka "Conte d'hiver" )
Preceded in 1990 by A Tale Of Springtime, A Winter's Tale continues Rohmer's interest in young love as hairdresser Felice reluctantly parts with Charles after a holiday romance and foolishly manages to supply him with an incorrect home address.

This is extremely unfortunate for both parties; four years later it's Christmas and Felice still hopes that he will contact her, not only because she is still desperately in love with him, but also because he is the father of her beloved daughter. However, Felice finds herself the target of two would-be husbands; her boss Maxence and a librarian Loic, but she is not really interested in either man.

As with The Green Ray, the female centre of attention is often frustratingly indecisive as she pursues a relatively unreasonable ideal. Nevertheless, Rohmer's fantastic ability to sensitively and insightfully chart the progress of an individual through the delicate world of human relationships is once again in full effect. Felice's character is constructed through a means of story-telling which subtly communicates a psychological depth in her behaviour without seeking to fully explain it. Like Ingmar Bergman and Michelangelo Antonioni, Eric Rohmer seems to favour female protagonists as instruments of twentieth century experience.

Somehow resembling a contemporary fairy-tale, A Winter's Tale characterizes all that is great about Rohmers best work. It has an enormously affecting ending as well.
Excerpt from Iain Harral's review from the Edinburgh Film Society located HERE
Posters
Theatrical Release: January 29, 1992
Reviews More Reviews DVD Reviews
DVD Review: Artificial Eye (Tales of the Four Seasons) - Region 2 - PAL
Big thanks to Henrik Sylow for the Review!
DVD Box Cover

CLICK to order from:

Distribution

Artificial Eye

Region 2 - PAL

Runtime
1:49:23 (4% PAL speedup)
Video

1.60 Original Aspect Ratio
Average Bitrate: 8.18 mb/s
PAL 720x576 25.00 f/s

NOTE: The Vertical axis represents the bits transferred per second. The Horizontal is the time in minutes.

Bitrate

Audio
2.0 Dolby Digital French
Subtitles
English, None
Features
Release Information:
Studio: Artificial Eye

Aspect Ratio:
Widescreen letterboxed - 1.60

Edition Details:
• Trailer (1:50 / 4:3)
• Interview with Eric Rohmer (9:26 / 4:3)
• Rohmer biography

DVD Release Date: September 26, 2005
Transparent Amarey Case

Chapters 15
Comments
Approved by Rohmer himself, the masters for all of the Tales of the Four Seasons were obtained from Rohmers' production company, Les Films du Losange, and were the best available for Artificial Eye.

Directorial approved or not, the transfer is very poor. Presented in non-anamorphic 768px, it most of all looks like a transfer from video carried over to DVD5, then blown up to take up 6.9GB of storage. Considering this is a film of 110 minutes on a DVD9, the quality of the image and the bitrate simply doesn't make sense.

The image is very, very compressed. Edge enhancements, color banding, chroma and other artifacts are very visible. You can basically count the pixels when zooming in to 300%. They stand out as clearly as mosaic. Again, holding such a compressed image up against its size and a bitrate of 8.18 doesn't make sense. This is a DVD5 image at best.

Additional material consists of Michel Ciment talking with Rohmer about the film. A bit short, but it is nice to hear the master reflect, even if it is briefly.
---




DVD Menus
---
Screen Captures
subtitle sample
Captures in 768 px native resolution
Mail cheques, money orders, cash to: or CLICK PayPal logo to donate!
Thank You!
Eric Rohmer's - Conte d'hiver - A Tale of Winter - A Winter's Tale DVD Review Eric Rohmer Conte d'hiver A Tale of Winter A Winter's Tale DVD Review Eric Rohmer Conte d'hiver A Tale of Winter A Winter's Tale DVD Review Eric Rohmer Conte d'hiver A Tale of Winter A Winter's Tale DVD Review Eric Rohmer Conte d'hiver A Tale of Winter A Winter's Tale DVD Review Eric Rohmer Conte d'hiver A Tale of Winter A Winter's Tale DVD Review Eric Rohmer Conte d'hiver A Tale of Winter A Winter's Tale DVD Review Eric Rohmer Conte d'hiver A Tale of Winter A Winter's Tale DVD Review Eric Rohmer Conte d'hiver A Tale of Winter A Winter's Tale DVD Review Eric Rohmer Conte d'hiver A Tale of Winter A Winter's Tale DVD Review Eric Rohmer Conte d'hiver A Tale of Winter A Winter's Tale DVD Review Eric Rohmer Conte d'hiver A Tale of Winter A Winter's Tale DVD Review Eric Rohmer Conte d'hiver A Tale of Winter A Winter's Tale DVD Review Eric Rohmer's - Conte d'hiver - A Tale of Winter - A Winter's Tale DVD Review Eric Rohmer Conte d'hiver A Tale of Winter A Winter's Tale DVD Review Eric Rohmer Conte d'hiver A Tale of Winter A Winter's Tale DVD Review Eric Rohmer Conte d'hiver A Tale of Winter A Winter's Tale DVD Review Eric Rohmer Conte d'hiver A Tale of Winter A Winter's Tale DVD Review Eric Rohmer Conte d'hiver A Tale of Winter A Winter's Tale DVD Review Eric Rohmer Conte d'hiver A Tale of Winter A Winter's Tale DVD Review Eric Rohmer Conte d'hiver A Tale of Winter A Winter's Tale DVD Review Eric Rohmer Conte d'hiver A Tale of Winter A Winter's Tale DVD Review Eric Rohmer Conte d'hiver A Tale of Winter A Winter's Tale DVD Review Eric Rohmer Conte d'hiver A Tale of Winter A Winter's Tale DVD Review Eric Rohmer Conte d'hiver A Tale of Winter A Winter's Tale DVD Review Eric Rohmer Conte d'hiver A Tale of Winter A Winter's Tale DVD Review Eric Rohmer's - Conte d'hiver - A Tale of Winter - A Winter's Tale DVD Review Eric Rohmer Conte d'hiver A Tale of Winter A Winter's Tale DVD Review Eric Rohmer Conte d'hiver A Tale of Winter A Winter's Tale DVD Review Eric Rohmer Conte d'hiver A Tale of Winter A Winter's Tale DVD Review Eric Rohmer Conte d'hiver A Tale of Winter A Winter's Tale DVD Review Eric Rohmer Conte d'hiver A Tale of Winter A Winter's Tale DVD Review Eric Rohmer Conte d'hiver A Tale of Winter A Winter's Tale DVD Review Eric Rohmer Conte d'hiver A Tale of Winter A Winter's Tale DVD Review Eric Rohmer Conte d'hiver A Tale of Winter A Winter's Tale DVD Review Eric Rohmer Conte d'hiver A Tale of Winter A Winter's Tale DVD Review Eric Rohmer Conte d'hiver A Tale of Winter A Winter's Tale DVD Review Eric Rohmer Conte d'hiver A Tale of Winter A Winter's Tale DVD Review Eric Rohmer Conte d'hiver A Tale of Winter A Winter's Tale DVD Review Eric Rohmer's - Conte d'hiver - A Tale of Winter - A Winter's Tale DVD Review Eric Rohmer Conte d'hiver A Tale of Winter A Winter's Tale DVD Review Eric Rohmer Conte d'hiver A Tale of Winter A Winter's Tale DVD Review Eric Rohmer Conte d'hiver A Tale of Winter A Winter's Tale DVD Review Eric Rohmer Conte d'hiver A Tale of Winter A Winter's Tale DVD Review Eric Rohmer Conte d'hiver A Tale of Winter A Winter's Tale DVD Review Eric Rohmer Conte d'hiver A Tale of Winter A Winter's Tale DVD Review Eric Rohmer Conte d'hiver A Tale of Winter A Winter's Tale DVD Review Eric Rohmer Conte d'hiver A Tale of Winter A Winter's Tale DVD Review Eric Rohmer Conte d'hiver A Tale of Winter A Winter's Tale DVD Review Eric Rohmer Conte d'hiver A Tale of Winter A Winter's Tale DVD Review Eric Rohmer Conte d'hiver A Tale of Winter A Winter's Tale DVD Review Eric Rohmer Conte d'hiver A Tale of Winter A Winter's Tale DVD Review Eric Rohmer's - Conte d'hiver - A Tale of Winter - A Winter's Tale DVD Review Eric Rohmer Conte d'hiver A Tale of Winter A Winter's Tale DVD Review Eric Rohmer Conte d'hiver A Tale of Winter A Winter's Tale DVD Review Eric Rohmer Conte d'hiver A Tale of Winter A Winter's Tale DVD Review Eric Rohmer Conte d'hiver A Tale of Winter A Winter's Tale DVD Review Eric Rohmer Conte d'hiver A Tale of Winter A Winter's Tale DVD Review Eric Rohmer Conte d'hiver A Tale of Winter A Winter's Tale DVD Review Eric Rohmer Conte d'hiver A Tale of Winter A Winter's Tale DVD Review Eric Rohmer Conte d'hiver A Tale of Winter A Winter's Tale DVD Review Eric Rohmer Conte d'hiver A Tale of Winter A Winter's Tale DVD Review Eric Rohmer Conte d'hiver A Tale of Winter A Winter's Tale DVD Review Eric Rohmer Conte d'hiver A Tale of Winter A Winter's Tale DVD Review Eric Rohmer Conte d'hiver A Tale of Winter A Winter's Tale DVD Review Eric Rohmer's - Conte d'hiver - A Tale of Winter - A Winter's Tale DVD Review Eric Rohmer Conte d'hiver A Tale of Winter A Winter's Tale DVD Review Eric Rohmer Conte d'hiver A Tale of Winter A Winter's Tale DVD Review Eric Rohmer Conte d'hiver A Tale of Winter A Winter's Tale DVD Review Eric Rohmer Conte d'hiver A Tale of Winter A Winter's Tale DVD Review Eric Rohmer Conte d'hiver A Tale of Winter A Winter's Tale DVD Review Eric Rohmer Conte d'hiver A Tale of Winter A Winter's Tale DVD Review Eric Rohmer Conte d'hiver A Tale of Winter A Winter's Tale DVD Review Eric Rohmer Conte d'hiver A Tale of Winter A Winter's Tale DVD Review Eric Rohmer Conte d'hiver A Tale of Winter A Winter's Tale DVD Review Eric Rohmer Conte d'hiver A Tale of Winter A Winter's Tale DVD Review Eric Rohmer Conte d'hiver A Tale of Winter A Winter's Tale DVD Review Eric Rohmer Conte d'hiver A Tale of Winter A Winter's Tale DVD Review Eric Rohmer's - Conte d'hiver - A Tale of Winter - A Winter's Tale DVD Review Eric Rohmer Conte d'hiver A Tale of Winter A Winter's Tale DVD Review Eric Rohmer Conte d'hiver A Tale of Winter A Winter's Tale DVD Review Eric Rohmer Conte d'hiver A Tale of Winter A Winter's Tale DVD Review Eric Rohmer Conte d'hiver A Tale of Winter A Winter's Tale DVD Review Eric Rohmer Conte d'hiver A Tale of Winter A Winter's Tale DVD Review Eric Rohmer Conte d'hiver A Tale of Winter A Winter's Tale DVD Review Eric Rohmer Conte d'hiver A Tale of Winter A Winter's Tale DVD Review Eric Rohmer Conte d'hiver A Tale of Winter A Winter's Tale DVD Review Eric Rohmer Conte d'hiver A Tale of Winter A Winter's Tale DVD Review Eric Rohmer Conte d'hiver A Tale of Winter A Winter's Tale DVD Review Eric Rohmer Conte d'hiver A Tale of Winter A Winter's Tale DVD Review Eric Rohmer Conte d'hiver A Tale of Winter A Winter's Tale DVD Review Eric Rohmer's - Conte d'hiver - A Tale of Winter - A Winter's Tale DVD Review Eric Rohmer Conte d'hiver A Tale of Winter A Winter's Tale DVD Review Eric Rohmer Conte d'hiver A Tale of Winter A Winter's Tale DVD Review Eric Rohmer Conte d'hiver A Tale of Winter A Winter's Tale DVD Review Eric Rohmer Conte d'hiver A Tale of Winter A Winter's Tale DVD Review Eric Rohmer Conte d'hiver A Tale of Winter A Winter's Tale DVD Review Eric Rohmer Conte d'hiver A Tale of Winter A Winter's Tale DVD Review Eric Rohmer Conte d'hiver A Tale of Winter A Winter's Tale DVD Review Eric Rohmer Conte d'hiver A Tale of Winter A Winter's Tale DVD Review Eric Rohmer Conte d'hiver A Tale of Winter A Winter's Tale DVD Review Eric Rohmer Conte d'hiver A Tale of Winter A Winter's Tale DVD Review Eric Rohmer Conte d'hiver A Tale of Winter A Winter's Tale DVD Review Eric Rohmer Conte d'hiver A Tale of Winter A Winter's Tale DVD Review Eric Rohmer's - Conte d'hiver - A Tale of Winter - A Winter's Tale DVD Review Eric Rohmer Conte d'hiver A Tale of Winter A Winter's Tale DVD Review Eric Rohmer Conte d'hiver A Tale of Winter A Winter's Tale DVD Review Eric Rohmer Conte d'hiver A Tale of Winter A Winter's Tale DVD Review Eric Rohmer Conte d'hiver A Tale of Winter A Winter's Tale DVD Review Eric Rohmer Conte d'hiver A Tale of Winter A Winter's Tale DVD Review Eric Rohmer Conte d'hiver A Tale of Winter A Winter's Tale DVD Review Eric Rohmer Conte d'hiver A Tale of Winter A Winter's Tale DVD Review Eric Rohmer Conte d'hiver A Tale of Winter A Winter's Tale DVD Review Eric Rohmer Conte d'hiver A Tale of Winter A Winter's Tale DVD Review Eric Rohmer Conte d'hiver A Tale of Winter A Winter's Tale DVD Review Eric Rohmer Conte d'hiver A Tale of Winter A Winter's Tale DVD Review Eric Rohmer Conte d'hiver A Tale of Winter A Winter's Tale DVD Review Eric Rohmer's - Conte d'hiver - A Tale of Winter - A Winter's Tale DVD Review Eric Rohmer Conte d'hiver A Tale of Winter A Winter's Tale DVD Review Eric Rohmer Conte d'hiver A Tale of Winter A Winter's Tale DVD Review Eric Rohmer Conte d'hiver A Tale of Winter A Winter's Tale DVD Review Eric Rohmer Conte d'hiver A Tale of Winter A Winter's Tale DVD Review Eric Rohmer Conte d'hiver A Tale of Winter A Winter's Tale DVD Review Eric Rohmer Conte d'hiver A Tale of Winter A Winter's Tale DVD Review Eric Rohmer Conte d'hiver A Tale of Winter A Winter's Tale DVD Review Eric Rohmer Conte d'hiver A Tale of Winter A Winter's Tale DVD Review Eric Rohmer Conte d'hiver A Tale of Winter A Winter's Tale DVD Review Eric Rohmer Conte d'hiver A Tale of Winter A Winter's Tale DVD Review Eric Rohmer Conte d'hiver A Tale of Winter A Winter's Tale DVD Review Eric Rohmer Conte d'hiver A Tale of Winter A Winter's Tale DVD Review Eric Rohmer's - Conte d'hiver - A Tale of Winter - A Winter's Tale DVD Review Eric Rohmer Conte d'hiver A Tale of Winter A Winter's Tale DVD Review Eric Rohmer Conte d'hiver A Tale of Winter A Winter's Tale DVD Review Eric Rohmer Conte d'hiver A Tale of Winter A Winter's Tale DVD Review Eric Rohmer Conte d'hiver A Tale of Winter A Winter's Tale DVD Review Eric Rohmer Conte d'hiver A Tale of Winter A Winter's Tale DVD Review Eric Rohmer Conte d'hiver A Tale of Winter A Winter's Tale DVD Review Eric Rohmer Conte d'hiver A Tale of Winter A Winter's Tale DVD Review Eric Rohmer Conte d'hiver A Tale of Winter A Winter's Tale DVD Review Eric Rohmer Conte d'hiver A Tale of Winter A Winter's Tale DVD Review Eric Rohmer Conte d'hiver A Tale of Winter A Winter's Tale DVD Review Eric Rohmer Conte d'hiver A Tale of Winter A Winter's Tale DVD Review Eric Rohmer Conte d'hiver A Tale of Winter A Winter's Tale DVD Review Eric Rohmer's - Conte d'hiver - A Tale of Winter - A Winter's Tale DVD Review Eric Rohmer Conte d'hiver A Tale of Winter A Winter's Tale DVD Review Eric Rohmer Conte d'hiver A Tale of Winter A Winter's Tale DVD Review Eric Rohmer Conte d'hiver A Tale of Winter A Winter's Tale DVD Review Eric Rohmer Conte d'hiver A Tale of Winter A Winter's Tale DVD Review Eric Rohmer Conte d'hiver A Tale of Winter A Winter's Tale DVD Review Eric Rohmer Conte d'hiver A Tale of Winter A Winter's Tale DVD Review Eric Rohmer Conte d'hiver A Tale of Winter A Winter's Tale DVD Review Eric Rohmer Conte d'hiver A Tale of Winter A Winter's Tale DVD Review Eric Rohmer Conte d'hiver A Tale of Winter A Winter's Tale DVD Review Eric Rohmer Conte d'hiver A Tale of Winter A Winter's Tale DVD Review Eric Rohmer Conte d'hiver A Tale of Winter A Winter's Tale DVD Review Eric Rohmer Conte d'hiver A Tale of Winter A Winter's Tale DVD Review Eric Rohmer's - Conte d'hiver - A Tale of Winter - A Winter's Tale DVD Review Eric Rohmer Conte d'hiver A Tale of Winter A Winter's Tale DVD Review Eric Rohmer Conte d'hiver A Tale of Winter A Winter's Tale DVD Review Eric Rohmer Conte d'hiver A Tale of Winter A Winter's Tale DVD Review Eric Rohmer Conte d'hiver A Tale of Winter A Winter's Tale DVD Review Eric Rohmer Conte d'hiver A Tale of Winter A Winter's Tale DVD Review Eric Rohmer Conte d'hiver A Tale of Winter A Winter's Tale DVD Review Eric Rohmer Conte d'hiver A Tale of Winter A Winter's Tale DVD Review Eric Rohmer Conte d'hiver A Tale of Winter A Winter's Tale DVD Review Eric Rohmer Conte d'hiver A Tale of Winter A Winter's Tale DVD Review Eric Rohmer Conte d'hiver A Tale of Winter A Winter's Tale DVD Review Eric Rohmer Conte d'hiver A Tale of Winter A Winter's Tale DVD Review Eric Rohmer Conte d'hiver A Tale of Winter A Winter's Tale DVD Review Eric Rohmer's - Conte d'hiver - A Tale of Winter - A Winter's Tale DVD Review Eric Rohmer Conte d'hiver A Tale of Winter A Winter's Tale DVD Review Eric Rohmer Conte d'hiver A Tale of Winter A Winter's Tale DVD Review Eric Rohmer Conte d'hiver A Tale of Winter A Winter's Tale DVD Review Eric Rohmer Conte d'hiver A Tale of Winter A Winter's Tale DVD Review Eric Rohmer Conte d'hiver A Tale of Winter A Winter's Tale DVD Review Eric Rohmer Conte d'hiver A Tale of Winter A Winter's Tale DVD Review Eric Rohmer Conte d'hiver A Tale of Winter A Winter's Tale DVD Review Eric Rohmer Conte d'hiver A Tale of Winter A Winter's Tale DVD Review Eric Rohmer Conte d'hiver A Tale of Winter A Winter's Tale DVD Review Eric Rohmer Conte d'hiver A Tale of Winter A Winter's Tale DVD Review Eric Rohmer Conte d'hiver A Tale of Winter A Winter's Tale DVD Review Eric Rohmer Conte d'hiver A Tale of Winter A Winter's Tale DVD Review Eric Rohmer's - Conte d'hiver - A Tale of Winter - A Winter's Tale DVD Review Eric Rohmer Conte d'hiver A Tale of Winter A Winter's Tale DVD Review Eric Rohmer Conte d'hiver A Tale of Winter A Winter's Tale DVD Review Eric Rohmer Conte d'hiver A Tale of Winter A Winter's Tale DVD Review Eric Rohmer Conte d'hiver A Tale of Winter A Winter's Tale DVD Review Eric Rohmer Conte d'hiver A Tale of Winter A Winter's Tale DVD Review Eric Rohmer Conte d'hiver A Tale of Winter A Winter's Tale DVD Review Eric Rohmer Conte d'hiver A Tale of Winter A Winter's Tale DVD Review Eric Rohmer Conte d'hiver A Tale of Winter A Winter's Tale DVD Review Eric Rohmer Conte d'hiver A Tale of Winter A Winter's Tale DVD Review Eric Rohmer Conte d'hiver A Tale of Winter A Winter's Tale DVD Review Eric Rohmer Conte d'hiver A Tale of Winter A Winter's Tale DVD Review Eric Rohmer Conte d'hiver A Tale of Winter A Winter's Tale DVD Review Eric Rohmer's - Conte d'hiver - A Tale of Winter - A Winter's Tale DVD Review Eric Rohmer Conte d'hiver A Tale of Winter A Winter's Tale DVD Review Eric Rohmer Conte d'hiver A Tale of Winter A Winter's Tale DVD Review Eric Rohmer Conte d'hiver A Tale of Winter A Winter's Tale DVD Review Eric Rohmer Conte d'hiver A Tale of Winter A Winter's Tale DVD Review Eric Rohmer Conte d'hiver A Tale of Winter A Winter's Tale DVD Review Eric Rohmer Conte d'hiver A Tale of Winter A Winter's Tale DVD Review Eric Rohmer Conte d'hiver A Tale of Winter A Winter's Tale DVD Review Eric Rohmer Conte d'hiver A Tale of Winter A Winter's Tale DVD Review Eric Rohmer Conte d'hiver A Tale of Winter A Winter's Tale DVD Review Eric Rohmer Conte d'hiver A Tale of Winter A Winter's Tale DVD Review Eric Rohmer Conte d'hiver A Tale of Winter A Winter's Tale DVD Review Eric Rohmer Conte d'hiver A Tale of Winter A Winter's Tale DVD Review Eric Rohmer's - Conte d'hiver - A Tale of Winter - A Winter's Tale DVD Review Eric Rohmer Conte d'hiver A Tale of Winter A Winter's Tale DVD Review Eric Rohmer Conte d'hiver A Tale of Winter A Winter's Tale DVD Review Eric Rohmer Conte d'hiver A Tale of Winter A Winter's Tale DVD Review Eric Rohmer Conte d'hiver A Tale of Winter A Winter's Tale DVD Review Eric Rohmer Conte d'hiver A Tale of Winter A Winter's Tale DVD Review Eric Rohmer Conte d'hiver A Tale of Winter A Winter's Tale DVD Review Eric Rohmer Conte d'hiver A Tale of Winter A Winter's Tale DVD Review Eric Rohmer Conte d'hiver A Tale of Winter A Winter's Tale DVD Review Eric Rohmer Conte d'hiver A Tale of Winter A Winter's Tale DVD Review Eric Rohmer Conte d'hiver A Tale of Winter A Winter's Tale DVD Review Eric Rohmer Conte d'hiver A Tale of Winter A Winter's Tale DVD Review Eric Rohmer Conte d'hiver A Tale of Winter A Winter's Tale DVD Review Eric Rohmer's - Conte d'hiver - A Tale of Winter - A Winter's Tale DVD Review Eric Rohmer Conte d'hiver A Tale of Winter A Winter's Tale DVD Review Eric Rohmer Conte d'hiver A Tale of Winter A Winter's Tale DVD Review Eric Rohmer Conte d'hiver A Tale of Winter A Winter's Tale DVD Review Eric Rohmer Conte d'hiver A Tale of Winter A Winter's Tale DVD Review Eric Rohmer Conte d'hiver A Tale of Winter A Winter's Tale DVD Review Eric Rohmer Conte d'hiver A Tale of Winter A Winter's Tale DVD Review Eric Rohmer Conte d'hiver A Tale of Winter A Winter's Tale DVD Review Eric Rohmer Conte d'hiver A Tale of Winter A Winter's Tale DVD Review Eric Rohmer Conte d'hiver A Tale of Winter A Winter's Tale DVD Review Eric Rohmer Conte d'hiver A Tale of Winter A Winter's Tale DVD Review Eric Rohmer Conte d'hiver A Tale of Winter A Winter's Tale DVD Review Eric Rohmer Conte d'hiver A Tale of Winter A Winter's Tale DVD Review