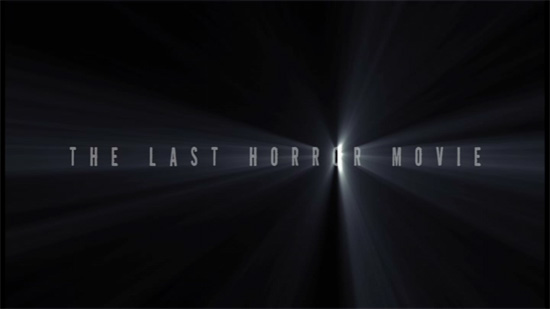 directed by Julian Richards
United Kingdom 2003
While director Julian Richards was making a documentary diary about his cousin, who is a male stripper, he thought of the idea, to make a similar approach for a male serial killer.

At times drawing heavy on "Man Bites Dog", with a touch of "American Psycho", "The Last Horror Movie" quickly becomes a bit boring. It lacks the psychopathic and erratic mise-en-scene of "Man Bites Dog" and more important its satire. But close to the end, Richards concludes the film with a unique and quiet frankly scary scenario, which in more than one sense suggests this to be the last horror movie.

Watching it for the second time, the film grows on you. Its humor, mainly thru psychopath killer Max, becomes more visible. A very likely candidate for a cult film, and quiet frankly, bloody good fun.
Poster
Theatrical Release: August 24, 2003 (London FrightFest Film Festival)
Reviews More Reviews DVD Reviews
DVD Review: Tartan - Region 0 - PAL
Big thanks to Henrik Sylow for the Review!
DVD Box Cover

CLICK to order from:

Distribution

Tartan

Region 0 - PAL

Runtime
1:15:43 (4% PAL speedup)
Video

1.75:1 Aspect Ratio

16X9 enhanced
Average Bitrate: 8.19 mb/s
PAL 720x576 25.00 f/s

NOTE: The Vertical axis represents the bits transferred per second. The Horizontal is the time in minutes.

Bitrate

Audio
2.0 Dolby Digital English, 5.1 Dolby Digital English, DTS English
Subtitles
No subtitles
Features
Release Information:
Studio: Tartan

Aspect Ratio:
Widescreen anamorphic - 1.75:1

Edition Details:
• Audio Commentary by Julian Richards and Kevin Howarth
• Trailer (1:25 / 4:3)
• Short Film - Pirates (21:41 / 4:3)
• Short Film - Self Help (3:03 / 4:3)
• Deleted Scenes (6:36 / 4:3)
• Auditions (5:11 / 4:3)
• Featurette (9:37 / 4:3)
• Tartan Trailer Reel

DVD Release Date: October 24, 2005
Keep Case

Chapters 16
Comments
Tartan presents the film in 1.78:1 (16x9), which differs from the two other formats, it has been released in: 1.85:1 theatrically US and UK, and 1.33:1 theatrically Germany.

Shot on DigiBeta and MiniDV, then adjusted with filters, the image is nothing less than beautiful. Totally crisp in sharpness, no visible artifacts. It just looks great.

As always, Tartan as added 2.0, 5.1 and DTS, which as most of the time, is overkill. Nothing is gained from the DTS, and if I have to be honest, the 2.0 sounds the best.

Additional material begins with an audio commentary by with director Julian Richards and leading actor Kevin Howarth. It is not that good a commentary, but for students of film, I can strongly recommend it, as Richards talk a lot about influences, about how he did this and that.

Two earlier shots by Richards are added, as well as a featurette, deleted scenes and more.
---




DVD Menus


---
Screen Captures
Mail cheques, money orders, cash to: or CLICK PayPal logo to donate!
Thank You!
Julian Richards' - The Last Horror Movie - DVD Review Julian Richards The Last Horror Movie DVD Review Julian Richards The Last Horror Movie DVD Review Julian Richards The Last Horror Movie DVD Review Julian Richards The Last Horror Movie DVD Review Julian Richards The Last Horror Movie DVD Review Julian Richards The Last Horror Movie DVD Review Julian Richards The Last Horror Movie DVD Review Julian Richards The Last Horror Movie DVD Review Julian Richards The Last Horror Movie DVD Review Julian Richards The Last Horror Movie DVD Review Julian Richards The Last Horror Movie DVD Review Julian Richards The Last Horror Movie DVD Review Julian Richards' - The Last Horror Movie - DVD Review Julian Richards The Last Horror Movie DVD Review Julian Richards The Last Horror Movie DVD Review Julian Richards The Last Horror Movie DVD Review Julian Richards The Last Horror Movie DVD Review Julian Richards The Last Horror Movie DVD Review Julian Richards The Last Horror Movie DVD Review Julian Richards The Last Horror Movie DVD Review Julian Richards The Last Horror Movie DVD Review Julian Richards The Last Horror Movie DVD Review Julian Richards The Last Horror Movie DVD Review Julian Richards The Last Horror Movie DVD Review Julian Richards The Last Horror Movie DVD Review Julian Richards' - The Last Horror Movie - DVD Review Julian Richards The Last Horror Movie DVD Review Julian Richards The Last Horror Movie DVD Review Julian Richards The Last Horror Movie DVD Review Julian Richards The Last Horror Movie DVD Review Julian Richards The Last Horror Movie DVD Review Julian Richards The Last Horror Movie DVD Review Julian Richards The Last Horror Movie DVD Review Julian Richards The Last Horror Movie DVD Review Julian Richards The Last Horror Movie DVD Review Julian Richards The Last Horror Movie DVD Review Julian Richards The Last Horror Movie DVD Review Julian Richards The Last Horror Movie DVD Review Julian Richards' - The Last Horror Movie - DVD Review Julian Richards The Last Horror Movie DVD Review Julian Richards The Last Horror Movie DVD Review Julian Richards The Last Horror Movie DVD Review Julian Richards The Last Horror Movie DVD Review Julian Richards The Last Horror Movie DVD Review Julian Richards The Last Horror Movie DVD Review Julian Richards The Last Horror Movie DVD Review Julian Richards The Last Horror Movie DVD Review Julian Richards The Last Horror Movie DVD Review Julian Richards The Last Horror Movie DVD Review Julian Richards The Last Horror Movie DVD Review Julian Richards The Last Horror Movie DVD Review Julian Richards' - The Last Horror Movie - DVD Review Julian Richards The Last Horror Movie DVD Review Julian Richards The Last Horror Movie DVD Review Julian Richards The Last Horror Movie DVD Review Julian Richards The Last Horror Movie DVD Review Julian Richards The Last Horror Movie DVD Review Julian Richards The Last Horror Movie DVD Review Julian Richards The Last Horror Movie DVD Review Julian Richards The Last Horror Movie DVD Review Julian Richards The Last Horror Movie DVD Review Julian Richards The Last Horror Movie DVD Review Julian Richards The Last Horror Movie DVD Review Julian Richards The Last Horror Movie DVD Review Julian Richards' - The Last Horror Movie - DVD Review Julian Richards The Last Horror Movie DVD Review Julian Richards The Last Horror Movie DVD Review Julian Richards The Last Horror Movie DVD Review Julian Richards The Last Horror Movie DVD Review Julian Richards The Last Horror Movie DVD Review Julian Richards The Last Horror Movie DVD Review Julian Richards The Last Horror Movie DVD Review Julian Richards The Last Horror Movie DVD Review Julian Richards The Last Horror Movie DVD Review Julian Richards The Last Horror Movie DVD Review Julian Richards The Last Horror Movie DVD Review Julian Richards The Last Horror Movie DVD Review Julian Richards' - The Last Horror Movie - DVD Review Julian Richards The Last Horror Movie DVD Review Julian Richards The Last Horror Movie DVD Review Julian Richards The Last Horror Movie DVD Review Julian Richards The Last Horror Movie DVD Review Julian Richards The Last Horror Movie DVD Review Julian Richards The Last Horror Movie DVD Review Julian Richards The Last Horror Movie DVD Review Julian Richards The Last Horror Movie DVD Review Julian Richards The Last Horror Movie DVD Review Julian Richards The Last Horror Movie DVD Review Julian Richards The Last Horror Movie DVD Review Julian Richards The Last Horror Movie DVD Review Julian Richards' - The Last Horror Movie - DVD Review Julian Richards The Last Horror Movie DVD Review Julian Richards The Last Horror Movie DVD Review Julian Richards The Last Horror Movie DVD Review Julian Richards The Last Horror Movie DVD Review Julian Richards The Last Horror Movie DVD Review Julian Richards The Last Horror Movie DVD Review Julian Richards The Last Horror Movie DVD Review Julian Richards The Last Horror Movie DVD Review Julian Richards The Last Horror Movie DVD Review Julian Richards The Last Horror Movie DVD Review Julian Richards The Last Horror Movie DVD Review Julian Richards The Last Horror Movie DVD Review Julian Richards' - The Last Horror Movie - DVD Review Julian Richards The Last Horror Movie DVD Review Julian Richards The Last Horror Movie DVD Review Julian Richards The Last Horror Movie DVD Review Julian Richards The Last Horror Movie DVD Review Julian Richards The Last Horror Movie DVD Review Julian Richards The Last Horror Movie DVD Review Julian Richards The Last Horror Movie DVD Review Julian Richards The Last Horror Movie DVD Review Julian Richards The Last Horror Movie DVD Review Julian Richards The Last Horror Movie DVD Review Julian Richards The Last Horror Movie DVD Review Julian Richards The Last Horror Movie DVD Review Julian Richards' - The Last Horror Movie - DVD Review Julian Richards The Last Horror Movie DVD Review Julian Richards The Last Horror Movie DVD Review Julian Richards The Last Horror Movie DVD Review Julian Richards The Last Horror Movie DVD Review Julian Richards The Last Horror Movie DVD Review Julian Richards The Last Horror Movie DVD Review Julian Richards The Last Horror Movie DVD Review Julian Richards The Last Horror Movie DVD Review Julian Richards The Last Horror Movie DVD Review Julian Richards The Last Horror Movie DVD Review Julian Richards The Last Horror Movie DVD Review Julian Richards The Last Horror Movie DVD Review Julian Richards' - The Last Horror Movie - DVD Review Julian Richards The Last Horror Movie DVD Review Julian Richards The Last Horror Movie DVD Review Julian Richards The Last Horror Movie DVD Review Julian Richards The Last Horror Movie DVD Review Julian Richards The Last Horror Movie DVD Review Julian Richards The Last Horror Movie DVD Review Julian Richards The Last Horror Movie DVD Review Julian Richards The Last Horror Movie DVD Review Julian Richards The Last Horror Movie DVD Review Julian Richards The Last Horror Movie DVD Review Julian Richards The Last Horror Movie DVD Review Julian Richards The Last Horror Movie DVD Review Julian Richards' - The Last Horror Movie - DVD Review Julian Richards The Last Horror Movie DVD Review Julian Richards The Last Horror Movie DVD Review Julian Richards The Last Horror Movie DVD Review Julian Richards The Last Horror Movie DVD Review Julian Richards The Last Horror Movie DVD Review Julian Richards The Last Horror Movie DVD Review Julian Richards The Last Horror Movie DVD Review Julian Richards The Last Horror Movie DVD Review Julian Richards The Last Horror Movie DVD Review Julian Richards The Last Horror Movie DVD Review Julian Richards The Last Horror Movie DVD Review Julian Richards The Last Horror Movie DVD Review