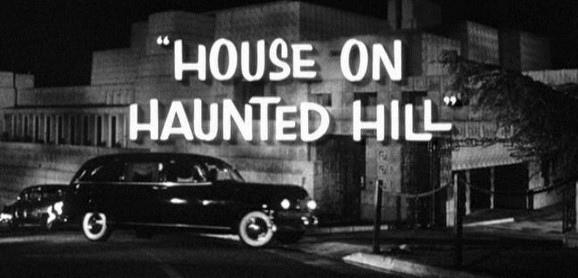 (aka 'The House on Haunted Hill')
directed by William Castle
USA 1959
Vincent Price plays Frederick Loren, an eccentric millionaire that invites five very different people to a haunted house for a party, and offers them $10,000 if they can stay the night... This film benefits emphatically from the presence of the legendary Vincent Price. As usual, Price gives a commanding performance and completely steals every scene he's in. Price is undoubtedly the star of the show, but he's not the only star in the show; Elisha Cook in particular gives excellent support playing the wimpy owner of the house; much the same character that he played in the Kubrick masterpiece; 'The Killing'. The rest of the cast is largely made up of unknowns and b-grade actors, but they also all perform to relatively high standards in their respective roles.

House on Haunted Hill's best feature other than the legendary Vincent Price, is undoubtedly the atmosphere of the house. Throughout the movie, there is an abundant sense of dread that is perpetually present and it serves the film well in that it brings the house to life; at every point in the movie, the audience is made to believe that there is something unseen in the house that will cause bad things to happen; and this is obviously exactly what a haunted house film needs. The film is very creepy in that way. That's not to say that this film is without its flaws; at times, the plot meanders and as the film only has a 75 minute running time, that's not good. It can also become a little dull at times as there isn't always a lot going on. This is, however, somewhat combated by the acting performances and defined characters as they usually manage to keep it at least interesting, if not enthralling throughout. House on Haunted Hill is topped off by a brilliant double twist, and it is also given certain originality by that also, although the twists do beg the question of whether or not the film has an appropriate title. The walking skeleton is hilarious, though and worth watching film for alone.

Overall, House on Haunted Hill is a lovely little b movie; it's creative, it's atmospheric and it stars Vincent Price. Highly recommended viewing, especially for horror fans. Definitely not recommended for anyone though, is the dire 1999 remake of this film.

out of

Excerpt of The_Void review from IMdb located HERE
Posters
Theatrical Release: February 17th, 1959
Reviews More Reviews DVD Reviews
DVD Review: 20th Century Fox (Legend Films) - Region 1 - NTSC
DVD Box Cover

CLICK to order from:

Distribution
20th Century Fox (Legend Films) Home Video - Region 1 - NTSC
Runtime
1:15:36
Video
1.33:1 Open Matte
Average Bitrate: 6.17 mb/s
NTSC 720x480 29.97 f/s

NOTE: The Vertical axis represents the bits transferred per second. The Horizontal is the time in minutes.

Bitrate:

Audio
English (Dolby Digital 2.0)
Subtitles
None
Features

Release Information:
Studio: 20th Century Fox (Legend Films) Home Video

Aspect Ratio:
Open Matte 1.33:1

Edition Details:

• The Black and White version (see captures below)
• Commentary by Mike Nelson of MST3K
• Original Press Book
• Trailers

DVD Release Date: September 6th, 2005
Keep Case
Chapters: 12
Comments:

We have stated with some of our other reviews of colorized prints (Carnival of Souls, Night of the Living Dead) that we are against any manipulation process from the original theatrical exhibition, but we are certainly not talking about Antonioni's L'Eclisse here. These colorized prints are usually public domain material of the classic 'B' horror genre and although I don't want to appear snobbish - the artistic merit of the films is generally not compromised and if the budget was available when first producing these old gems they would have made them color in the first place. The other problem with these films is what colors are supposed to be used? Unlike the Vertigo DVD which details where Harris and Katz went through an extensive ordeal to determine what the original colors (and sounds) were used for the restoration, some poetic license has definitely be done on these horror releases. Of course, the big positive is that the Black and White version has also been included - a respectful touch.

This looks very good - progressive and sharp with tight lines - I am impressed. Audio was a trifle weak but this print is in good shape and the colorization just seems to be improving with each release. There are no subtitles on either edition but the extras include another Mike Nelson commentary and some other historical data about the film. This is a super horror film for a late Friday night and we strongly recommend this DVD - no matter which edition you prefer.
---



DVD Menus

---
Screen Captures
(Colorized TOP, Black and White BOTTOM)
---
(Colorized TOP, Black and White BOTTOM)
---
(Colorized TOP, Black and White BOTTOM)