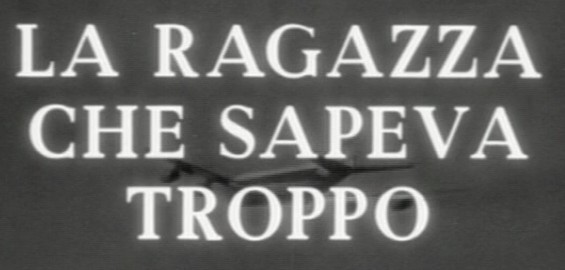 (aka "The Girl Who Knew Too Much" or "The Evil Eye" or "La fille qui en savait trop")
directed by Mario Bava
Italy 1963
There's a beautiful shot in this movie of the light shining through two bullet holes in a door; it is a great example of where some of the appeal lies in Mario Bava movies in its exemplary use of light and dark. THE EVIL EYE is not a good title in itself; the alternate title, THE GIRL WHO KNEW TOO MUCH, is both a better description and makes manifest a certain Hitchcockian feel to this movie. Though the tale itself is quite suspenseful, particularly in a sequence where the heroine follows a voice in an old building, there is a surprising amount of humor in this movie; there's even schtick involving John Saxon's broken thumb at several points. I haven't really seen enough giallo at this point to say whether this is where the whole genre began, but I've heard it referred to as such, so I'll leave it to others to decide. At any rate, this movie is a great deal of fun and well worth catching.
Excerpt of Dave Sindelar's review at Scifilm.org located HERE
Posters
Theatrical Release: 10 February 1963 - Italy
Reviews More Reviews DVD Reviews
DVD Comparison:
Anchor Bay (Mario Bava Collection) - Region 1 - NTSC vs. Films sans Frontières - Region 2 - PAL vs. Image - Region 1 - NTSC
Big thanks to Ole Kofoed and Gregory Meshman for the Screen Caps!
(Anchor Bay (Mario Bava Collection) - Region 1 - NTSC LEFT vs. Films sans Frontières - Region 2 - PAL - MIDDLE vs. Image - Region 1 - NTSC - RIGHT)
DVD Box Covers

Distribution

Anchor Bay

Region 1 - NTSC

Films sans Frontières

Region 2 - PAL

Image
Region 1 - NTSC
Runtime
1:25:36
1:25:42
1:25:39
Video

1.66:1 Original Aspect Ratio

16X9 enhanced
Average Bitrate: 5.14 mb/s
NTSC 720x480 29.97 f/s

1.66:1 Original Aspect Ratio
Average Bitrate: 5.73 mb/s
PAL 720x576 25.00 f/s

1.66:1 Original Aspect Ratio

16X9 enhanced
Average Bitrate: 6.19 mb/s
NTSC 720x480 29.97 f/s

NOTE: The Vertical axis represents the bits transferred per second. The Horizontal is the time in minutes.

Bitrate:

Anchor Bay

Bitrate:

Films sans Frontières

Bitrate:

Image

Audio
Italian Dolby Digital 2.0 Mono
Italian Dolby Digital 2.0 Mono / French Dub 2.0 Mono.

Italian Dolby Digital 2.0 Mono

Subtitles
English, None
English, French or None
English, None
Features
Release Information:
Studio: Anchor Bay

Aspect Ratio:
Widescreen anamorphic - 1.66:1

Edition Details:
• Commentary by film historian Tim Lucas
• Remembering the Girl with John Saxon (9:38)
• International and U.S. Trailer
• Poster & Still Gallery
• Mario Bava Bio
• Trailers for other Mario Bava films

DVD Release Date: April 3, 2007
Slimcase in a boxset

Chapters 16

Release Information:
Studio: Films sans Frontières

Aspect Ratio:
Widescreen letterboxed - 1.66:1

Edition Details:
• History of the movie (Text in French).
• Bava biography (In French).

DVD Release Date: October 12, 2001
Keep Case

Chapters 5

Release Information:
Studio: Image

Aspect Ratio:
Widescreen anamorphic - 1.66:1

Edition Details:
• Mario Bava Biography
• Mario Bava Filmography
• John Saxon Filmography
• Italian Theatrical Trailer (2:42)
• Photo & Poster Gallery (23 images)
• Linear notes by Tim Lucas



DVD Release Date: September 26, 2000
Snapper Case

Chapters 10
| | |
| --- | --- |
| Comments | ADDITION: Anchor Bay - April 07': The video is slightly better than Image disc, but the Anchor Bay DVD really shines in the extras. Unfortunately, U.S. version known as The Evil Eye is still missing, but there's a really nice commentary by Tim Lucas and a small featurette with John Saxon. Both discs used the same print since they have the same damage marks. The Image Entertainment disc is anamorphic, so while the picture is better and clearer, it also makes damage spots more noticeable. But, unlike French disc, there's no combing evident in the transfer. The combing is probably caused by a bad NTSC-> transfer (same runtime) . The first capture is the only one in which we used the standard 800 resize, the rest are decreased to suit the non 16X9 PAL. |
---




DVD Menus
Anchor Bay (Mario Bava Collection) - Region 1 - NTSC

(Films sans Frontières - Region 2 - PAL - LEFT vs. Image - Region 1 - NTSC - RIGHT)
---
Screen Captures
(Anchor Bay (Mario Bava Collection) - Region 1 - NTSC TOP vs. Films sans Frontières - Region 2 - PAL - MIDDLE vs. Image - Region 1 - NTSC - BOTTOM)

Subtitle sample (Not exact frame)
---
(Anchor Bay (Mario Bava Collection) - Region 1 - NTSC TOP vs. Films sans Frontières - Region 2 - PAL - MIDDLE vs. Image - Region 1 - NTSC - BOTTOM)
---
(Anchor Bay (Mario Bava Collection) - Region 1 - NTSC TOP vs. Films sans Frontières - Region 2 - PAL - MIDDLE vs. Image - Region 1 - NTSC - BOTTOM)
---
(Anchor Bay (Mario Bava Collection) - Region 1 - NTSC TOP vs. Films sans Frontières - Region 2 - PAL - MIDDLE vs. Image - Region 1 - NTSC - BOTTOM)
---
(Anchor Bay (Mario Bava Collection) - Region 1 - NTSC TOP vs. Films sans Frontières - Region 2 - PAL - MIDDLE vs. Image - Region 1 - NTSC - BOTTOM)
---
(Anchor Bay (Mario Bava Collection) - Region 1 - NTSC TOP vs. Films sans Frontières - Region 2 - PAL - MIDDLE vs. Image - Region 1 - NTSC - BOTTOM)

---
Report Card:
| | |
| --- | --- |
| Image: | Anchor Bay |
| Sound: | -- |
| Extras: | Anchor Bay |
| Menu: | Anchor Bay |