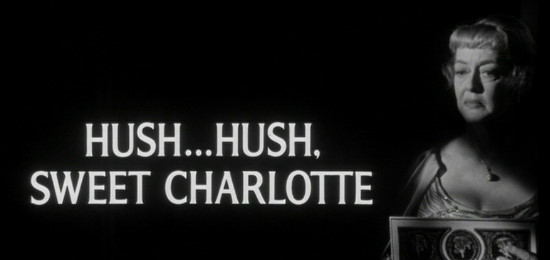 (aka 'What Ever Happened to Cousin Charlotte?')
directed by Robert Aldrich
USA 1964
When he successfully teamed fading film goddesses Bette Davis and Joan Crawford in What Ever Happened to Baby Jane? (1962), director Robert Aldrich kicked off a cinema cycle waggishly referred to as "Grand Dame Guignol," wherein aging leading ladies reclaimed the box-office clout of their youth by headlining shock films that were modestly budgeted and, by the prevailing standards of the day, surprisingly lurid. First to capitalize was Aldrich himself, who sought to reunite Davis and Crawford for another adaptation from the oeuvre of Baby Jane author Henry Farrell. Crawford would bolt in mid-production, and Olivia de Havilland hurriedly signed as a replacement. Still, the finished product, Hush...Hush, Sweet Charlotte (1963), stands as one of the better examples of the genre...
Excerpt from Turner Classics Movies located HERE
Robert Aldrich followed up the commercial success of his What Ever Happened to Baby Jane? with this 1964 feature, an even more outrageous exercise in Hollywood necrophilia. It was camp before the term was coined, but it's somewhat better than that, too.
Excerpt from Dave Kehr's capsule review at the Chicago Reader located HERE
Posters
Theatrical Release: December 15th, 1964
Reviews More Reviews DVD Reviews
DVD Comparison:
20th Century Fox "Studio Classics" - Region 1 - NTSC vs. 20th Century Fox 'Cinema Classics Collection' - Region 1 - NTSC
(20th Century Fox - 'Studio Classics #32' - Region 1- NTSC LEFT vs. 20th Century Fox 'Cinema Classics Collection' - Region 1 - NTSC RIGHT)
DVD Box Cover

The Cinema Classics Version is also available in the Bette Davis Centenary Celebration Collection which includes All About Eve / Hush...Hush, Sweet Charlotte / The Virgin Queen / Phone Call from a Stranger and The Nanny

Distribution
20th Century Fox Home Video (Studio Classics # 32) - Region 1 - NTSC
20th Century Fox - Cinema Classics Collection - Region 1 - NTSC
Runtime
2:12:36
2:12:36
Video
1.66:1 Original Aspect Ratio
Average Bitrate: 6.98 mb/s
NTSC 720x480 29.97 f/s
1.85:1 Original Aspect Ratio
Average Bitrate: 5.83 mb/s
NTSC 720x480 29.97 f/s

NOTE: The Vertical axis represents the bits transferred per second. The Horizontal is the time in minutes.

Bitrate: Old

Bitrate: New

Audio
English (Dolby Digital 2.0 Stereo), English (Dolby Digital 1.0)
English (Dolby Digital 2.0 Stereo), English (Dolby Digital 1.0)
Subtitles
English, Spanish, None
English, Spanish, None
Features

Release Information:
Studio: 20th Century Fox Home Video

Aspect Ratio:
Original aspect Ratio 1.66:1

Edition Details:

• Commentary by film historian Glenn Erickson
• Theatrical trailers, TV spots

DVD Release Date: August 9th, 2005
Keep Case
Chapters: 32

Release Information:
Studio: 20th Century Fox Home Video

Aspect Ratio:
Original aspect Ratio 1.85:1

Edition Details:

• Isolated Score track

• Featurette: Hush,. Hush Sweet Joan: The Making of Charlotte

• Bruce Dern Remembers

• Vintage Promotional short narrated by Joseph Cotten

• Theatrical trailers and TV Spots

• Galleries

DVD Release Date: April 8th, 2008
In Boxset it is in a slim case
Chapters: 32
Comments:

ADDITION - 'Cinema Classics Collection' - April 08': Fox has made this the original 1.66:1 ratio DVD (Spherical Panavision), 1.85:1 on this new DVD. What does that mean? - well, we are getting more information on the sides. Why did they do this? I have no idea but it's quite unlike them to tinker with what we perceive is the original aspect ratio (either on the original DVD or this one). Or are we wrong and 1.85 was the original ratio? (NOTE: Glenn Erickson in his review notes the 2005 edition ratio as 1.85 which is incorrect - the old DVD is most definitely 1.66:1).

The new image is a shade brighter (too bright at times), but there are scenes where the older looks superior (sharper) and others where the newer shows some further detail. To be honest I lean towards the old (with a smidgeon more speckles), but the ratio aspect may be a deal breaker for some regardless. We are given the same subtitle and audio options.

To cap it off they have removed Glenn Erickson's wonderful commentary and none of the new supplements is equal to that valued extra in my opinion (which include a 20 minute featurette and 12 minutes of Dern recalling stuff etc.). Strange days indeed.

Bottom line is I don't endorse buying this 'Cinema Classics Collection' individually and although I own the Bette Davis Centenary Celebration Collection, am glad I still have my Studio Classics version of this fine film (and it's less than $10). Let's take more care Fox!

***

ON THE STUDIO CLASSIC EDITION: Another great disc from Fox's Studio Classics series. Tight 1.66 anamorphic (and progressive) image with solid contrast and sharpness. Shadow detail is top-notch and in this film it is of high importance.

Fellow DVD reviewer Glenn Erickson shares his vast pool of knowledge in the commentary and my only complaint with the disc is with the awful yellow optional subtitles (talk about intrusive). Still this is another keeper and must-own DVD for Davis fans. out of
---

DVD Menus
(20th Century Fox - 'Studio Classics #32' - Region 1- NTSC LEFT vs. 20th Century Fox 'Cinema Classics Collection' - Region 1 - NTSC RIGHT)

---
Subtitle Sample
(20th Century Fox - 'Studio Classics #32' - Region 1- NTSC TOP vs. 20th Century Fox 'Cinema Classics Collection' - Region 1 - NTSC BOTTOM)
Screen Captures
(20th Century Fox - 'Studio Classics #32' - Region 1- NTSC TOP vs. 20th Century Fox 'Cinema Classics Collection' - Region 1 - NTSC BOTTOM)
---
(20th Century Fox - 'Studio Classics #32' - Region 1- NTSC TOP vs. 20th Century Fox 'Cinema Classics Collection' - Region 1 - NTSC BOTTOM)
---
(20th Century Fox - 'Studio Classics #32' - Region 1- NTSC TOP vs. 20th Century Fox 'Cinema Classics Collection' - Region 1 - NTSC BOTTOM)
---
(20th Century Fox - 'Studio Classics #32' - Region 1- NTSC TOP vs. 20th Century Fox 'Cinema Classics Collection' - Region 1 - NTSC BOTTOM)
---
(20th Century Fox - 'Studio Classics #32' - Region 1- NTSC TOP vs. 20th Century Fox 'Cinema Classics Collection' - Region 1 - NTSC BOTTOM)
---
(20th Century Fox - 'Studio Classics #32' - Region 1- NTSC TOP vs. 20th Century Fox 'Cinema Classics Collection' - Region 1 - NTSC BOTTOM)
---
(20th Century Fox - 'Studio Classics #32' - Region 1- NTSC TOP vs. 20th Century Fox 'Cinema Classics Collection' - Region 1 - NTSC BOTTOM)
DVD Box Cover

The Cinema Classics Version is also available in the Bette Davis Centenary Celebration Collection which includes All About Eve / Hush...Hush, Sweet Charlotte / The Virgin Queen / Phone Call from a Stranger and The Nanny

Distribution
20th Century Fox Home Video (Studio Classics # 32) - Region 1 - NTSC
20th Century Fox - Cinema Classics Collection - Region 1 - NTSC
---