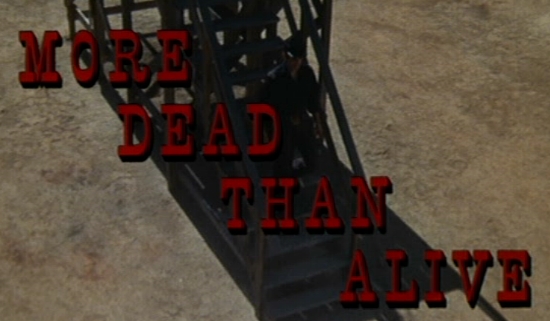 directed by Robert Sparr
USA 19
68
Saddle up for a thrilling tale of heroes and villains in this "thought-provoking" western with "an ending that is truly different" (Film and Television Daily). Starring "tall, dark and handsome" (Hollywood Citizen-News) Clint Walker (Sam Whiskey) and the legendary Vincent Price (The Last Man on Earth) in one of his most colorful roles, this action-packed drama aims high and hits its mark! After serving 18 years, "Killer" Cain (Walker) is released from prison, determined never to touch a gun again. But the only job he can get is with Dan Ruffalo's (Price) traveling sideshow as the sharp-shooting main attraction. As Cain works to build an honest future free of bullets and bloodshed, his enemies look to settle old scores. Now Cain must risk his new life to become the "Killer" once more…or be haunted by his past forever.
Theatrical Release: December 1968
Reviews More Reviews DVD Reviews
DVD Review: MGM - Region 1 - NTSC
DVD Box Cover

CLICK to order from:

Distribution
MGM Home Video - Region 1 - NTSC
Runtime
1:40:57
Video
1.82:1 Original Aspect Ratio
Average Bitrate: 5.57 mb/s
NTSC 720x480 29.97 f/s

NOTE: The Vertical axis represents the bits transferred per second. The Horizontal is the time in minutes.

Bitrate:

Audio
English (Dolby Digital 2.0), DUB: Spanish (Dolby Digital 2.0)
Subtitles
English, French, Spanish, None
Features

Release Information:
Studio: MGM Home Video

Aspect Ratio:
Original aspect Ratio 1.82:1

Edition Details:

• Trailer (:59)

DVD Release Date: May 17th, 2005
Keep Case
Chapters: 20
| | |
| --- | --- |
| Comments: | I think it is officially time for MGM to change whoever is doing their DVD authoring. I had real trouble getting screen captures for this review. I could have easily have obtained 6 with extensive "combing" indicating this was not transferred progressively and because the prevalence this is virtually unwatchable on a LCD/TFT display . I felt I owed it to the film to get some decent images. Colors seem okay if a shade washed out - the image can tend to look very soft at times though. This actually isn't a bad little western, and probably deserved better than this DVD treatment. An optional Spanish DUB is included and the standard (for MGM) Spanish, French and English subtitle options. No extras save a weak non-progressive trailer. For tube owners only. out of |
---



DVD Menus

---
Subtitle Sample
Screen Captures
---
---
Bad Combing throughout...
DVD Box Cover

CLICK to order from:

Distribution
MGM Home Video - Region 1 - NTSC
---





Robert Sparr's More Dead Than Alive MGM Region 1 - NTSC - Robert Sparr More Dead Than Alive Clint Walker DVD Review More Dead Than Alive Robert Sparr More Dead Than Alive Clint Walker DVD Review More Dead Than Alive Robert Sparr More Dead Than Alive Clint Walker DVD Review More Dead Than Alive Robert Sparr More Dead Than Alive Clint Walker DVD Review More Dead Than Alive Robert Sparr More Dead Than Alive Clint Walker DVD Review More Dead Than Alive Robert Sparr More Dead Than Alive Clint Walker DVD Review More Dead Than Alive Robert Sparr More Dead Than Alive Clint Walker DVD Review More Dead Than Alive Robert Sparr's More Dead Than Alive MGM Region 1 - NTSC - Robert Sparr More Dead Than Alive Clint Walker DVD Review More Dead Than Alive Robert Sparr More Dead Than Alive Clint Walker DVD Review More Dead Than Alive Robert Sparr More Dead Than Alive Clint Walker DVD Review More Dead Than Alive Robert Sparr More Dead Than Alive Clint Walker DVD Review More Dead Than Alive Robert Sparr More Dead Than Alive Clint Walker DVD Review More Dead Than Alive Robert Sparr More Dead Than Alive Clint Walker DVD Review More Dead Than Alive Robert Sparr More Dead Than Alive Clint Walker DVD Review More Dead Than Alive Robert Sparr's More Dead Than Alive MGM Region 1 - NTSC - Robert Sparr More Dead Than Alive Clint Walker DVD Review More Dead Than Alive Robert Sparr More Dead Than Alive Clint Walker DVD Review More Dead Than Alive Robert Sparr More Dead Than Alive Clint Walker DVD Review More Dead Than Alive Robert Sparr More Dead Than Alive Clint Walker DVD Review More Dead Than Alive Robert Sparr More Dead Than Alive Clint Walker DVD Review More Dead Than Alive Robert Sparr More Dead Than Alive Clint Walker DVD Review More Dead Than Alive Robert Sparr More Dead Than Alive Clint Walker DVD Review More Dead Than Alive Robert Sparr's More Dead Than Alive MGM Region 1 - NTSC - Robert Sparr More Dead Than Alive Clint Walker DVD Review More Dead Than Alive Robert Sparr More Dead Than Alive Clint Walker DVD Review More Dead Than Alive Robert Sparr More Dead Than Alive Clint Walker DVD Review More Dead Than Alive Robert Sparr More Dead Than Alive Clint Walker DVD Review More Dead Than Alive Robert Sparr More Dead Than Alive Clint Walker DVD Review More Dead Than Alive Robert Sparr More Dead Than Alive Clint Walker DVD Review More Dead Than Alive Robert Sparr More Dead Than Alive Clint Walker DVD Review More Dead Than Alive Robert Sparr's More Dead Than Alive MGM Region 1 - NTSC - Robert Sparr More Dead Than Alive Clint Walker DVD Review More Dead Than Alive Robert Sparr More Dead Than Alive Clint Walker DVD Review More Dead Than Alive Robert Sparr More Dead Than Alive Clint Walker DVD Review More Dead Than Alive Robert Sparr More Dead Than Alive Clint Walker DVD Review More Dead Than Alive Robert Sparr More Dead Than Alive Clint Walker DVD Review More Dead Than Alive Robert Sparr More Dead Than Alive Clint Walker DVD Review More Dead Than Alive Robert Sparr More Dead Than Alive Clint Walker DVD Review More Dead Than Alive Robert Sparr's More Dead Than Alive MGM Region 1 - NTSC - Robert Sparr More Dead Than Alive Clint Walker DVD Review More Dead Than Alive Robert Sparr More Dead Than Alive Clint Walker DVD Review More Dead Than Alive Robert Sparr More Dead Than Alive Clint Walker DVD Review More Dead Than Alive Robert Sparr More Dead Than Alive Clint Walker DVD Review More Dead Than Alive Robert Sparr More Dead Than Alive Clint Walker DVD Review More Dead Than Alive Robert Sparr More Dead Than Alive Clint Walker DVD Review More Dead Than Alive Robert Sparr More Dead Than Alive Clint Walker DVD Review More Dead Than Alive Robert Sparr's More Dead Than Alive MGM Region 1 - NTSC - Robert Sparr More Dead Than Alive Clint Walker DVD Review More Dead Than Alive Robert Sparr More Dead Than Alive Clint Walker DVD Review More Dead Than Alive Robert Sparr More Dead Than Alive Clint Walker DVD Review More Dead Than Alive Robert Sparr More Dead Than Alive Clint Walker DVD Review More Dead Than Alive Robert Sparr More Dead Than Alive Clint Walker DVD Review More Dead Than Alive Robert Sparr More Dead Than Alive Clint Walker DVD Review More Dead Than Alive Robert Sparr More Dead Than Alive Clint Walker DVD Review More Dead Than Alive