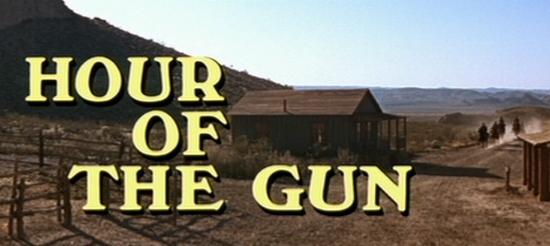 directed by John Sturges
USA 1967
Ten years after he made "Gunfight at the O.K. Corral," producer-director John Sturges is back with the sequel, in case you've been wondering ever since what happened then. A lot happened. Wyatt Earp changed from Burt Lancaster into James Garner, grew a mustache and set out to avenge his brothers. Doc Holliday kept hitting the bottle and wound up playing gin rummy in a Colorado sanitarium. The Clanton gang got theirs. And Wyatt decided not to take the job in Tombstone after all.

About the only thing that didn't change was the Hollywood Western, which remains blessedly itself. Sturges has made some good ones ("Gunfight," "Bad Day at Black Rock," "The Magnificent Seven"), and "Hour of the Gun" belongs in the same company but slightly lower on the guest list.

It is, first of all, beautiful to look at. All but the interiors were shot on location in Arizona, and Sturges evokes the land more realistically than, say, all those panoramic wagon train shots in "The Way West" did. There are stereotyped landscapes with tumbleweeds and mountains in the background, sure, and you expect them. But there are also lovely little ponds at the bends of rivers, and horse paths with trees meeting overhead. Some of the towns and villages are probably stage sets, but others are obviously real and have the unmistakable feel of the old West to them.

...

Garner turns in one of his best performances. Sturges must have tamed him. He doesn't shout or swagger; he's quiet and squint-eyed, and in 20 more years when he works up some wrinkles he'll make a good indestructible cowboy. Robert Ryan, who has worked up the wrinkles, doesn't have much of a role -- but he handles it, as always, with authority. The memory of the Kirk Douglas and Burt Lancaster performances in "Gunfight" haunts the sequel like a ghost, but "Hour of the Gun" pretty much manages to stand on its own.
Excerpt from Roger Ebert's review located at the Chicago Sun-Times HERE.
Posters etc.
Theatrical Release: November 1st, 1967
Reviews More Reviews DVD Reviews
DVD Review: MGM - Region 1 - NTSC
DVD Box Cover

CLICK to order from:

Distribution
MGM Home Video - Region 1 - NTSC
Runtime
1:41:15
Video
2.32:1 Original Aspect Ratio
Average Bitrate: 5.45 mb/s
NTSC 720x480 29.97 f/s

NOTE: The Vertical axis represents the bits transferred per second. The Horizontal is the time in minutes.

Bitrate:

Audio
English (Dolby Digital 2.0)
Subtitles
English, French Spanish, None
Features

Release Information:
Studio: MGM Home Video

Aspect Ratio:
Original aspect Ratio 2.32:1

Edition Details:

• Trailer (2:15)

NOTE: Full screen version on opposite side

DVD Release Date: May 17th, 2005
Keep Case
Chapters: 16
Comments:

If not for a communication from a fellow film buff, JFinkelste, this little gem would have passed me by. Great re-telling of the fabled legend. James Garner is at his best with support from Robards and Ryan - we have a classic western tale.

Unfortunately, the DVD is sub-par again from lackluster MGM - now the worst major DVD production in the world (and this includes Alliance Atlantis) . Non-progressive transfer is fraught with bad combing - see last large capture. Tube owners won't notice, but when you upgrade your system (and you will one day), you may as well chuck this DVD in the garbage. Aside from, that it is a little saturated and thick, which tends to make it dark at times obscuring certain information or subtleties in black backgrounds. It is also a little soft, subtitles are very large (this is a negative - they should be non-intrusive in the viewing experience). Finally - no extras save a poor quality trailer. This film deserved better ! Western fans may want to buy but a word to MGM - get on the ball ! out of

P.S. While I'm on at MGM again - what is the purpose of their tripled seam sealed DVDs. They sell their product for peanuts but take great pains to make it impossible to open quickly. If they spent less time on security seals and more on their image quality, they might get a few more satisfied customers.
---



DVD Menus

---
Subtitle Sample
Screen Captures
---
---
Combing - another MGM non-progressive transfer
---
Recommended Reading for Western Genre Fans (CLICK COVERS or TITLES for more information)
Check out more in "The Library"
---
DVD Box Cover

CLICK to order from:

Distribution
MGM Home Video - Region 1 - NTSC
---





John Sturges' Hour of the Gun - MGM Region 1- NTSC - John Sturges Hour of the Gun DVD Review James Garner Robards Ryan Hour of the Gun John Sturges Hour of the Gun DVD Review James Garner Robards Ryan Hour of the Gun John Sturges Hour of the Gun DVD Review James Garner Robards Ryan Hour of the Gun John Sturges Hour of the Gun DVD Review James Garner Robards Ryan Hour of the Gun John Sturges Hour of the Gun DVD Review James Garner Robards Ryan Hour of the Gun John Sturges Hour of the Gun DVD Review James Garner Robards Ryan Hour of the Gun John Sturges Hour of the Gun DVD Review James Garner Robards Ryan Hour of the Gun John Sturges Hour of the Gun DVD Review James Garner Robards Ryan Hour of the Gun John Sturges' Hour of the Gun - MGM Region 1- NTSC - John Sturges Hour of the Gun DVD Review James Garner Robards Ryan Hour of the Gun John Sturges Hour of the Gun DVD Review James Garner Robards Ryan Hour of the Gun John Sturges Hour of the Gun DVD Review James Garner Robards Ryan Hour of the Gun John Sturges Hour of the Gun DVD Review James Garner Robards Ryan Hour of the Gun John Sturges Hour of the Gun DVD Review James Garner Robards Ryan Hour of the Gun John Sturges Hour of the Gun DVD Review James Garner Robards Ryan Hour of the Gun John Sturges Hour of the Gun DVD Review James Garner Robards Ryan Hour of the Gun John Sturges Hour of the Gun DVD Review James Garner Robards Ryan Hour of the Gun John Sturges' Hour of the Gun - MGM Region 1- NTSC - John Sturges Hour of the Gun DVD Review James Garner Robards Ryan Hour of the Gun John Sturges Hour of the Gun DVD Review James Garner Robards Ryan Hour of the Gun John Sturges Hour of the Gun DVD Review James Garner Robards Ryan Hour of the Gun John Sturges Hour of the Gun DVD Review James Garner Robards Ryan Hour of the Gun John Sturges Hour of the Gun DVD Review James Garner Robards Ryan Hour of the Gun John Sturges Hour of the Gun DVD Review James Garner Robards Ryan Hour of the Gun John Sturges Hour of the Gun DVD Review James Garner Robards Ryan Hour of the Gun John Sturges Hour of the Gun DVD Review James Garner Robards Ryan Hour of the Gun John Sturges' Hour of the Gun - MGM Region 1- NTSC - John Sturges Hour of the Gun DVD Review James Garner Robards Ryan Hour of the Gun John Sturges Hour of the Gun DVD Review James Garner Robards Ryan Hour of the Gun John Sturges Hour of the Gun DVD Review James Garner Robards Ryan Hour of the Gun John Sturges Hour of the Gun DVD Review James Garner Robards Ryan Hour of the Gun John Sturges Hour of the Gun DVD Review James Garner Robards Ryan Hour of the Gun John Sturges Hour of the Gun DVD Review James Garner Robards Ryan Hour of the Gun John Sturges Hour of the Gun DVD Review James Garner Robards Ryan Hour of the Gun John Sturges Hour of the Gun DVD Review James Garner Robards Ryan Hour of the Gun John Sturges' Hour of the Gun - MGM Region 1- NTSC - John Sturges Hour of the Gun DVD Review James Garner Robards Ryan Hour of the Gun John Sturges Hour of the Gun DVD Review James Garner Robards Ryan Hour of the Gun John Sturges Hour of the Gun DVD Review James Garner Robards Ryan Hour of the Gun John Sturges Hour of the Gun DVD Review James Garner Robards Ryan Hour of the Gun John Sturges Hour of the Gun DVD Review James Garner Robards Ryan Hour of the Gun John Sturges Hour of the Gun DVD Review James Garner Robards Ryan Hour of the Gun John Sturges Hour of the Gun DVD Review James Garner Robards Ryan Hour of the Gun John Sturges Hour of the Gun DVD Review James Garner Robards Ryan Hour of the Gun John Sturges' Hour of the Gun - MGM Region 1- NTSC - John Sturges Hour of the Gun DVD Review James Garner Robards Ryan Hour of the Gun John Sturges Hour of the Gun DVD Review James Garner Robards Ryan Hour of the Gun John Sturges Hour of the Gun DVD Review James Garner Robards Ryan Hour of the Gun John Sturges Hour of the Gun DVD Review James Garner Robards Ryan Hour of the Gun John Sturges Hour of the Gun DVD Review James Garner Robards Ryan Hour of the Gun John Sturges Hour of the Gun DVD Review James Garner Robards Ryan Hour of the Gun John Sturges Hour of the Gun DVD Review James Garner Robards Ryan Hour of the Gun John Sturges Hour of the Gun DVD Review James Garner Robards Ryan Hour of the Gun John Sturges' Hour of the Gun - MGM Region 1- NTSC - John Sturges Hour of the Gun DVD Review James Garner Robards Ryan Hour of the Gun John Sturges Hour of the Gun DVD Review James Garner Robards Ryan Hour of the Gun John Sturges Hour of the Gun DVD Review James Garner Robards Ryan Hour of the Gun John Sturges Hour of the Gun DVD Review James Garner Robards Ryan Hour of the Gun John Sturges Hour of the Gun DVD Review James Garner Robards Ryan Hour of the Gun John Sturges Hour of the Gun DVD Review James Garner Robards Ryan Hour of the Gun John Sturges Hour of the Gun DVD Review James Garner Robards Ryan Hour of the Gun John Sturges Hour of the Gun DVD Review James Garner Robards Ryan Hour of the Gun John Sturges' Hour of the Gun - MGM Region 1- NTSC - John Sturges Hour of the Gun DVD Review James Garner Robards Ryan Hour of the Gun John Sturges Hour of the Gun DVD Review James Garner Robards Ryan Hour of the Gun John Sturges Hour of the Gun DVD Review James Garner Robards Ryan Hour of the Gun John Sturges Hour of the Gun DVD Review James Garner Robards Ryan Hour of the Gun John Sturges Hour of the Gun DVD Review James Garner Robards Ryan Hour of the Gun John Sturges Hour of the Gun DVD Review James Garner Robards Ryan Hour of the Gun John Sturges Hour of the Gun DVD Review James Garner Robards Ryan Hour of the Gun John Sturges Hour of the Gun DVD Review James Garner Robards Ryan Hour of the Gun