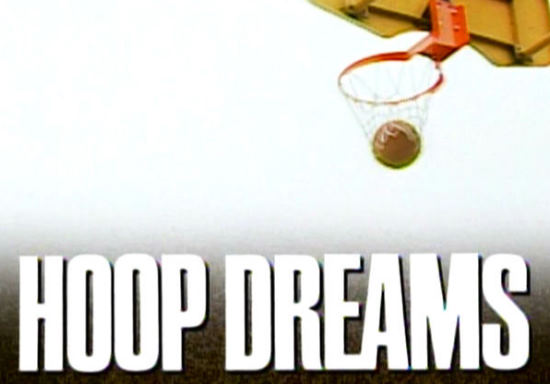 directed by Steve James
USA 1994
Two ordinary inner-city kids dare to dream the impossible — professional basketball glory — in this epic chronicle of hope and faith. Filmed over a five-year period, Hoop Dreams follows young Arthur Agee and William Gates as they navigate the complex, competitive world of scholastic athletics while striving to overcome the intense pressures of family life and the realities of their Chicago streets.
Posters etc.
Theatrical Release: January 1994 - Sundance Film Festival
Reviews More Reviews DVD Reviews
DVD Review: Criterion - Region 1 - NTSC
DVD Box Cover

CLICK to order from:

Distribution
Criterion Collection - Spine # 289 - Region 1 - NTSC
Runtime
2:51:24
Video
1.33:1 Original Aspect Ratio
Average Bitrate: 5.29 mb/s
NTSC 720x480 29.97 f/s

NOTE: The Vertical axis represents the bits transferred per second. The Horizontal is the time in minutes.

Bitrate:

Audio
English (Dolby Digital 2.0)
Subtitles
English, None
Features

Release Information:
Studio: Criterion / Home Vision

Aspect Ratio:
Original aspect Ratio 1.33:1

Edition Details:

• Two audio commentaries with stars Arthur Agee and William Gates and filmmakers Peter Gilbert, Steve James, and Frederick Marx
• Segments from Siskel and Ebert tracking the acclaim for Hoop Dreams
• Original music video
• Theatrical Trailers

• A booklet featuring a dedication to the Gates and Agee families written by the filmmakers; new essays by writer and cultural historian John Edgar Wideman, and Sports Illustrated senior writer Alexander Wolff; and Michael Wise's Washington Post article "Looking Back at Broken Dreams"

DVD Release Date: May 10th, 2005
Keep Case
Chapters: 40
Comments:

Well, this looks about as good as the source material would allow. In other words "not very" - hazy with some bleeding colors. I actually saw this in the theatre and recall noting how non-filmic it looked at that time. The manner in which it was shot actually suits the realism of this award winning documentary (was shot entirely with mid-level analog Hi-8 camcorders).

Criterion have added some optional subtitles along with the original audio and valued extra features - the two commentaries and the liner notes booklet are the real gems of this package. I hope we can compare to another edition to see for ourselves if the opposing image is any sharper.
---



DVD Menus

---
Subtitle Sample
Screen Captures
---
---
DVD Box Cover

CLICK to order from:

Distribution
Criterion Collection - Spine # 289 - Region 1 - NTSC
---





Steve James' Hoop Dreams - Criterion Region 1- NTSC Steve James Hoop Dreams Criterion DVD Review Steve James Hoop Dreams Criterion DVD Review Steve James Hoop Dreams Criterion DVD Review Steve James Hoop Dreams Criterion DVD Review Steve James Hoop Dreams Criterion DVD Review Steve James Hoop Dreams Criterion DVD Review Steve James Hoop Dreams Criterion DVD Review Steve James Hoop Dreams Criterion DVD Review Steve James Hoop Dreams Criterion DVD Review Steve James Hoop Dreams Criterion DVD Review Steve James Hoop Dreams Criterion DVD Review Steve James' Hoop Dreams - Criterion Region 1- NTSC Steve James Hoop Dreams Criterion DVD Review Steve James Hoop Dreams Criterion DVD Review Steve James Hoop Dreams Criterion DVD Review Steve James Hoop Dreams Criterion DVD Review Steve James Hoop Dreams Criterion DVD Review Steve James Hoop Dreams Criterion DVD Review Steve James Hoop Dreams Criterion DVD Review Steve James Hoop Dreams Criterion DVD Review Steve James Hoop Dreams Criterion DVD Review Steve James Hoop Dreams Criterion DVD Review Steve James Hoop Dreams Criterion DVD Review Steve James' Hoop Dreams - Criterion Region 1- NTSC Steve James Hoop Dreams Criterion DVD Review Steve James Hoop Dreams Criterion DVD Review Steve James Hoop Dreams Criterion DVD Review Steve James Hoop Dreams Criterion DVD Review Steve James Hoop Dreams Criterion DVD Review Steve James Hoop Dreams Criterion DVD Review Steve James Hoop Dreams Criterion DVD Review Steve James Hoop Dreams Criterion DVD Review Steve James Hoop Dreams Criterion DVD Review Steve James Hoop Dreams Criterion DVD Review Steve James Hoop Dreams Criterion DVD Review Steve James' Hoop Dreams - Criterion Region 1- NTSC Steve James Hoop Dreams Criterion DVD Review Steve James Hoop Dreams Criterion DVD Review Steve James Hoop Dreams Criterion DVD Review Steve James Hoop Dreams Criterion DVD Review Steve James Hoop Dreams Criterion DVD Review Steve James Hoop Dreams Criterion DVD Review Steve James Hoop Dreams Criterion DVD Review Steve James Hoop Dreams Criterion DVD Review Steve James Hoop Dreams Criterion DVD Review Steve James Hoop Dreams Criterion DVD Review Steve James Hoop Dreams Criterion DVD Review Steve James' Hoop Dreams - Criterion Region 1- NTSC Steve James Hoop Dreams Criterion DVD Review Steve James Hoop Dreams Criterion DVD Review Steve James Hoop Dreams Criterion DVD Review Steve James Hoop Dreams Criterion DVD Review Steve James Hoop Dreams Criterion DVD Review Steve James Hoop Dreams Criterion DVD Review Steve James Hoop Dreams Criterion DVD Review Steve James Hoop Dreams Criterion DVD Review Steve James Hoop Dreams Criterion DVD Review Steve James Hoop Dreams Criterion DVD Review Steve James Hoop Dreams Criterion DVD Review Steve James' Hoop Dreams - Criterion Region 1- NTSC Steve James Hoop Dreams Criterion DVD Review Steve James Hoop Dreams Criterion DVD Review Steve James Hoop Dreams Criterion DVD Review Steve James Hoop Dreams Criterion DVD Review Steve James Hoop Dreams Criterion DVD Review Steve James Hoop Dreams Criterion DVD Review Steve James Hoop Dreams Criterion DVD Review Steve James Hoop Dreams Criterion DVD Review Steve James Hoop Dreams Criterion DVD Review Steve James Hoop Dreams Criterion DVD Review Steve James Hoop Dreams Criterion DVD Review Steve James' Hoop Dreams - Criterion Region 1- NTSC Steve James Hoop Dreams Criterion DVD Review Steve James Hoop Dreams Criterion DVD Review Steve James Hoop Dreams Criterion DVD Review Steve James Hoop Dreams Criterion DVD Review Steve James Hoop Dreams Criterion DVD Review Steve James Hoop Dreams Criterion DVD Review Steve James Hoop Dreams Criterion DVD Review Steve James Hoop Dreams Criterion DVD Review Steve James Hoop Dreams Criterion DVD Review Steve James Hoop Dreams Criterion DVD Review Steve James Hoop Dreams Criterion DVD Review Steve James' Hoop Dreams - Criterion Region 1- NTSC Steve James Hoop Dreams Criterion DVD Review Steve James Hoop Dreams Criterion DVD Review Steve James Hoop Dreams Criterion DVD Review Steve James Hoop Dreams Criterion DVD Review Steve James Hoop Dreams Criterion DVD Review Steve James Hoop Dreams Criterion DVD Review Steve James Hoop Dreams Criterion DVD Review Steve James Hoop Dreams Criterion DVD Review Steve James Hoop Dreams Criterion DVD Review Steve James Hoop Dreams Criterion DVD Review Steve James Hoop Dreams Criterion DVD Review Steve James' Hoop Dreams - Criterion Region 1- NTSC Steve James Hoop Dreams Criterion DVD Review Steve James Hoop Dreams Criterion DVD Review Steve James Hoop Dreams Criterion DVD Review Steve James Hoop Dreams Criterion DVD Review Steve James Hoop Dreams Criterion DVD Review Steve James Hoop Dreams Criterion DVD Review Steve James Hoop Dreams Criterion DVD Review Steve James Hoop Dreams Criterion DVD Review Steve James Hoop Dreams Criterion DVD Review Steve James Hoop Dreams Criterion DVD Review Steve James Hoop Dreams Criterion DVD Review