DVDBeaver Warning: DO NOT BUY !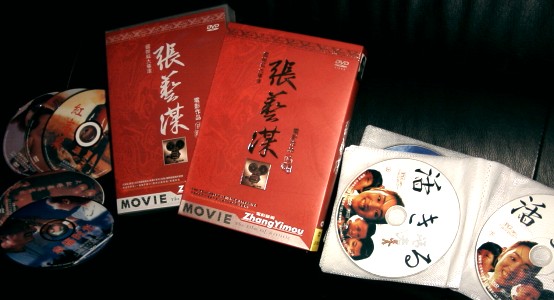 directed by Zhang Yimou
China - 1987 - 2001
An example of an EBay fraudulently advertised item. English subtitles are scarce (4 of 11 DVDs) and most of those are bootlegs of legitimate discs. We recommend avoiding.
Critics vacillate between whether Zhang Yimou is the real deal, or 'emperor is pant-less'. His body of varietal work though, cannot be ignored - stringent art drama to comedy to fantasy swordplay. Each project competed with his own unique and contemplative style. I say he is one of the greatest living directors, but suspect a legitimate Boxset of his work onto DVD will be a long while in waiting. A shame.
DVD Review: Stated on the Box as "Mei Ah" - Region 0 - NTSC
DVD Box Cover

Listed below::

DO NOT BUY !

Audio
Mostly Mandarin - (Dolby Digital 2.0 Dolby)
Subtitles
Various- mostly Chinese Traditional, Chinese Simplified, Japanese and a few with English
Features
Advertised as :

Brand new dvd collection box set, MFG factory sealed,11 dvds,10 films, optional English subtitles, dolby digital sound.

RARE DVD COLLECTION BOX!!!

1.Ju Dou
2.Raise the Red Lantern
3.The Story of Qiuju
4.To Live (2 discs,NO English Subtitles)
5.Shanghai Triad
6.Keep Cool (No English Subtitles)
7.Not One Less
8.The Road Home
9.Happy Times(No English Subtitles )
11. Red Sorghum (RARE)

BUT this is mostly untrue - see below for details!

Comments:

HOW I WAS ROOKED:

I saw the item on EBay HERE. It seemed worth the $9.99 gamble, so I purchased. It arrived fairly quickly and the packaging is fairly decent - a VHS box with 11 DVDs containing interconnected soft CD holders (see image above). I especially wanted to see "Red Sorghum". Unfortunately only 3 of the DVDs have English subtitles and they are bootlegs of Sony/Mei Ah DVDs that I already own (Shanghai Triad, The Story of Qui Ju and The Road Home). Raise the Red Lantern also has English subs burned in along with Chinese subtitles. A few of the discs are badly flawed and do not play all the way through. "Keep Cool" another Zhang film i wanted to see IS anamorphic but no English subtitles. I suggest that this is blatant flase advertising and others should beware as I se this seller is listing many copies of this "boxset" on EBay. DVDBeaver says "DO NOT BUY". The price is right for those who understand Mandarin, but we also do not encourage supporting illegal bootlegs. Plus many of the discs are flawed! out of
Recommended Reading in Chinese/Hong Kong/Taiwanese Cinema (CLICK COVERS or TITLES for more information)
Check out more in "The Library"
---
---
NOT ONE LESS
- No English subs (although menu states there is!)
SHANGHAI TRIAD
(Bootleg of Sony reviewed HERE) - does contain English subtitles
---
- Does have English subs, but has an annoying flicker at the top of the screen (most likely a bootleg) ! Eventually this message appears: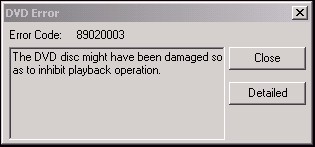 ---
KEEP COOL
- is anamorphic but has only Chinese and Japanese subtitles!
---
THE ROAD HOME
- is a bootleg of the Sony (complete with logo) compared HERE - does have English subs
---
THE STORY of QUI JU
- Same as Mei Ah DVD reviewed HERE
---
RED SORGHUM
- NO English subtitles !
Eventually this appears -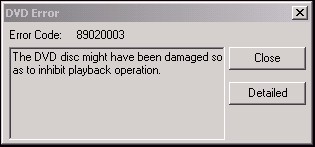 ---
TO LIVE
(2 disc) - is out of ratio and has no English subtitles
---
RAISE the RED LANTERN
- Appears to be the VERY POOR ERA version reviewed
HERE
! NO MENU's - ingrained subs!
---