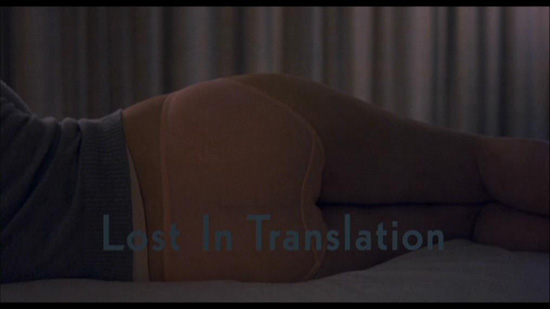 directed by Sofia Coppola
USA 2003
It is both with sheer defiance of conformity and with homage, Sofia Coppola opens the film with the image of Scarlett Johansson's rear in a pair of see-thru pink panties. The shot was original made by photographer maestro Richard Avedon, but here Coppola transposes the image from slick fashion to girlish eroticism, alluding the opening shot of Kubrick's "Lolita".

The story has been told many times again. Most celebrated in David Lean's "Brief Encounter", in modern times in Wong Kar Wai's "In the mood for love", it is the tale about how two strangers find comfort in each other. What differs is the motif. In "Lost in Translation", it is the existential crisis, where one needs to move on, but has no where to go.

Bob is an aged actor, who is on the run away from both his family and himself. Charlotte is an accessory to her husband. Both are looking for an answer, which will give it all meaning. They find it in each other.

What makes "Lost in Translation" so brilliant is the delicacy of the emotional bond between Bob and Charlotte, which Jim Hoberman notes as tribute to Japanese director Naruse. This porcelain love is only possible due to two great women: Director Sofia Coppola who never lets a scene die and Scarlett Johansson, who both stands out an incredible actor and one of the sweetest beings on earth. Thanks to some amazing cinematography by Lance Acord – and editing by the worlds best editor atm Sarah Flack – the compositions dwell in space and tence, maintaining the electricity between Bob and Charlotte. "Lost in Translation" is easy the best shot and edited film of 2003.

Equally impressive is the direction, which at times reminds one of Nouvelle Vague. There is a sense of rebellious freedom in the tracking shots. And as "In the mood for Love", "Lost in Translation" is largely improvised. The script, which oddly won an Oscar, is mere 20-30 pages of notes. Knowing this makes many scenes even more enjoyable: Watch for instance the two ladies in the back of the waiting room at the hospital and how they fight not to laugh as Bill Murray sits and improvises a comic relief scene.

Showing amazing talent for structure and timing in "Virgin Suicides", Sofia Coppola here demonstrates that she already is a great director, with a keen eye for what makes women (girls) so incredible sweet.

Posters
Theatrical Release: August 29, 2003 (Telluride Film Festival)
Reviews More Reviews DVD Reviews
DVD Review: Sandrew Metronome - Region 2 - PAL
Big thanks to Henrik Sylow for the Review!
DVD Box Cover

CLICK to order from:

Distribution

Sandrew Metronome

Region 2 - PAL

Runtime
1:37:30 (4% PAL speedup)
Video

1.85:1 Original Aspect Ratio

16X9 enhanced
Average Bitrate: 5.71 mb/s
PAL 720x576 25.00 f/s

Bitrate:

NOTE: The Vertical axis represents the bits transferred per second. The Horizontal is the time in minutes.

Audio
5.1 Dolby Digital English, DTS English
Subtitles
Danish, Swedish, Finnish, Norwegian, Icelandic, None
Features
Release Information:
Studio: Sandrew Metronome

Aspect Ratio:
Widescreen anamorphic - 1.85:1

Edition Details:
• 'Lost' on Location (29:43)
• Matthew's Best Hit TV (4:39)
• Kevin Shields' 'City Girl' video (3:00)
• Deleted scenes (10:41)
• A conversation with Bill Murray and Sofia Coppola (9:30)
• Theatrical trailer (2:08)

DVD Release Date: July 20, 2004
Keep case

Chapters 25

Comments
I really miss an audio commentary by the actors, as this is a film largely improvised and their comments would be both educational and highly informative. But instead we get the usual behind the scenes and some deleted scenes, which really doesn't add much (well, they were deleted and they don't appear like darlings). The only really good thing is the conversation with Murray and Coppola.

The DVD is crammed to the top. While this Danish DVD only has DTS and 5.1, the R1 DVD also has a 5.1 French track, reducing space for film even more. The DVD is so crammed, that the entire film (including DTS track) fits uncompressed on a DVD5. It is visible. While the picture is great, one can only imagine how it would have looked without the DTS and all the additional material.

The sound is nothing less than amazing. Incredible detailed, this really puts you in the middle. One of the best sound recordings I have heard this year.

WATCH OUT: there is a Full Screen edition with no additional material. Avoid it !!!

- Henrik Sylow
---



DVD Menus

---
Screen Captures