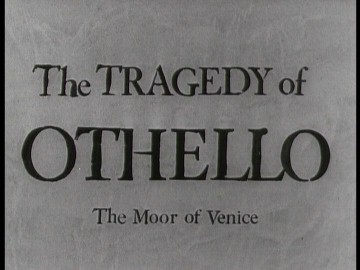 (aka "Othello" )


USA / Italy / France / Morocco 1952
From its opening shots, where the camera looks down on a solemn funeral procession, "Othello" exhibits Welles' flair for dramatic compositions. Instead of the tame eye-level visuals of many films of Shakespeare plays, where the camera is content to watch great actors saying great words, Welles approached "Othello" as a work intended at least equally for the eye.
Excerpt from Roger Ebert's review at the Chicago Sun-Times found HERE
Posters
Theatrical Release: September 22nd, 1952 - Greece
Reviews More Reviews DVD Reviews
DVD Review: Leevision - Region 0 - NTSC
Big thanks to Enrique B Chamorro for the Review!
DVD Box Cover

CLICK to order from:

Distribution

Leevision

Region 0 - NTSC

Runtime
1:32:57
Video

1.33:1 Original Aspect Ratio
Average Bitrate: 5.30 mb/s
NTSC 704x480 29.97 f/s

NOTE: The Vertical axis represents the bits transferred per second. The Horizontal is the time in minutes.

Bitrate:

Audio
English DD 2.0
Subtitles
English, Korean, none
Features
Release Information:
Studio: Leevision

Aspect Ratio:
Fullscreen - 1.33:1

Edition Details:
• Doc. - Restoring Othello 21:53 min. 4.86 mb/sec

DVD Release Date: 02/20/04
Plastic Keepcase

Chapters 12
Comments
The Korean R0 DVD uses the same data as the US Image R1 DVD. The same run time, bit rate graph, chapter stop locations and sound. It even has the same chapter menus and the same bonus documentary. The same text based filmorgraphy, only in Korean rather than English. Then why would you want the Korean DVD? It has ENGLISH SUBTITLES!

(Wait while I get up on my soapbox)
The audio has always been a problem with this version and was a major focus of the restoration, so subtitles are a huge benefit. Welles cut the play down to a mere 92 min, the 1995 Othello with Fishburne & Branagh runs 123 min and the BBC version with Anthony Hopkins and Bob Hoskins runs a full 208 min, so every word that Welles used is critical, subtitles help you pickup what you need. Subtitles assist in any Shakespearian adaptation, it could even be one of the biggest aids in making his plays accessible. If a text based info track was used, much like to supplemental tracks on the Star Trek Special Editions, then volumes of background information could be added to help make the plays easier to follow. Monty Python and the Holy Grail did the converse and used Shakespearean Subtitles from Henry IV Part II as a dry form of humor. The Image disc should have subtitles, a big oversight.
(Wait while I step down now, thanks)

The audio is as good as it's going to get. The music and sound effects were rerecorded and mixed in an effort to make it clearer. The picture is what it is, at times it can capture the image of Welles' vision, at times it rings with halos. I doubt it will be redone any time soon. The extras could have been an opportunity to shine, but again, it leaves you wanting more.

(Wait while I get up on my box again)
If Beatrice Welles-Smith could have negotiated with Criterion, than a whole world of supplements could have added greatly. The Criterion laserdisc had 36 chapter stops with the following; comm. by Peter Bogdanovich & Myron Meisel excerpts from 1979 doc. Filming Othello The short film Returning to Glennascaul starring Welles 3 excerpted interviews from the Italian doc. Rosabella comparisons of 4 versions Desdemon's death Welles' 1952, silent German 1922, Russian 1956, Italian opera 1986 with or without comm. by playwright Russ Lees. Information about the sidework Welles did to raise money for Othello The liner notes tied the chapter stops to the same location in the written play and added comments by Jonathan Rosenbaum. So much could have been added that is now almost impossible to get to.
(Please wait while I step down again)

Don't get me wrong, I an thrilled to have this film on DVD, I just want Moor.
---



DVD Menus
---
S
ubtitle Sample
Associated Reading (CLICK COVERS or TITLES for more information)
This is Orson Welles
by Orson Welles, Peter Bogdanovich, Jonathan Rosenbaum
Orson Welles on Shakespeare: The W.P.A. and Mercury Theatre Playscripts
by Orson Welles, Simon Callow, Richard France
Orson Welles: Interviews (Conversations with Filmmakers (Paperbacks))
by Orson Welles, Mark W. Estrin
The Trial
by Franz Kafka
Orson Welles : The Stories of His Life
by Peter Conrad
Rosebud : The Story of Orson Welles
by David Thomson
Encyclopedia of Orson Welles (Great Filmmakers)
by Chuck Berg, Tom Erskine, John C. Tibbetts, James M. Welsh, Thomas L. Erskine
Chimes at Midnight: Orson Welles, Director (Rutgers Films in Print)
by Bridget Gellert Lyons





Orson Welles' - The Tragedy of Othello: The Moor of Venice - DVD Review Orson Welles The Tragedy of Othello: The Moor of Venice DVD Review Orson Welles The Tragedy of Othello: The Moor of Venice DVD Review Orson Welles The Tragedy of Othello: The Moor of Venice DVD Review Orson Welles The Tragedy of Othello: The Moor of Venice DVD Review Orson Welles The Tragedy of Othello: The Moor of Venice DVD Review Orson Welles The Tragedy of Othello: The Moor of Venice DVD Review Orson Welles The Tragedy of Othello: The Moor of Venice DVD Review Orson Welles The Tragedy of Othello: The Moor of Venice DVD Review Orson Welles The Tragedy of Othello: The Moor of Venice DVD Review Orson Welles The Tragedy of Othello: The Moor of Venice DVD Review Orson Welles' - The Tragedy of Othello: The Moor of Venice - DVD Review Orson Welles The Tragedy of Othello: The Moor of Venice DVD Review Orson Welles The Tragedy of Othello: The Moor of Venice DVD Review Orson Welles The Tragedy of Othello: The Moor of Venice DVD Review Orson Welles The Tragedy of Othello: The Moor of Venice DVD Review Orson Welles The Tragedy of Othello: The Moor of Venice DVD Review Orson Welles The Tragedy of Othello: The Moor of Venice DVD Review Orson Welles The Tragedy of Othello: The Moor of Venice DVD Review Orson Welles The Tragedy of Othello: The Moor of Venice DVD Review Orson Welles The Tragedy of Othello: The Moor of Venice DVD Review Orson Welles The Tragedy of Othello: The Moor of Venice DVD Review Orson Welles' - The Tragedy of Othello: The Moor of Venice - DVD Review Orson Welles The Tragedy of Othello: The Moor of Venice DVD Review Orson Welles The Tragedy of Othello: The Moor of Venice DVD Review Orson Welles The Tragedy of Othello: The Moor of Venice DVD Review Orson Welles The Tragedy of Othello: The Moor of Venice DVD Review Orson Welles The Tragedy of Othello: The Moor of Venice DVD Review Orson Welles The Tragedy of Othello: The Moor of Venice DVD Review Orson Welles The Tragedy of Othello: The Moor of Venice DVD Review Orson Welles The Tragedy of Othello: The Moor of Venice DVD Review Orson Welles The Tragedy of Othello: The Moor of Venice DVD Review Orson Welles The Tragedy of Othello: The Moor of Venice DVD Review Orson Welles' - The Tragedy of Othello: The Moor of Venice - DVD Review Orson Welles The Tragedy of Othello: The Moor of Venice DVD Review Orson Welles The Tragedy of Othello: The Moor of Venice DVD Review Orson Welles The Tragedy of Othello: The Moor of Venice DVD Review Orson Welles The Tragedy of Othello: The Moor of Venice DVD Review Orson Welles The Tragedy of Othello: The Moor of Venice DVD Review Orson Welles The Tragedy of Othello: The Moor of Venice DVD Review Orson Welles The Tragedy of Othello: The Moor of Venice DVD Review Orson Welles The Tragedy of Othello: The Moor of Venice DVD Review Orson Welles The Tragedy of Othello: The Moor of Venice DVD Review Orson Welles The Tragedy of Othello: The Moor of Venice DVD Review Orson Welles' - The Tragedy of Othello: The Moor of Venice - DVD Review Orson Welles The Tragedy of Othello: The Moor of Venice DVD Review Orson Welles The Tragedy of Othello: The Moor of Venice DVD Review Orson Welles The Tragedy of Othello: The Moor of Venice DVD Review Orson Welles The Tragedy of Othello: The Moor of Venice DVD Review Orson Welles The Tragedy of Othello: The Moor of Venice DVD Review Orson Welles The Tragedy of Othello: The Moor of Venice DVD Review Orson Welles The Tragedy of Othello: The Moor of Venice DVD Review Orson Welles The Tragedy of Othello: The Moor of Venice DVD Review Orson Welles The Tragedy of Othello: The Moor of Venice DVD Review Orson Welles The Tragedy of Othello: The Moor of Venice DVD Review Orson Welles' - The Tragedy of Othello: The Moor of Venice - DVD Review Orson Welles The Tragedy of Othello: The Moor of Venice DVD Review Orson Welles The Tragedy of Othello: The Moor of Venice DVD Review Orson Welles The Tragedy of Othello: The Moor of Venice DVD Review Orson Welles The Tragedy of Othello: The Moor of Venice DVD Review Orson Welles The Tragedy of Othello: The Moor of Venice DVD Review Orson Welles The Tragedy of Othello: The Moor of Venice DVD Review Orson Welles The Tragedy of Othello: The Moor of Venice DVD Review Orson Welles The Tragedy of Othello: The Moor of Venice DVD Review Orson Welles The Tragedy of Othello: The Moor of Venice DVD Review Orson Welles The Tragedy of Othello: The Moor of Venice DVD Review Orson Welles' - The Tragedy of Othello: The Moor of Venice - DVD Review Orson Welles The Tragedy of Othello: The Moor of Venice DVD Review Orson Welles The Tragedy of Othello: The Moor of Venice DVD Review Orson Welles The Tragedy of Othello: The Moor of Venice DVD Review Orson Welles The Tragedy of Othello: The Moor of Venice DVD Review Orson Welles The Tragedy of Othello: The Moor of Venice DVD Review Orson Welles The Tragedy of Othello: The Moor of Venice DVD Review Orson Welles The Tragedy of Othello: The Moor of Venice DVD Review Orson Welles The Tragedy of Othello: The Moor of Venice DVD Review Orson Welles The Tragedy of Othello: The Moor of Venice DVD Review Orson Welles The Tragedy of Othello: The Moor of Venice DVD Review Orson Welles' - The Tragedy of Othello: The Moor of Venice - DVD Review Orson Welles The Tragedy of Othello: The Moor of Venice DVD Review Orson Welles The Tragedy of Othello: The Moor of Venice DVD Review Orson Welles The Tragedy of Othello: The Moor of Venice DVD Review Orson Welles The Tragedy of Othello: The Moor of Venice DVD Review Orson Welles The Tragedy of Othello: The Moor of Venice DVD Review Orson Welles The Tragedy of Othello: The Moor of Venice DVD Review Orson Welles The Tragedy of Othello: The Moor of Venice DVD Review Orson Welles The Tragedy of Othello: The Moor of Venice DVD Review Orson Welles The Tragedy of Othello: The Moor of Venice DVD Review Orson Welles The Tragedy of Othello: The Moor of Venice DVD Review Orson Welles' - The Tragedy of Othello: The Moor of Venice - DVD Review Orson Welles The Tragedy of Othello: The Moor of Venice DVD Review Orson Welles The Tragedy of Othello: The Moor of Venice DVD Review Orson Welles The Tragedy of Othello: The Moor of Venice DVD Review Orson Welles The Tragedy of Othello: The Moor of Venice DVD Review Orson Welles The Tragedy of Othello: The Moor of Venice DVD Review Orson Welles The Tragedy of Othello: The Moor of Venice DVD Review Orson Welles The Tragedy of Othello: The Moor of Venice DVD Review Orson Welles The Tragedy of Othello: The Moor of Venice DVD Review Orson Welles The Tragedy of Othello: The Moor of Venice DVD Review Orson Welles The Tragedy of Othello: The Moor of Venice DVD Review Orson Welles' - The Tragedy of Othello: The Moor of Venice - DVD Review Orson Welles The Tragedy of Othello: The Moor of Venice DVD Review Orson Welles The Tragedy of Othello: The Moor of Venice DVD Review Orson Welles The Tragedy of Othello: The Moor of Venice DVD Review Orson Welles The Tragedy of Othello: The Moor of Venice DVD Review Orson Welles The Tragedy of Othello: The Moor of Venice DVD Review Orson Welles The Tragedy of Othello: The Moor of Venice DVD Review Orson Welles The Tragedy of Othello: The Moor of Venice DVD Review Orson Welles The Tragedy of Othello: The Moor of Venice DVD Review Orson Welles The Tragedy of Othello: The Moor of Venice DVD Review Orson Welles The Tragedy of Othello: The Moor of Venice DVD Review