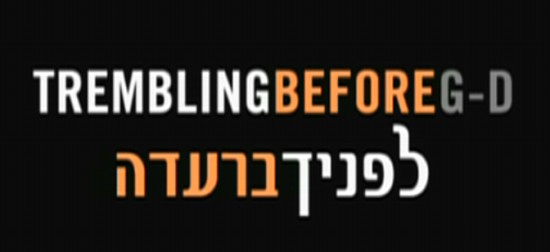 (aka 'Ils tremblent devant Dieu')
directed by Sandi Simcha Dubowski
USA/France/Israel 2001
"If a man lies with a man as he lieth with a woman, both of them have committed an abomination: they shall surely be put to death."
That quote, from Leviticus 20:13
"Trembling Before G*d," is a frank documentary about Orthodox and Hasidic Jews who also happen to be homosexual... gay men and lesbian women who are also deeply religious. Director Sandi Simcha DuBowski's film interviews many caught in this conflicted dichotomy as according to many interpretations, homosexuality is forbidden by the Torah. What interested me about this film was that it opened a previously taboo subject although I suggest that the points could have been made more subtly - and produced a more impacting result. However, the one-sided-ness is perhaps, unfortunately, necessary in regards to the subject matter. The body of the film constituted many interviews with both Jewish religious leaders, physiologists and both open homosexuals and those wishing to keep their identities concealed. The subject matter was not of great interest to me in the start of my viewing, as I am neither Jewish nor homosexual, but as it progressed I found myself caught up in the struggle of dealing with many innocent individuals and the extreme prejudicial behavior towards them.
In the country I live, Canada, the same sex marriage issue is dividing society and it has only helped to expose many of the unjust feelings that individuals usually keep hidden. This is a good thing as seething, unspoken prejudice is most difficult to deal with. The Church is the biggest institution leading this outcry.
As we look back at films like "In the Heat of the Night" and scratch our heads at the inequities, so will generations after us when watching "Trembling Before G*d". This film has attempted a bold step and should be soundly applauded at its efforts. I wouldn't say that the manner in which it was filmed was especially appealing, but the subject was captivating while exposing the human condition.

out of

Theatrical Release: January 2001 (Sundance Film Festival)
Reviews More Reviews DVD Reviews Official Site
DVD Review: New Yorker - Region 1 - NTSC
DVD Box Cover

CLICK to order from:

NOTE: Purchases through DVDBeaver's links to Amazon help keep us afloat and advertisement free!

Distribution
New Yorker Films - Region 1 - NTSC
Runtime
1:24:18
Video
1.78:1.00 Letterboxed WideScreen / 16X9 enhanced
Average Bitrate: 5.76 mb/s
NTSC 720x480 29.97 f/s
Bitrate:

Audio
English (Dolby Digital 2.0 Mono) + occasional translated Hebrew.
Subtitles
Hebrew, Yiddish, Spanish, None
Features
Release Information:
Studio: New Yorker Video


Aspect ratio:

1.78:1 Widescreen Anamorphic

Edition Details:
• Color, Closed-captioned
• Theatrical trailer - non-anamorphic widescreen (2:04)
• Featurette - TREMBLING ON THE ROAD: A look at the life-changing movement of the film around the world (37:27)
• Director's Short Film - TOMBOYCHIK (15:16)
• Interview With the Director, Sandi Simcha Dubowski (19:33)
• Conversation with Editor/Creative Collaborator, Susan Korda (7:51)
• More With Rabbi Steve Greenberg: The First Openly Gay Orthodox Rabbi (22:32)
• More With the Rabbis

• Shlomo on Donahue (1:56)
• Behind the Silhouettes (4:13)
• Petach Lev: The Trembling Israeli Education Project
• Mark: The Musical - non-anamorphic widescreen (3:37)
• Deleted Scene: Sara and Her Kids (2:25)
• What is the Atonement Ceremony for Sexual Sins? (1:52)
• International Resources, Links and Glossary
• Number of discs: 2

DVD Release Date: October 21, 2003
Dual Digi-pak inside slipcase
Chapters: 20

Comments:

This is a rather extensive DVD offering from New Yorker. The quality of the image seems to be superior to many of their product in the past with accurate bright colors. The facial detail is slightly marred by New Yorker's typical conversion process, but on a 35 inch tube TV it was totally unnoticeable. I did note that the animated menu had some "ghosting" although the image in the film and Extras were free of it. The sound quality was quite acceptable and the 'shining star' of this presentation are the extensive Extras which could be compared to, and perhaps exceed Criterion levels. I found these Extras quite helpful and they definitely accentuated the documentary putting a further human face on the participants. There are no English subtitles although they are available in Yiddish, Hebrew and Spanish. The dialogue was always translated though (to English) when Hebrew was used by the interviewees. New Yorker produces as good a DVD5 (single layered disc - less than 4.7 GIG) as anyone, but sometime soon they should bump their product up to dual layer and increase their image quality. Still they really went to town on this and it deserves a solid out of Gary W. Tooze
---
DVD Menus
---
Subtitle Sample
Screen Captures
---
---
---




DONATIONS Keep DVDBeaver alive and advertisement free:
Mail cheques, money orders, cash to: or CLICK PayPal logo to donate!
Gary Tooze

Mississauga, Ontario,

CANADA