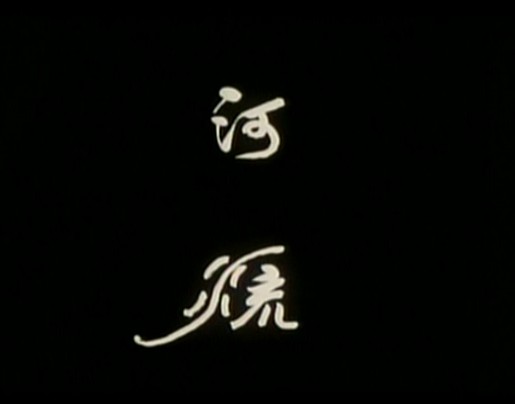 (aka'The River or 'He liu')

"I have always wanted to probe deeper into the roots of humanity. While shooting The River, I kept reminding myself to probe into the deeper, the darker half of ourselves. We don't always live happily ever after. Materialism boosts human greed to an unglorious height. We have everything we ever wanted, yet there is something lurking in the dark to keep us from being really happy."
-- Tsai Ming-Liang
Following similar themes in his previous films 'Vive L'Amour' and 'Rebels of the Neon God' with isolated relationships, East Malaysian born Ming-liang Tsai's The River 's character interaction is distant, impersonal and segregated. The prevailing family unit almost behaves unilaterally with the limited communication skills. Three individuals going their separate ways, performing most of life's routine daily rituals entirely by themselves which is almost an exact parallel to Vive L'Amour. Heavy moods with physical ailment masking as emotional ones and sexual deviance (as seen in his future offering 'What Time is it There?') is shown as a symptomatic vent for invisible communication. A worthwhile effort and evenly-paced, but even at this point we can already see the start of the directors creative process and themes forming repetitious circles.

WellSpring Media Region 1 DVD
DVD Box Cover

Distribution
Wellspring Media Region 1 - NTSC
Runtime
1:53:00
Video
1.85:1.00 Letterboxed WideScreen / non- anamorphic
Average Bitrate: 4.16 mb/s
NTSC 720x480 29.97 f/s
Bitrate: Alliance Atlantis

Audio
Mandarin Chinese (Dolby Digital 2.0 Stereo)
Subtitles
English, None
Features
Release Information:
Studio: Wellspring Media, Inc.
Theatrical Release Date: January 1, 1997


Aspect Ratio(s):
Widescreen letterbox - 1.85:1

Discographic Information:
DVD Encoding: Region 1

Edition Details:
• Region 1 encoding (US and Canada only)
• Web links

• Filmographies
• Non-anamorphic widescreen 1.85:1 trailers : Flowers of Shanghai (1:30) English narration
• Non-anamorphic widescreen 1.85:1 trailers : The River (1:19) English narration
• Non-anamorphic widescreen 1.85:1 trailers : What Time is it There (2:17) English narration
• Pan and Scan trailer Yi Yi (1:46) English narration

DVD Release Date: February 4, 2003
Keep Case
Chapters: 24
| | |
| --- | --- |
| Comments: | The transfer is a little disappointing. Weaker than the previous WellSpring DVD Tsai film, "What Time is it There". This print shows a lot of hazy, dull colors, is NOT anamorphic but is miles ahead of the extremely dark VHS copy that I have. This DVD has a fairly clean, if not sharp picture. There is no commentary, but some good web links, 4 Trailers (see above) and filmographies. Good job by Wellspring to bring this to DVD, but as I am such a fan of the director I was hoping for more, but I suppose it is too eclectic to spend money on, from a 'profit' standpoint. out of |
---

DVD Menus
| | |
| --- | --- |
| | |
| | |
---
Screen Captures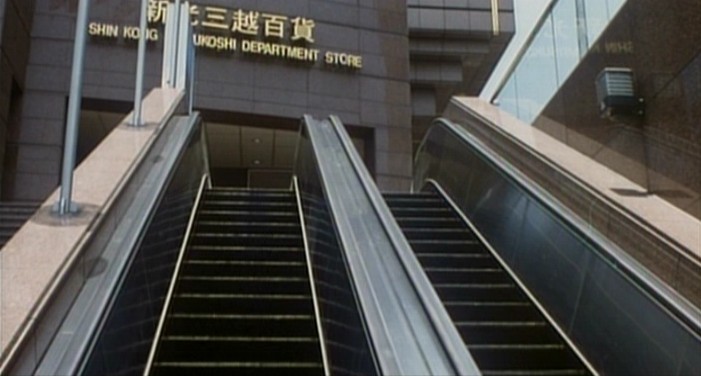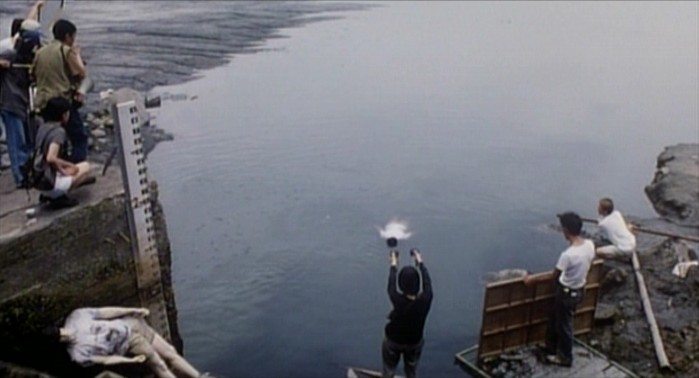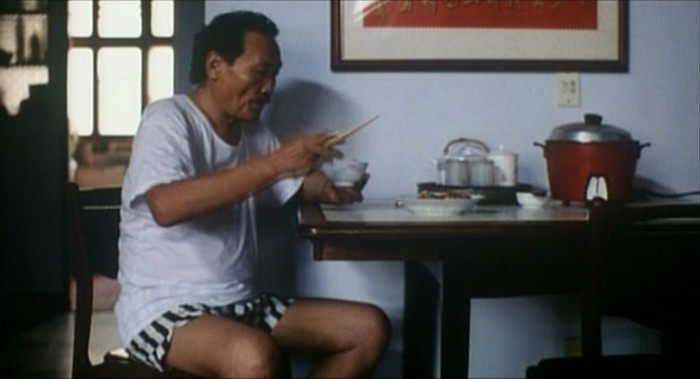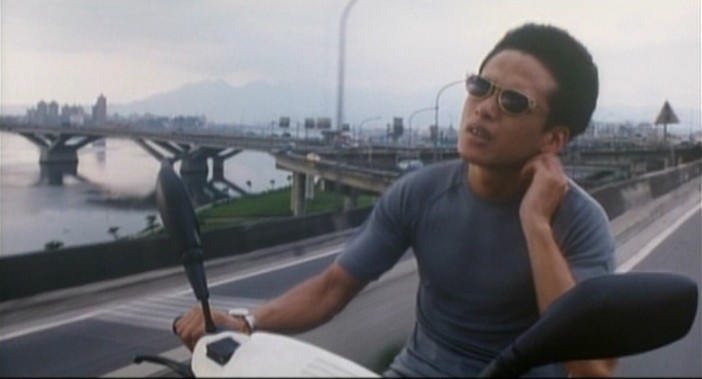 ---




DONATIONS Keep DVDBeaver alive and advertisement free:
Mail cheques, money orders, cash to: or CLICK PayPal logo to donate!
Thank You!
Ming-liang Tsai's - The River - He liu DVD Review Ming-liang Tsai The River He liu DVD Review Ming-liang Tsai The River He liu DVD Review Ming-liang Tsai The River He liu DVD Review Ming-liang Tsai The River He liu DVD Review Ming-liang Tsai The River He liu DVD Review Ming-liang Tsai The River He liu DVD Review Ming-liang Tsai The River He liu DVD Review Ming-liang Tsai The River He liu DVD Review Ming-liang Tsai The River He liu DVD Review Ming-liang Tsai The River He liu DVD Review Ming-liang Tsai The River He liu DVD Review Ming-liang Tsai The River He liu DVD Review Ming-liang Tsai's - The River - He liu DVD Review Ming-liang Tsai The River He liu DVD Review Ming-liang Tsai The River He liu DVD Review Ming-liang Tsai The River He liu DVD Review Ming-liang Tsai The River He liu DVD Review Ming-liang Tsai The River He liu DVD Review Ming-liang Tsai The River He liu DVD Review Ming-liang Tsai The River He liu DVD Review Ming-liang Tsai The River He liu DVD Review Ming-liang Tsai The River He liu DVD Review Ming-liang Tsai The River He liu DVD Review Ming-liang Tsai The River He liu DVD Review Ming-liang Tsai The River He liu DVD Review Ming-liang Tsai's - The River - He liu DVD Review Ming-liang Tsai The River He liu DVD Review Ming-liang Tsai The River He liu DVD Review Ming-liang Tsai The River He liu DVD Review Ming-liang Tsai The River He liu DVD Review Ming-liang Tsai The River He liu DVD Review Ming-liang Tsai The River He liu DVD Review Ming-liang Tsai The River He liu DVD Review Ming-liang Tsai The River He liu DVD Review Ming-liang Tsai The River He liu DVD Review Ming-liang Tsai The River He liu DVD Review Ming-liang Tsai The River He liu DVD Review Ming-liang Tsai The River He liu DVD Review Ming-liang Tsai's - The River - He liu DVD Review Ming-liang Tsai The River He liu DVD Review Ming-liang Tsai The River He liu DVD Review Ming-liang Tsai The River He liu DVD Review Ming-liang Tsai The River He liu DVD Review Ming-liang Tsai The River He liu DVD Review Ming-liang Tsai The River He liu DVD Review Ming-liang Tsai The River He liu DVD Review Ming-liang Tsai The River He liu DVD Review Ming-liang Tsai The River He liu DVD Review Ming-liang Tsai The River He liu DVD Review Ming-liang Tsai The River He liu DVD Review Ming-liang Tsai The River He liu DVD Review Ming-liang Tsai's - The River - He liu DVD Review Ming-liang Tsai The River He liu DVD Review Ming-liang Tsai The River He liu DVD Review Ming-liang Tsai The River He liu DVD Review Ming-liang Tsai The River He liu DVD Review Ming-liang Tsai The River He liu DVD Review Ming-liang Tsai The River He liu DVD Review Ming-liang Tsai The River He liu DVD Review Ming-liang Tsai The River He liu DVD Review Ming-liang Tsai The River He liu DVD Review Ming-liang Tsai The River He liu DVD Review Ming-liang Tsai The River He liu DVD Review Ming-liang Tsai The River He liu DVD Review Ming-liang Tsai's - The River - He liu DVD Review Ming-liang Tsai The River He liu DVD Review Ming-liang Tsai The River He liu DVD Review Ming-liang Tsai The River He liu DVD Review Ming-liang Tsai The River He liu DVD Review Ming-liang Tsai The River He liu DVD Review Ming-liang Tsai The River He liu DVD Review Ming-liang Tsai The River He liu DVD Review Ming-liang Tsai The River He liu DVD Review Ming-liang Tsai The River He liu DVD Review Ming-liang Tsai The River He liu DVD Review Ming-liang Tsai The River He liu DVD Review Ming-liang Tsai The River He liu DVD Review Ming-liang Tsai's - The River - He liu DVD Review Ming-liang Tsai The River He liu DVD Review Ming-liang Tsai The River He liu DVD Review Ming-liang Tsai The River He liu DVD Review Ming-liang Tsai The River He liu DVD Review Ming-liang Tsai The River He liu DVD Review Ming-liang Tsai The River He liu DVD Review Ming-liang Tsai The River He liu DVD Review Ming-liang Tsai The River He liu DVD Review Ming-liang Tsai The River He liu DVD Review Ming-liang Tsai The River He liu DVD Review Ming-liang Tsai The River He liu DVD Review Ming-liang Tsai The River He liu DVD Review Ming-liang Tsai's - The River - He liu DVD Review Ming-liang Tsai The River He liu DVD Review Ming-liang Tsai The River He liu DVD Review Ming-liang Tsai The River He liu DVD Review Ming-liang Tsai The River He liu DVD Review Ming-liang Tsai The River He liu DVD Review Ming-liang Tsai The River He liu DVD Review Ming-liang Tsai The River He liu DVD Review Ming-liang Tsai The River He liu DVD Review Ming-liang Tsai The River He liu DVD Review Ming-liang Tsai The River He liu DVD Review Ming-liang Tsai The River He liu DVD Review Ming-liang Tsai The River He liu DVD Review Ming-liang Tsai's - The River - He liu DVD Review Ming-liang Tsai The River He liu DVD Review Ming-liang Tsai The River He liu DVD Review Ming-liang Tsai The River He liu DVD Review Ming-liang Tsai The River He liu DVD Review Ming-liang Tsai The River He liu DVD Review Ming-liang Tsai The River He liu DVD Review Ming-liang Tsai The River He liu DVD Review Ming-liang Tsai The River He liu DVD Review Ming-liang Tsai The River He liu DVD Review Ming-liang Tsai The River He liu DVD Review Ming-liang Tsai The River He liu DVD Review Ming-liang Tsai The River He liu DVD Review Ming-liang Tsai's - The River - He liu DVD Review Ming-liang Tsai The River He liu DVD Review Ming-liang Tsai The River He liu DVD Review Ming-liang Tsai The River He liu DVD Review Ming-liang Tsai The River He liu DVD Review Ming-liang Tsai The River He liu DVD Review Ming-liang Tsai The River He liu DVD Review Ming-liang Tsai The River He liu DVD Review Ming-liang Tsai The River He liu DVD Review Ming-liang Tsai The River He liu DVD Review Ming-liang Tsai The River He liu DVD Review Ming-liang Tsai The River He liu DVD Review Ming-liang Tsai The River He liu DVD Review Ming-liang Tsai's - The River - He liu DVD Review Ming-liang Tsai The River He liu DVD Review Ming-liang Tsai The River He liu DVD Review Ming-liang Tsai The River He liu DVD Review Ming-liang Tsai The River He liu DVD Review Ming-liang Tsai The River He liu DVD Review Ming-liang Tsai The River He liu DVD Review Ming-liang Tsai The River He liu DVD Review Ming-liang Tsai The River He liu DVD Review Ming-liang Tsai The River He liu DVD Review Ming-liang Tsai The River He liu DVD Review Ming-liang Tsai The River He liu DVD Review Ming-liang Tsai The River He liu DVD Review