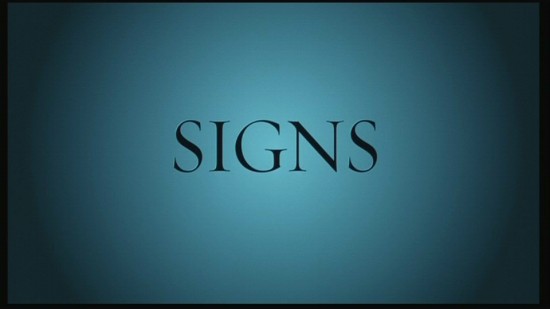 ( aka 'M. Night Shyamalan's Signs' )
directed by M. Night Shyamalan
USA 2002
Taking cues from classic films of the past including Hitchcock's 'The Birds', George Romero's 'Night of the Living Dead' and Siegel's Invasion of the Body Snatchers, M. Night Shyamalan has written produced and directed and old fashioned intriguing sci-fi suspense story. I fully enjoyed his previous film, 'Unbreakable', and his slight diversion from standard Hollywood formula has proven a big success with most, although his detractors are growing. 'Signs' is slick, smart, and keeps you on the edge of your seat with fine performances, subtle humor and slight references to faith and conviction. I won't go overboard and say 'masterpiece' but Shyamalan's style is certainly more captivating than a similar over-hyped Speilbergian generic sci-fi thriller (say War of the Worlds as one example). Night seems driven more by instinct and belief in his ideas of the film's creation and even if his goal is still sale-ability at least his methodology is not fraught with the complexities of over-production. His efforts to avoiding the obvious vein of CGI and special effects are likewise admirable. I love the direction this guy is headed!

Gary Tooze
Posters (Click to enlarge)
Reviews More Reviews DVD Reviews
DVD Comparison:
Buena Vista Series Region 1
NTSC vs. Buena Vista 'Collector's Edition' - Region 2- NTSC
(Buena Vista Series - Region 1 NTSC LEFT vs. Buena Vista 'Collector's Edition' - Region 2- NTSC RIGHT)
DVD Box Cover

Distribution
Buena Vista - Region 1 - NTSC
Buena Vista - Region 2 - NTSC
Runtime
1:46:20
1:46:20
Video
1.85:1.00 Letterboxed WideScreen / anamorphic
Average Bitrate: 6.1 mb/s
NTSC 720x480 29.97 f/s
1.85:1.00 Letterboxed WideScreen / anamorphic
Average Bitrate: 6.66 mb/s
NTSC 720x480 29.97 f/s
Bitrate: Buena Vista

Bitrate: Buena Vista (Japan)

Audio
English (Dolby Digital 5.1), French (Dolby Digital 2.0 Surround) , THX Certified
English (Dolby Digital 5.1), Japanese (Dolby Digital 2.0 Surround) , THX Certified
Subtitles
English Close-captioned for the hearing impaired, None
English, Japanese, None
Features

Release Information:
Production Company: Buena Vista

Aspect Ratio:
Widescreen anamorphic - 1.85:1

Edition Details:
• The Making of Signs - Exclusive six-part documentary exploring the movie from idea to marketing . Divided into six parts - "Looking for Signs" (6:11), "Building Signs" (8:02), "Making Signs" (22:33), "Effects of Signs" (8:31), "Last Voices: The Music of Signs" (8:26) and "Full Circle" (4:48)
• 5 Deleted Scenes (7 minutes in total): "Graham and Merrill," "Flashbacks #1 & #2," "Dead Bird," and "Alien in the Attic."
• Storyboards: Multi-Angle Feature
• M.Night Shyamalan's First Alien Film

DVD Release Date: January 7th 2003
Keep Case
Chapters: 21

Release Information:
Production Company: Buena Vista

Aspect Ratio:
Widescreen anamorphic - 1.85:1

Edition Details:
• The Making of Signs - Exclusive six-part documentary exploring the movie from idea to marketing . Divided into six parts - "Looking for Signs" (6:11), "Building Signs" (8:02), "Making Signs" (22:33), "Effects of Signs" (8:31), "Last Voices: The Music of Signs" (8:26) and "Full Circle" (4:48)
• 5 Deleted Scenes (7 minutes in total): "Graham and Merrill," "Flashbacks #1 & #2," "Dead Bird," and "Alien in the Attic."
• Storyboards: Multi-Angle Feature
• M.Night Shyamalan's First Alien Film

DVD Release Date: Martch 7th 2003
Keep Case
Chapters: 21
Comments:
Although the Region 1 DVD is called 'Vista Series' and the Japanese Region 2 is labeled 'Collector's Edition' - they are virtually identical - sharpness, colors - both anamorphic and progressive. The extras, as far as I can tell, are duplicated. The only differences I see in the two DVDs are:

1) The Region 2 is brighter.

2) The Region 1 has bright yellow optional English subtitles and the Region 2 are white (offering both Japanese and English).

3)

The Region 1 is slightly cropped on both side edges.

4) The Region 1 offers a French DUB option, the Region 2 - a Japanese one.

I feel very alone in extolling this film, and Shyamalan in general. As he matures he continues to veer further away from creating mass-market Hollywood blockbusters - this is strongly to his credit because it is my belief that he already is fully aware of that process. He is approaching narrative structure cinema and as he is such an accomplished plot/script writer that his abilities can only sharpen. Trust me folks - this guy is one of the futures of modern cinema as we know it. The Sixth Sense, Unbreakable, Signs and The Village are just scratching the surface of his potential. M Night Shyamalan will be someone to keep your eyes on... for the next couple of decades.

Gary W. Tooze
---
DVD Menus
(Buena Vista Series - Region 1 NTSC LEFT vs. Buena Vista 'Collector's Edition' - Region 2- NTSC RIGHT)

---
Subtitle Samples
(Buena Vista Series - Region 1 NTSC TOP vs. Buena Vista 'Collector's Edition' - Region 2- NTSC BOTTOM)

---
Screen Captures
(Buena Vista Series - Region 1 NTSC TOP vs. Buena Vista 'Collector's Edition' - Region 2- NTSC BOTTOM)
---
(Buena Vista Series - Region 1 NTSC TOP vs. Buena Vista 'Collector's Edition' - Region 2- NTSC BOTTOM)
---
(Buena Vista Series - Region 1 NTSC TOP vs. Buena Vista 'Collector's Edition' - Region 2- NTSC BOTTOM)
---
(Buena Vista Series - Region 1 NTSC TOP vs. Buena Vista 'Collector's Edition' - Region 2- NTSC BOTTOM)
---
(Buena Vista Series - Region 1 NTSC TOP vs. Buena Vista 'Collector's Edition' - Region 2- NTSC BOTTOM)
---
(Buena Vista Series - Region 1 NTSC TOP vs. Buena Vista 'Collector's Edition' - Region 2- NTSC BOTTOM)
---
(Buena Vista Series - Region 1 NTSC TOP vs. Buena Vista 'Collector's Edition' - Region 2- NTSC BOTTOM)
---