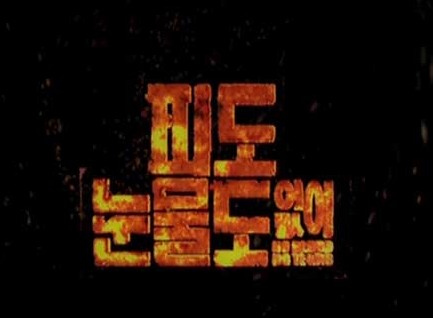 No Blood No Tears
(aka 'Pido nunmuldo eobshi')
directed by Seung-wan Ryoo
South Korea 2002
Directed by RYU Seung-wan (Die bad) and starring JEON Do-yeon (The Happy End) as a bimbo and the veteran LEE Hye-young (Bet On My Disco) as a down and out mother.
I think Snatch would be a fair comparison with this movie but with loads and loads of violence added. A fight breaks out every 10 mins and its a 2 hour film! Its not as clever or as amusing as Snatch and the characters aren't as well defined but they are all still fun to watch (there must be a cast of 20+ people you have to follow in this movie). Polished, well made and I do like the ending but the constant fighting was a little too much for someone like me who's soft inside.

Good ending but takes its time getting there as there are too many people on the way needing a smack on the chops! ...

Recommended Books on Korean Cinema (CLICK COVERS or TITLES for more information)
DVD REVIEW: Cinema Service Region 3 (0)
DVD Box Cover

Distribution
Cinema Service Region 0 - NTSC
Runtime
1:56:00 minutes
Video

1.85:1.00 Letterboxed WideScreen 16X9 enhanced
NTSC 720x480 29.97 f/s

Bit-rate: 6.0 bps

NOTE: The Vertical axis represents the bits transferred per second. The Horizontal is the time in minutes.

Bitrate:

Audio
Korean DD5.1 and Audio Commentary (Korean)
Subtitles
English (Very good) and Korean Subs
Features

Released by 20th Century Fox/Cinema Service

DVD-9 ( Single side , Dual layer )

- Deleted Scenes (13 Mins)

- Theatrical Trailer and 2 TV Spots

- Highlight (15 Min edit of film)

- Cast and Director Interviews

- Pulp noir is ... (Korean Text)


The DVD is packed with features and has great Picture and sound no complaints. Kin Ho
---
DVD Menus
---
Screen Captures
DVD Box Cover

Distribution
Cinema Service Region 0 - NTSC
---

---





Seung-wan Ryoo's - No Blood No Tears - Pido nunmuldo eobshi - DVD Review Seung-wan Ryoo - No Blood No Tears - Pido nunmuldo eobshi - DVD Review Seung-wan Ryoo's - No Blood No Tears - Pido nunmuldo eobshi - DVD Review Seung-wan Ryoo - No Blood No Tears - Pido nunmuldo eobshi - DVD Review Seung-wan Ryoo's - No Blood No Tears - Pido nunmuldo eobshi - DVD Review Seung-wan Ryoo - No Blood No Tears - Pido nunmuldo eobshi - DVD Review Seung-wan Ryoo - No Blood No Tears - Pido nunmuldo eobshi - DVD Review Seung-wan Ryoo - No Blood No Tears - Pido nunmuldo eobshi - DVD Review Seung-wan Ryoo's - No Blood No Tears - Pido nunmuldo eobshi - DVD Review Seung-wan Ryoo - No Blood No Tears - Pido nunmuldo eobshi - DVD Review Seung-wan Ryoo's - No Blood No Tears - Pido nunmuldo eobshi - DVD Review Seung-wan Ryoo - No Blood No Tears - Pido nunmuldo eobshi - DVD Review Seung-wan Ryoo's - No Blood No Tears - Pido nunmuldo eobshi - DVD Review Seung-wan Ryoo - No Blood No Tears - Pido nunmuldo eobshi - DVD Review Seung-wan Ryoo's - No Blood No Tears - Pido nunmuldo eobshi - DVD Review Seung-wan Ryoo - No Blood No Tears - Pido nunmuldo eobshi - DVD Review Seung-wan Ryoo - No Blood No Tears - Pido nunmuldo eobshi - DVD Review Seung-wan Ryoo - No Blood No Tears - Pido nunmuldo eobshi - DVD Review Seung-wan Ryoo's - No Blood No Tears - Pido nunmuldo eobshi - DVD Review Seung-wan Ryoo - No Blood No Tears - Pido nunmuldo eobshi - DVD Review Seung-wan Ryoo's - No Blood No Tears - Pido nunmuldo eobshi - DVD Review Seung-wan Ryoo - No Blood No Tears - Pido nunmuldo eobshi - DVD Review Seung-wan Ryoo's - No Blood No Tears - Pido nunmuldo eobshi - DVD Review Seung-wan Ryoo - No Blood No Tears - Pido nunmuldo eobshi - DVD Review Seung-wan Ryoo's - No Blood No Tears - Pido nunmuldo eobshi - DVD Review Seung-wan Ryoo - No Blood No Tears - Pido nunmuldo eobshi - DVD Review Seung-wan Ryoo - No Blood No Tears - Pido nunmuldo eobshi - DVD Review Seung-wan Ryoo - No Blood No Tears - Pido nunmuldo eobshi - DVD Review Seung-wan Ryoo's - No Blood No Tears - Pido nunmuldo eobshi - DVD Review Seung-wan Ryoo - No Blood No Tears - Pido nunmuldo eobshi - DVD Review Seung-wan Ryoo's - No Blood No Tears - Pido nunmuldo eobshi - DVD Review Seung-wan Ryoo - No Blood No Tears - Pido nunmuldo eobshi - DVD Review Seung-wan Ryoo's - No Blood No Tears - Pido nunmuldo eobshi - DVD Review Seung-wan Ryoo - No Blood No Tears - Pido nunmuldo eobshi - DVD Review Seung-wan Ryoo's - No Blood No Tears - Pido nunmuldo eobshi - DVD Review Seung-wan Ryoo - No Blood No Tears - Pido nunmuldo eobshi - DVD Review Seung-wan Ryoo - No Blood No Tears - Pido nunmuldo eobshi - DVD Review Seung-wan Ryoo - No Blood No Tears - Pido nunmuldo eobshi - DVD Review Seung-wan Ryoo's - No Blood No Tears - Pido nunmuldo eobshi - DVD Review Seung-wan Ryoo - No Blood No Tears - Pido nunmuldo eobshi - DVD Review Seung-wan Ryoo's - No Blood No Tears - Pido nunmuldo eobshi - DVD Review Seung-wan Ryoo - No Blood No Tears - Pido nunmuldo eobshi - DVD Review Seung-wan Ryoo's - No Blood No Tears - Pido nunmuldo eobshi - DVD Review Seung-wan Ryoo - No Blood No Tears - Pido nunmuldo eobshi - DVD Review Seung-wan Ryoo's - No Blood No Tears - Pido nunmuldo eobshi - DVD Review Seung-wan Ryoo - No Blood No Tears - Pido nunmuldo eobshi - DVD Review Seung-wan Ryoo - No Blood No Tears - Pido nunmuldo eobshi - DVD Review Seung-wan Ryoo - No Blood No Tears - Pido nunmuldo eobshi - DVD Review Seung-wan Ryoo's - No Blood No Tears - Pido nunmuldo eobshi - DVD Review Seung-wan Ryoo - No Blood No Tears - Pido nunmuldo eobshi - DVD Review Seung-wan Ryoo's - No Blood No Tears - Pido nunmuldo eobshi - DVD Review Seung-wan Ryoo - No Blood No Tears - Pido nunmuldo eobshi - DVD Review Seung-wan Ryoo's - No Blood No Tears - Pido nunmuldo eobshi - DVD Review Seung-wan Ryoo - No Blood No Tears - Pido nunmuldo eobshi - DVD Review Seung-wan Ryoo's - No Blood No Tears - Pido nunmuldo eobshi - DVD Review Seung-wan Ryoo - No Blood No Tears - Pido nunmuldo eobshi - DVD Review Seung-wan Ryoo - No Blood No Tears - Pido nunmuldo eobshi - DVD Review Seung-wan Ryoo - No Blood No Tears - Pido nunmuldo eobshi - DVD Review Seung-wan Ryoo's - No Blood No Tears - Pido nunmuldo eobshi - DVD Review Seung-wan Ryoo - No Blood No Tears - Pido nunmuldo eobshi - DVD Review Seung-wan Ryoo's - No Blood No Tears - Pido nunmuldo eobshi - DVD Review Seung-wan Ryoo - No Blood No Tears - Pido nunmuldo eobshi - DVD Review Seung-wan Ryoo's - No Blood No Tears - Pido nunmuldo eobshi - DVD Review Seung-wan Ryoo - No Blood No Tears - Pido nunmuldo eobshi - DVD Review Seung-wan Ryoo's - No Blood No Tears - Pido nunmuldo eobshi - DVD Review Seung-wan Ryoo - No Blood No Tears - Pido nunmuldo eobshi - DVD Review Seung-wan Ryoo - No Blood No Tears - Pido nunmuldo eobshi - DVD Review Seung-wan Ryoo - No Blood No Tears - Pido nunmuldo eobshi - DVD Review Seung-wan Ryoo's - No Blood No Tears - Pido nunmuldo eobshi - DVD Review Seung-wan Ryoo - No Blood No Tears - Pido nunmuldo eobshi - DVD Review Seung-wan Ryoo's - No Blood No Tears - Pido nunmuldo eobshi - DVD Review Seung-wan Ryoo - No Blood No Tears - Pido nunmuldo eobshi - DVD Review Seung-wan Ryoo's - No Blood No Tears - Pido nunmuldo eobshi - DVD Review Seung-wan Ryoo - No Blood No Tears - Pido nunmuldo eobshi - DVD Review Seung-wan Ryoo's - No Blood No Tears - Pido nunmuldo eobshi - DVD Review Seung-wan Ryoo - No Blood No Tears - Pido nunmuldo eobshi - DVD Review Seung-wan Ryoo - No Blood No Tears - Pido nunmuldo eobshi - DVD Review Seung-wan Ryoo - No Blood No Tears - Pido nunmuldo eobshi - DVD Review Seung-wan Ryoo's - No Blood No Tears - Pido nunmuldo eobshi - DVD Review Seung-wan Ryoo - No Blood No Tears - Pido nunmuldo eobshi - DVD Review Seung-wan Ryoo's - No Blood No Tears - Pido nunmuldo eobshi - DVD Review Seung-wan Ryoo - No Blood No Tears - Pido nunmuldo eobshi - DVD Review Seung-wan Ryoo's - No Blood No Tears - Pido nunmuldo eobshi - DVD Review Seung-wan Ryoo - No Blood No Tears - Pido nunmuldo eobshi - DVD Review Seung-wan Ryoo's - No Blood No Tears - Pido nunmuldo eobshi - DVD Review Seung-wan Ryoo - No Blood No Tears - Pido nunmuldo eobshi - DVD Review Seung-wan Ryoo - No Blood No Tears - Pido nunmuldo eobshi - DVD Review Seung-wan Ryoo - No Blood No Tears - Pido nunmuldo eobshi - DVD Review Seung-wan Ryoo's - No Blood No Tears - Pido nunmuldo eobshi - DVD Review Seung-wan Ryoo - No Blood No Tears - Pido nunmuldo eobshi - DVD Review Seung-wan Ryoo's - No Blood No Tears - Pido nunmuldo eobshi - DVD Review Seung-wan Ryoo - No Blood No Tears - Pido nunmuldo eobshi - DVD Review Seung-wan Ryoo's - No Blood No Tears - Pido nunmuldo eobshi - DVD Review Seung-wan Ryoo - No Blood No Tears - Pido nunmuldo eobshi - DVD Review Seung-wan Ryoo's - No Blood No Tears - Pido nunmuldo eobshi - DVD Review Seung-wan Ryoo - No Blood No Tears - Pido nunmuldo eobshi - DVD Review Seung-wan Ryoo - No Blood No Tears - Pido nunmuldo eobshi - DVD Review Seung-wan Ryoo - No Blood No Tears - Pido nunmuldo eobshi - DVD Review Seung-wan Ryoo's - No Blood No Tears - Pido nunmuldo eobshi - DVD Review Seung-wan Ryoo - No Blood No Tears - Pido nunmuldo eobshi - DVD Review Seung-wan Ryoo's - No Blood No Tears - Pido nunmuldo eobshi - DVD Review Seung-wan Ryoo - No Blood No Tears - Pido nunmuldo eobshi - DVD Review Seung-wan Ryoo's - No Blood No Tears - Pido nunmuldo eobshi - DVD Review Seung-wan Ryoo - No Blood No Tears - Pido nunmuldo eobshi - DVD Review Seung-wan Ryoo's - No Blood No Tears - Pido nunmuldo eobshi - DVD Review Seung-wan Ryoo - No Blood No Tears - Pido nunmuldo eobshi - DVD Review Seung-wan Ryoo - No Blood No Tears - Pido nunmuldo eobshi - DVD Review Seung-wan Ryoo - No Blood No Tears - Pido nunmuldo eobshi - DVD Review Seung-wan Ryoo's - No Blood No Tears - Pido nunmuldo eobshi - DVD Review Seung-wan Ryoo - No Blood No Tears - Pido nunmuldo eobshi - DVD Review Seung-wan Ryoo's - No Blood No Tears - Pido nunmuldo eobshi - DVD Review Seung-wan Ryoo - No Blood No Tears - Pido nunmuldo eobshi - DVD Review Seung-wan Ryoo's - No Blood No Tears - Pido nunmuldo eobshi - DVD Review Seung-wan Ryoo - No Blood No Tears - Pido nunmuldo eobshi - DVD Review Seung-wan Ryoo's - No Blood No Tears - Pido nunmuldo eobshi - DVD Review Seung-wan Ryoo - No Blood No Tears - Pido nunmuldo eobshi - DVD Review Seung-wan Ryoo - No Blood No Tears - Pido nunmuldo eobshi - DVD Review Seung-wan Ryoo - No Blood No Tears - Pido nunmuldo eobshi - DVD Review Seung-wan Ryoo's - No Blood No Tears - Pido nunmuldo eobshi - DVD Review Seung-wan Ryoo - No Blood No Tears - Pido nunmuldo eobshi - DVD Review Seung-wan Ryoo's - No Blood No Tears - Pido nunmuldo eobshi - DVD Review Seung-wan Ryoo - No Blood No Tears - Pido nunmuldo eobshi - DVD Review Seung-wan Ryoo's - No Blood No Tears - Pido nunmuldo eobshi - DVD Review Seung-wan Ryoo - No Blood No Tears - Pido nunmuldo eobshi - DVD Review Seung-wan Ryoo's - No Blood No Tears - Pido nunmuldo eobshi - DVD Review Seung-wan Ryoo - No Blood No Tears - Pido nunmuldo eobshi - DVD Review Seung-wan Ryoo - No Blood No Tears - Pido nunmuldo eobshi - DVD Review Seung-wan Ryoo - No Blood No Tears - Pido nunmuldo eobshi - DVD Review Seung-wan Ryoo's - No Blood No Tears - Pido nunmuldo eobshi - DVD Review Seung-wan Ryoo - No Blood No Tears - Pido nunmuldo eobshi - DVD Review Seung-wan Ryoo's - No Blood No Tears - Pido nunmuldo eobshi - DVD Review Seung-wan Ryoo - No Blood No Tears - Pido nunmuldo eobshi - DVD Review Seung-wan Ryoo's - No Blood No Tears - Pido nunmuldo eobshi - DVD Review Seung-wan Ryoo - No Blood No Tears - Pido nunmuldo eobshi - DVD Review Seung-wan Ryoo's - No Blood No Tears - Pido nunmuldo eobshi - DVD Review Seung-wan Ryoo - No Blood No Tears - Pido nunmuldo eobshi - DVD Review Seung-wan Ryoo - No Blood No Tears - Pido nunmuldo eobshi - DVD Review Seung-wan Ryoo - No Blood No Tears - Pido nunmuldo eobshi - DVD Review Seung-wan Ryoo's - No Blood No Tears - Pido nunmuldo eobshi - DVD Review Seung-wan Ryoo - No Blood No Tears - Pido nunmuldo eobshi - DVD Review